Wild Taiga travel guide
---
2 MINUTE SUMMARY
Finland has a national epic poem, The Kalevala, written by Elias Lönnrot and published in 1835. It was inspired by his travels in the far north of Finland in this spectacular terrain that has become known as the Wild Taiga. Extending along the Russian border in the east, its thick forests, lakes and rivers – habitat for bears, deer, wolves and moose – certainly make for epic experiences. Stretching from Kuhmo to Suomussalmi it dominates Finland's Kainuu region. Don't be overawed by the word epic however, as you can break it all down into sublime stanzas, be it canoeing across remote lakes, experiencing ancient and contemporary culture, staying up all night to watch bears emerge from their ancient habitats, snow shoeing through perfectly snow laden forests, hiking with huskies or seeing the Northern Lights. Put Sibelius' Karelia Suite on your MP3 player for this one, also inspired by these far out landscapes for the perfect epic soundtrack.
Wild Taiga is...
a whole other world in winter. Swap bears for bracing snow shoeing expeditions, canoes for huskies.
Either way, it's wild and wonderful.
Wild Taiga isn't...
exactly easy to get to.
Flying to Kuusamo usually involves a change or two,
but when you get there, you will forget all notions of time.
Wild Taiga map & highlights
---
MAKE THE MOST OF YOUR TIME
Finland celebrated its 100th birthday in 2017 as an independent country and yet the taiga terrain of subarctic conifer forest in this region is not only ancient but feels almost frozen in time. Explore its wilderness in a variety of outdoor adventures, hiking along the many trails of Hossa National Park, snow shoeing across the
aapa
, or string bogs, of Riisitunturi National Park or canoeing through the tranquil wetlands of Oulanka National Park. And, most exciting for wildlife lovers,
bear watching
in hides that are scattered through the moss covered forests of Martinselkonen Nature Reserve or around Lake Kuikkajärvi . You will never tire of Taiga.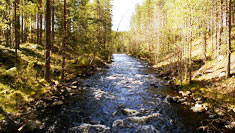 Hossa National Park
Designated in 2017 as Finland's 40th national park, it has a plethora of pine-covered, heathland hiking trails, and with vast lakes and rivers is also canoe central. When the snows come, snow shoeing and cross country skiing is out of this world. Hossa's Stone Age rock art site at Värikallio has 61 paintings on a wall emerging from Lake Somerjärvi, probably created when the water was frozen.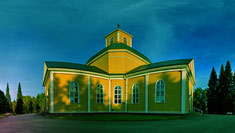 Kuhmo
This small town is heart of Kalevala and Karelian culture, with its Karelian folk museum and buildings. Such as the Juminkeko wooden building made with traditional techniques and also housing local art. Or the Tuupala Museum in a Karelian farmhouse and Kuhmo wooden church, one of several venues during its celebrated summer chamber music festival. Kuhmo is also gateway to Hiidenporlti National Park.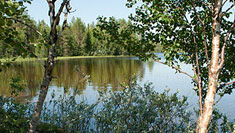 Lake Kuikkajärvi
Named after its resident loon bird, this is just one of the region's fauna to fawn over. Bears are kings of Kuikka's boreal forests, although Alpha male Eurasian wolves may not agree. Stay in overnight hides and base camps here to help you spot the taiga's most impressive mammals. This is also a great spot to go canoeing, take a riverside sauna and plunge and embrace off grid life at its most gorgeous.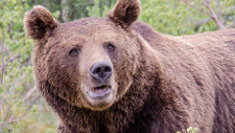 Martinselkonen Nature Reserve
A favourite spot for brown bear watching, there are special hides for overnight wildlife watching not just for bear but also for moose, wolverine and birdlife which ranges from the capercaillie to the black kite. Top hiking territory through moss and mist covered spruce forests, dripping in ancient lichens and juicy berries. Also wonderful for cross country skiing, with sublime sauna spots along the way.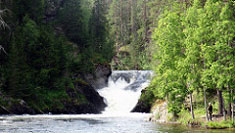 Oulanka National Park
In summer, hikers hanker after the ancient pine forests, sandy valleys and vast wetlands here. Fun seekers also relish the white water rapids of the River Oulankajoki . In winter, snow shoeing takes you into a still, silent wonderland trekking around Lake Jyravajarvi, the Small Bear's Trail, or tackling the long distance Karhunkierros Hiking Trail, all the time looking out for bear and wolverine tracks.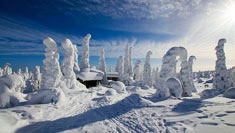 Riisitunturi National Park
Famous for its sloping or string bogs and cool, humid climate, the spruce forests have both mist in the air and an air of mystery, even in summer. This is Finnish Lapland where, in winter, it feels like Christmas every day. Due to the humidity, condensation gathers on the trees and then freezes into all sorts of bizarre shapes, known as tykky. It's like snow shoeing through a natural sculpture park.