Ski touring vacation guide

Unlike the absolute adrenaline rush of downhill skiing, ski touring offers the meditative, peaceful rhythm of being at harmony with nature.

Forget slogging along trails with snow laden boots. Ski touring, or 'skinning' as it's also known, makes light work of long distance mountain outings. Not alpine and not quite cross-country, touring entails ascending and descending mountain peaks, even using crampons when the going gets tough, on an all-terrain exploration. It requires some specific techniques, and a special type of boot binding that leaves your heels free to tackle the uphill bits, so it's not for complete novices on the slopes.
Skiing vacations can be big trouble for the environment when fake snow and deforestation are involved, but ski touring tends to leave a much smaller imprint on the local landscapes. The sport is the very essence of slow travel; you'll trace the same trails as the locals, gliding harmoniously through nature and traveling in groups small enough to stay in traditional huts and family lodgings.
Read on for more details on ski touring vacations.
Our Ski touring vacation guide Vacations
What do ski touring vacations entail?
The groups
In the wilds of the mountains or the bear-filled woodlands, a bit of local knowledge goes a long way, especially in alpine environments where an awareness of avalanche risks is crucial. Consequently, ski touring vacations are always led by expert local guides experienced in the area. Groups are kept small, minimising disturbance to both the snow and small mammals that make their homes along the trails, and preserving the pristine scenery. Touring in small numbers is also essential to staying in the modestly sized huts and family-run hotels that populate these peaceful snowscapes.
The guesthouses
Whether you end the day in a Finnish sauna, or you're toasting the distance done with a warm glass of glühwein, your accommodation is more than just a place to thaw out after hours in the snow. Destination depending, lodgings vary from locally owned hotels serving freshly shot game to mountain refuges maintained by a seasoned guardian. Ski touring vacations usually last a week, and you can choose between being based in a single hotel or setting off every morning in search of a new bed before nightfall. Hut to hut (or hotel or chalet) touring is usually the route taken by more experienced skiers, as impending darkness can put a dampener on slower skiiers. Staying in a single place offers more opportunities to focus on new skills.
The gear
With its emphasis on exploration, ski touring demands a different set of skills and equipment to downhill or
cross-country
. Your essential gear will be a set of skins that slip under your skis to help with upward hikes, but ski crampons, shovels and avalanche transceivers are typically needed too, so check with your tour operator which items are provided and which you will need to bring with you.
Although most vacations don't require any prior ski touring experience, you will need to feel confident going downhill in a pair of skis. Skill recommendations range from intermediate to happy on a black run, and a good level of fitness is essential to enjoying the five to seven hours of daily skiing. Keen teens with enough experience are also welcomed on less challenging, family-friendly tours suitable for ages 14-16. Your tour leaders will be happy to teach you any additional techniques for touring or splitboarding – snowboard touring with a board that splits in two for the uphill stretches. Alpine-based vacations will also devote some hours to learning, and practicing, high mountain safety skills such as avalanche search and rescue.
Our top Ski touring vacation guide Vacation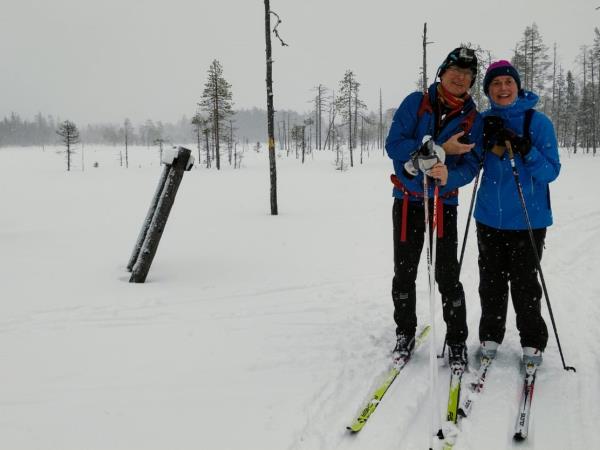 Guided country skiing vacation through remote eastern Finland
From
€

1140
7 days
ex flights
Small group travel:
2024: 18 Feb, 25 Feb, 3 Mar, 10 Mar, 17 Mar, 24 Mar
If you'd like to chat about Ski touring vacation guide or need help finding a vacation to suit you we're very happy to help.

Best time to go ski touring
January and February are the best months for ski touring in Germany, when the Black Forest is white with snow.
Ski touring vacations in Finland run in February and March. Any earlier and you're limited to just four or five hours of daylight. It's cold this close to the Arctic Circle, with temperatures averaging -7°C in February (-15°C overnight), so pack plenty of layers.
February to early April is the best time for ski touring in Norway, when temperatures range from -4°C to 6°C. Popular trails can get busy during the Norwegian school vacation in mid-end February, so you may want to check the best time to go with your tour operator.
March is the perfect month for powder in Austria, when the temperature hovers around 3°C and the taste of spring is in the air.
Responsible tourism & ski touring
With snow levels slowly receding and glaciers in retreat,
skiing
is taking some heat for its environmental impact. In trying to artificially sustain its surroundings, through the use of resource-guzzling snow cannons and forest-demolishing infrastructure, the skiing industry is guilty of exacerbating the consequences of climate change to protect its profits.
Ski touring, with its cross-country style, is different. Unlike traditional alpine skiing, it takes you away from the large resorts and doesn't depend on snow cannons, ski lifts and graded pistes, which often lead to the felling of trees and flattening of terrain. It's this remote and entirely natural aspect of the sport that makes it so appealing. Après-ski shots and cookie cutter resorts are easily swapped for inquisitive animals spotted on the trails and the warm welcome of a guesthouse.
Of course, ski touring is not immune from environmental issues. It's important not to litter, as even natural waste takes longer to decompose in the cold, so be prepared to carry any rubbish you produce on the trails back to your accommodation. Booking with a responsible vacation company reduces the risk of 'glading', the illegal practice of cutting down trees to create access to previously untouched landscapes. Experienced leaders will also be able to guide your way to prevent unnecessary disruption to wildlife.
Susie Turnbull, from our winter vacation specialists Undiscovered Mountains, says:
"As you are skiing away from managed ski domains, it is important to be sensitive to birds and wildlife that you can disturb whilst ski touring. Birds and animals need to minimise unnecessary energy expenditure in the winter where food is scarce and calories are needed for warmth. Disturbing them by skiing close to their nests or through their natural habitats can cause them to flee from their warm and safe nests and habitats and expose them to the elements and extra energy expenditure."
More about Ski touring vacation guide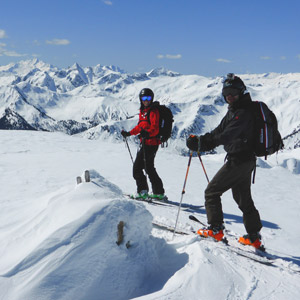 To really enjoy ski touring, get off-piste and out into wide open spaces that can be explored in slow motion.