The best places to go ski touring
Ski touring, or ski de randonnée as it's known in its homeland, was pioneered in the 1800s as the High Level Route between Chamonix and Zermatt. Its famously beautiful, glacial backdrop makes it a favourite and much frequented, if often underestimated, ski trail. But these days, all areas of the Alps have their 'Haute Route', and excellent trails can be found across western and northern Europe. Unlike regular skiing, where your destination lies downhill, touring traverses peaks and valleys cross-country style. It's essentially ski mountaineering (and is often called so). Routes are mostly point to point, but sometimes center-based, and always involve plenty of ups and downs.
1. Austria
Skiing doesn't get much more stereotypical than in Tyrol, where classic alpine resorts create Christmas card scenes and feature some of Europe's finest slopes. But retreat from the hum of the ski runs to the shadow of Grossglockner, Austria's highest peak, and you'll discover the natural quiet of Hohe Tauern National Park. Here you can take your time to hone your technique or learn some splitboarding skills.
2. Finland
Hossa National Park is a magnificent northern realm of pine heathlands, bears and ancient shamanic rock art. Skirting the Russian border, you'll seldom encounter other skiers; only the odd hardy husky sledder and tracks left by elk and wolverine. Life is traditional, food is foraged from the forest and reindeer are a way of life. This is hut-to-hut touring at its best, offering exciting experiences of real, untouched isolation.
3. Germany
The folkloristic beauty of the Black Forest in winter makes Germany simply enchanting. Its endless wilderness of deep, dark, snow-iced forests seems specially crafted for slow travel; the warm evening welcome of gasthofs (guesthouses) serving Kirsch-laden gateau is just the cherry on the cake. Childhood memories of first skiing vacations are made here, but the ascents of Feldberg and Herzogenhorn promise a more physical challenge too.
4. Norway
The Peer Gynt Trail offers a robust, family-friendly kind of ski touring: demanding but fun. In a land of trolls and fairies, it's also Norway's most famous fairytale setting. Named after Henrik Ibsen's fabled anti-hero, this icy wonderland easily inspires stories of maidens and mountain kings. From the spectacularly scenic Espedalen valley, it's 70km of frozen lakes, Nordic farmsteads, silvery birch tree woodlands and distant mountain ranges.
Our Ski touring vacation guide Vacations
If you'd like to chat about Ski touring vacation guide or need help finding a vacation to suit you we're very happy to help.

Ski touring travel advice
Susie Turnbull, from our French Alps winter vacation specialists Undiscovered Mountains, shares her ski touring vacation advice:
A sense of adventure
"Ski touring is about getting away from the pistes and into the mountains in winter. It is the best way to really travel safely here if you want to cover any distance. You get the best of both worlds – some great virgin powder descents, better than any piste, as well as being away from the crowds with the mountains all to yourself!"
Fitness
"Unlike downhill skiing, you do need a good level of cardio fitness to enjoy ski touring as you will be skiing uphill as well as down! You also need a good level of skiing technique to be able to deal and ski down in different types of snow conditions safely."
French Alps
"France is a fabulous territory for ski touring. The sport is well established here, with mountain refuges situated across the Alps to facilitate long distance ski touring routes. Ski touring routes are also depicted on the IGN maps by a purple track. The French high mountain guide qualification is one of the hardest to obtain in the world, making French UIAGM guides some of the highest qualified and most experienced ski touring and ski mountaineering guides available."
Ski touring tips from our travelers
At Responsible Travel, we think the best people to advise our travelers are often... other travelers. They always return from our tours with packing tips, weather reports, ideas about what to do – and opinions about what not to.

We have selected some of the most useful ski touring tips that our guests have provided over the years to help you make the very most of your vacation – and the space inside your suitcase.

Be ready to stay with other people from all over the Europe and just have fun. The organisation is perfect and the trip is really comfortable.

"You need to have some experience cross-country skiing including being comfortable doing a herring-bone step. Most of the cabins are road accessible so this is not a wilderness trip. (On the other hand we only ran into other people once, on dog sleds!)" – Gerald Rosenberg

"Be prepared for very cold weather, especially mornings. Bring lots of layers and extras for lunch breaks. Also, the most fit you can be in preparation for 5-6 hours skiing per day, the more you will enjoy the entire day each day." – Lu Sutton

"Get fit before you go. Get some experience on cross country ski techniques, especially if you are an alpine skier like me – cross-country is different! Take clothes that you can layer on top for when you stop skiing. Also, take a day to visit Helsinki on the way home – very cool city." – Paul Cundy

If you want a proper bit of Finland, meaning quiet, far out and everywhere lovely saunas, go for this.

More about Ski touring vacation guide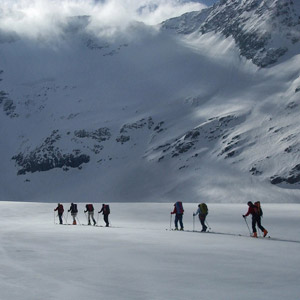 If you're enticed by the pristine icy landscapes of a proper off-piste adventure, then get up to speed with the slow art of ski touring. Set off on the right foot with our guide to the ins and outs of ski touring vacations. It covers everything from where and when to go, to tips from our previous travelers.