With a complex political past, it is striking that two of Slovakia's public vacations commemorate the end of WWII fascism (8th May) and then Struggle for Freedom and Democracy Day on 17th November, which marks the beginning of the end of communist rule in 1989. Freedom is, therefore, fundamental in Slovakia, and there are few better places to feel that than in its High Tatras Mountains. Gerlachovský štít is the country's tallest peak (at 2,654m), and also the highest summit of this Carpathian Mountain range as a whole.

If we could choose this country's strapline, 'SlowVakia' would be it. With mountainous landscapes where cycling, hiking and cross country skiing are what make life worth living.

This Slovakia travel guide aims to help you indulge in this independence that is worthy of celebration, both culturally and naturally, here. Leading you up Tatras' cross country skiing tracks, rafting down the Dunajec gorge in Pieniny National Park or hiking across the Slovak Paradise National Park. Stopping at medieval, wooden churches, castles and Carpathian communities en route. Where conviviality is everywhere. Because complexity is so last century.
Slovakia is...
a land of mountains, meadows, medieval history and, with plenty of local breweries and wineries, never short on merriment
Slovakia isn't…
for beach lovers. It is landlocked, but open to the natural world in so many other wondrous ways.
Our top Slovakia Vacation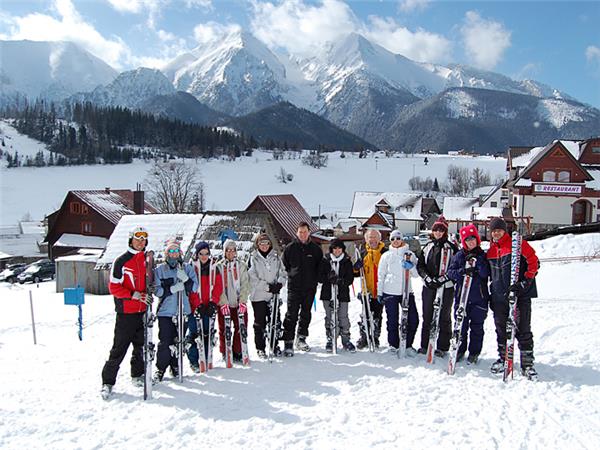 Authentic culture, warm hospitality and winter sports
From
US $

1749

to

US $

2249
8 days
ex flights
Small group travel:
2019: 28 Dec
2020: 26 Jan, 2 Feb, 23 Feb
If you'd like to chat about Slovakia or need help finding a vacation to suit you we're very happy to help.
Slovakia map & highlights
You can whizz through Slovakia on a bike, following the Danube from Austria en route to Hungary, or you can also just stop. Because, if we could choose this country's strapline, 'SlowVakia' would be it. And steep, of course, with those tantalising High Tatras Mountains beckoning hikers in summer and cross country skiers in winter. The medieval culture of its capital, churches, castles and country lifestyles is on tap all year round. Slovakia is
great value for families too
, whether you are rafting down the Pieninský National Park's Dunajec gorge, husky sledding through the winter wilderness of Slovak Paradise National Park or exploring wild rivers in searing summer heat.
1. Bratislava
2. High Tatras Mountains
3. Pieninsky National Park
4. Slovak Paradise National Park
5. Spis region
6. Stary Smokovec

1. Bratislava
This medieval capital is close to Austrian and Hungarian borders, and popular for those taking on the Danube Cycle Route. With traffic free, cobbled streets, historic squares, ancient narrow dwellings, red tiled rooftops, churches from every era and a bevy of breweries, it is quite the EU hangout. The castle was a historical hangout for many too, with renaissance, baroque and gothic gorgeousness throughout.
2. High Tatras Mountains
A natural border between Poland and Slovakia, this mountainous magnificence proffers the highest peaks in the Carpathians. Protected by the Tatra National Park, a pretty patchwork of hiking routes, the highest peak is Gerlachovský štít (2,654m), only to be tackled by experts. The second highest, Lomnický štít, is accessible by cable car, and the Belianske Tatras are popular for cross country skiing and dog sledding.
3. Pieninsky National Park
The smallest national park in Slovakia but thinking big in terms of adventure. Its somewhat dashing Dunajec gorge, Central Europe's longest canyon, cuts quite a fine figure on the European circuit of white water wanderlusters. Traditional wooden rafting trips here have been happening for centuries. Start your rafting trip in the village of Cervený Kláštor, with its monastery and Museum of National Culture.
Slovak Paradise National Park
4. Slovak Paradise National Park
This limestone land of caves, waterfalls, rivers and ravines, makes explorers ecstatic. From spelunking cave fanatics to mountain biking pumpers, it's all happening in paradise. Bear Grylls would have a field day here, crossing ravines and rivers using old wooden bridges and ladders, creepers and chains. With 350 caves, only the Dobšinská Ice Cave, a UNESCO site, is open to the public.
5. Spis region
Poprad and its international airport is the center, but this region is home to a collection of hillside villages, all gorgeous gateways to the High Tatras. Spišská Sobota is just one of many medieval revelations where you can sit in a pretty square, visit an ancient church and sip a Slovakian brew. In complete contrast, AquaCity in Poprad, the biggest geothermally heated waterpark you will ever see, is something else.
6. Stary Smokovec
This small, mountain resort town in the High Tatras, is the perfect antidote to the downhill debacle of some of Europe's other mountain ranges. From here you can take on a wide array of cross country skiing trails, leading off to the Levoca Mountains and Slovak Paradise National Park, where the snow wrapped forests, meadows and hills befit the name. All of these trails become hiking heavens in summer.
More about Slovakia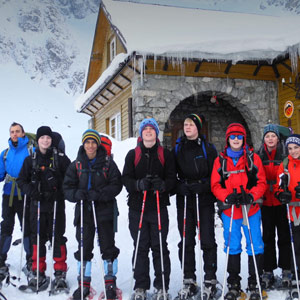 The best time to visit Slovakia for wildlife fans is in winter - when you can follow the tracks of lynx and wolves through the snow.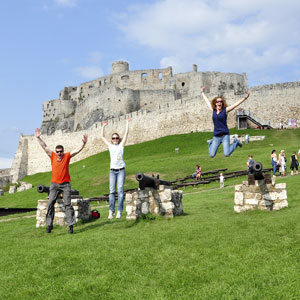 Slovakia and families go together like Mickey and Minnie.
Back to the top
Convert currencies