Mountain trekking tips
Petr Ivánek from our leading Slovakia supplier, Slovakia Explorer, shares her Slovakia travel advice: "If you are keen on exploring Slovakia´s mountainous landscapes don't forget to bring good walking boots. In the early summer even the highest parts of the mountains are green, with the slopes providing plenty of food for the grazing chamois, bears and other wildlife that the Tatras are well known for. July and August are the warmest months with temperatures at times reaching 30°C with frequent storms, so don't forget to pack sun cream and waterproof clothing."

Try the thermal pools: Imagine being in the snow during the day and in the evening you're outdoors in a thermal pool. It's very nice, with water up to 38°C.

Petr Ivánek from our specialist Slovakia vacation company, Slovakia Explorer, has advice about walking vacations:
Walking in Slovakia
"Self guided vacations work very well in the High Tatras because the walking routes are very well marked. To do any kind of self guided vacation is relatively easy and we give detailed day to day routing. To get to places like castles, caves and thermal pools, it is easy to use public transport as the distances are not huge. That's the beauty, there is so much in this region you could be there for weeks."
Slovak Paradise National Park
"Trekking in the Slovak Paradise National Park you really do feel like you are in paradise. It's very different from the High Tatras. High Tatras is very rocky, you can hike over 2,000m above sea level and you get the views which take your breath away. In Slovak Paradise National Park it's more like walking through canyons, passing waterfalls, using ladders and bridges to get from one place to another. It's very adventurous. As soon as some groups finish, they say they would do it all over again straight away."
Where to stay
"The High Tatras is one of the few mountain areas where the mountain huts are supplied by sherpas. So there are no roads to deliver to mountain huts. During the summer especially, lots of people go to the mountain huts, so the sherpas have to carry a lot of foot to the huts to provide to the guests. By including mountain huts in our itineraries, we contribute to this economy. Any time you are hiking you're likely to see the sherpas."

"Mountain huts have small restaurants where you can find all kinds of soup: bean soups, sauerkraut soups, garlic soups. They often do dumplings filled with locally-produced fruit – this could be plums, apricots, peaches. It's all very tasty and also very reasonable price-wise."
Best time to go
"Overall, we start the summer season in May but if we talk walking, then the proper season starts on 15th June. Some of the trails are closed from the end of October until 15th June so the nature can recover from the past summer season."

"The winter the season is not as long as in the Alps – because the Alps are higher, but we usually start the season in the 2nd half of December, and run until the end of March. The end of January and the beginning of February have the best snow conditions."

Keeping an open mind
Tom Wilkinson, from our leading Slovakia supplier, Exodus:
"Slovakia often surprises and challenges people's perceptions of that part of Europe. It is a fast developing country, with a younger generation keen to embrace the wider world. However there is a sense of ensuring the traditions of the past are cherished and not forgotten. There is huge variety from some of the more busy industrial towns to the traditional villages and the Tatra Mountains, including the beautiful High Tatras National Park where many of our trips are. Slovakia is also still very good value meaning you can enjoy your time there without breaking the bank."
Winter travel advice
Petr Ivánek from our leading Slovakia supplier, Slovakia Explorer:
"If you are a winter sports lover don't forget to bring plenty of warm clothes. Temperatures during the winter are very cold as one might expect. Daytime temperatures in the mountains can range from -20 to 0°C. Temperatures drop considerably at higher altitudes and it is imperative that you come prepared with suitable clothing and footwear."
Our top Slovakia Vacation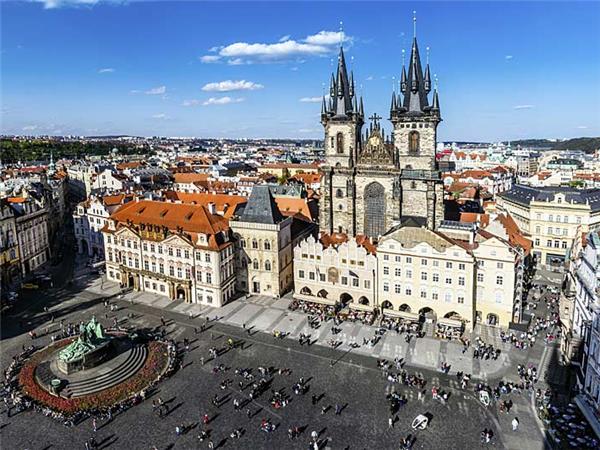 A wonderfully contrasting ride through the heart of Europe
From
US $

3949

to

US $

4199
11 days
ex flights
Small group travel:
2023: 15 Jun, 7 Sep, 5 Oct
2024: 13 Jun, 18 Jul, 15 Aug, 5 Sep, 3 Oct
If you'd like to chat about Slovakia or need help finding a vacation to suit you we're very happy to help.

At Responsible Travel, we think the best people to advise our travelers are often... other travelers. They always return from our tours with packing tips, weather reports, ideas about what to do – and opinions about what not to.

We have selected some of the most useful Slovakia travel tips that our guests have provided over the years to help you make the very most of your vacation – and the space inside your suitcase.

The paths are very well marked but as you go higher the terrain is very rugged in places. You need a good head for heights and to be comfortable with scrambling and using chains in some places.

"Check the level of the walks and the ascent and descent. The paths are very well marked but as you go higher the terrain is very rugged in places. You need a good head for heights and to be comfortable with scrambling and using chains in some places. I generally found the walking times to be accurate (I'm a moderate pace walker) but good to allow a little longer on the last walk which has a very long ascent and descent – but is very rewarding. Although the terrain is quite challenging in places there were plenty of families with children doing these walks. I used public transport (extremely cheap and efficient) to get from Poprad station to my hotel and you use the train to get to several of the walks plus a bus at the end of the first walk. The hotel was staffed by local people." – Jenny Lunn booked a High Tatras trekking vacation

"I would say you have to have a reasonable level of fitness to enjoy this trip to the full and not have the feeling of holding others in the group back. I would also recommend packing some 'spikes' for your normal footwear as walking in the towns and on some of the tracks can be very slippery on the ice. Also do some general stretching before partaking in the activities!" – Lisa Cooke booked a winter family vacation in Slovakia, High Tatras.

"Snow would probably be better during the February half term - but if you want to book at Christmas it is still fantastic, you just might need to be more flexible" - Paula Stevens