Best time to visit Slovakia

Winters can be long with snow hovering on the High Tatras as late as May or June sometimes. But January and February are pretty much guaranteed white, winter wonderlands.

Winter means you can follow tracks of different kinds, taking part in conservation vacations to monitor lynx, wolf and bear populations around February. Although temperatures hit the high 20°Cs in summer, hiking seasons aren't until late April or May, to guarantee snow free routes. The elevated Tatranska Magistrala Walking Trail doesn't open until mid-June and closes at the end of October.
Things to do in Slovakia...
Slovakia is one of Europe's greatest hiking secrets with nine national parks, all boasting mountains, lakes, karst limestone caves and rivers. High Tatras National Park is the oldest, with walking trails through landscapes where bears, wolves and lynx still roam in alpine meadows or on rocky peaks. The iconic Tatranska Magistrala Trail, 42km of Tatras treats, is only open June to October, but there are many other hiking havens to explore throughout the year. Go with a naturalist guide to make the most of wildlife spotting.
Although one of Europe's most mountainous countries, and with snow on high ground as late as May or June, Slovakia is still, thankfully, off the beaten track for skiing. However, as cross country skiing is part of the local culture, there are actually myriad trails with over 80km in the High Tatras, or webs of wild trails emanating from the medieval town of Levoca or Slovak Paradise National Park.
As well as the iconic Danube Cycle Path, seeing these luscious landscapes from a saddle is truly, and deliciously, Slow-vakia. Pedal through one medieval village after another on the Pieninská Cycling Route in the eponymous national park. Or take on some serious mountain biking in Slovak Paradise National Park - the sorts of trails where, at some points, you need to put your bike on your back and scramble to the next bit.
Things not to do in Slovakia...
Mess with the mountains. Although not as famous , or indeed notorious, as the Alps or Pyrenees, these are wild, elevated landscapes, and the High Tatras, for example, should only be tackled with expert mountain guides. Consequently, you are only allowed to climb the highest peak, Gerlachovský štít , on your own if you are a member of a national UIAA club. Other visitors have to take a certified mountain guide. Similarly, don't venture off marked trails, and be bear aware.
Push politics or history too much. Slovakia is still a 'young' country and, as it has been linked to Austria, Hungary and former Czechoslovakia in the not so distant past, nationality can still be an issue. Reading up before you go is advised. Similarly, pride in their Slovakian identity is bursting. Best way to celebrate that is by raising a glass of local beer and wine with a Slovak. There are plenty of local beers and wines to raise a glass and toast that.
Don't drink and drive, however, as Slovakia has a zero tolerance policy towards alcohol. Apart from the obvious dangers, penalties are high.
Our top Slovakia Vacation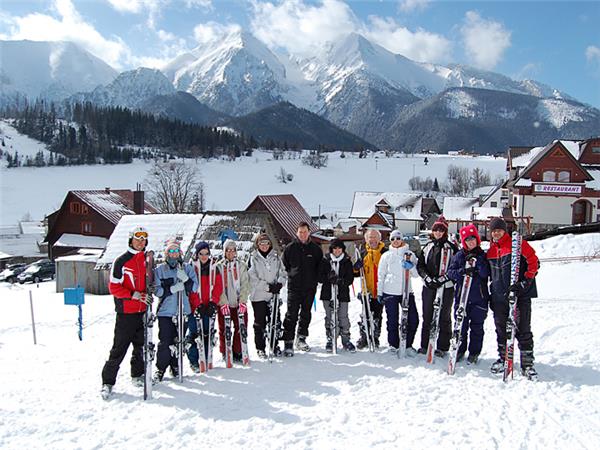 Authentic culture, warm hospitality and winter sports
From
US $

1749

to

US $

2249
8 days
ex flights
Small group travel:
2019: 28 Dec
2020: 26 Jan, 2 Feb, 23 Feb
If you'd like to chat about Slovakia or need help finding a vacation to suit you we're very happy to help.
Mountain trekking tips
Petr Ivánek from our leading Slovakia supplier, Slovakia Explorer, shares her Slovakia travel advice:

"If you are keen on exploring Slovakia´s mountainous landscapes don't forget to bring good walking boots. In the early summer even the highest parts of the mountains are green, with the slopes providing plenty of food for the grazing chamois, bears and other wildlife that the Tatras are well known for. July and August are the warmest months with temperatures at times reaching 30°C with frequent storms, so don't forget to pack sun cream and waterproof clothing."
Keeping an open mind
Tom Wilkinson, from our leading Slovakia supplier, Exodus:

"Slovakia often surprises and challenges people's perceptions of that part of Europe. It is a fast developing country, with a younger generation keen to embrace the wider world. However there is a sense of ensuring the traditions of the past are cherished and not forgotten. There is huge variety from some of the more busy industrial towns to the traditional villages and the Tatra Mountains, including the beautiful High Tatras National Park where many of our trips are. Slovakia is also still very good value meaning you can enjoy your time there without breaking the bank."
Winter travel advice
Petr Ivánek from our leading Slovakia supplier, Slovakia Explorer:

"If you are a winter sports lover don't forget to bring plenty of warm clothes. Temperatures during the winter are very cold as one might expect. Daytime temperatures in the mountains can range from -20 to 0°C. Temperatures drop considerably at higher altitudes and it is imperative that you come prepared with suitable clothing and footwear."
At Responsible Travel, we think the best people to advise our travelers are often... other travelers. They always return from our tours with packing tips, weather reports, ideas about what to do - and opinions about what not to.

We have selected some of the most useful Slovakia travel tips that our guests have provided over the years to help you make the very most of your vacation.

... if you want to book at Christmas it is still fantastic, you just might need to be more flexible

"Sense a wild nature, tracking along the mountains with snow shoes where nobody runs and take the exciting moments when you are following a fresh track of bear or lynx." - David Guixe

"Snow would probably be better during the February half term - but if you want to book at Christmas it is still fantastic, you just might need to be more flexible" - Paula Stevens
More about Slovakia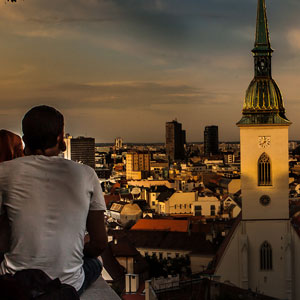 Our Slovakia travel guide reveals the best kept secrets of this little, landlocked country, from the phenomenal High Tatras Mountains, in the Carpathian mountain range, to the medieval capital of Bratislava.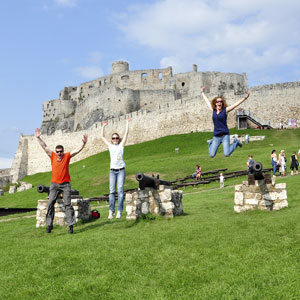 Slovakia and families go together like Mickey and Minnie.
Back to the top
Convert currencies