Volunteering vacations
in KwaZulu Natal

From collecting data on rhino dung, to constructing classrooms for rural community schools, KwaZulu Natal volunteering vacations make the most of this region's spectacular wildlife reserves and distinct cultural identity.

KwaZulu Natal is home to some of Africa's oldest game reserves, including Hluhluwe-iMofolozi where targeted conservation research has been credited with saving the southern white rhino from extinction. And while high-end safari vacations contribute financially to ongoing conservation efforts in these parks, success stories are only possible through hours of – often voluntary – manpower. Community development and animal rehabilitation projects are all possible in KwaZulu Natal but for projects which make a very real contribution to the future security of the world's most endangered wildlife, this region offers some of Africa's most exciting opportunities.
Our South Africa Volunteering Vacations
Wildlife conservation volunteering
in KwaZulu Natal
Why is my help needed?
Encompassing sprawling savannah, Ramsar-registered wetlands, coral reefs and mountains, KZN is recognised as one of the most biodiverse wildlands in Africa. This region is home to a vast number of game and bird species including the endangered African wild dog, black rhino, cheetah and several species of vulture. While these animals are protected within the boundaries of reserves such as Hluhluwe-iMofolozi, Mkhuze and Tembe Elephant Park, these parks lack the resources and capacity to be able to maintain effective, labour-intensive monitoring and tracking programmes.

Volunteer teams, under the guidance of expert conservation biologists, are able to provide the labour needed to give an accurate overview of the behaviour, movement and health of KwaZulu Natal's leopards, rhinos, lions, elephants and more. Data collected and inputted by volunteers is vital in allowing conservation experts to identify which populations are most at risk, and what needs to be done to protect them.
What will I be doing?
Rather than a hands-on approach to caring for animals, wildlife conservation projects focus much more on collecting data and preserving ecosystems. These projects are to give endangered species the opportunity and security to flourish in their natural environment, unimpeded and uninterrupted by human influence; they are wild animals and the aim is very much to keep them so. As such, you can expect to be monitoring animal behaviour, identifying species, radio-tracking individual lions, cheetahs, rhinos or elephants, removing invasive plants and even performing the occasional admin task. You might even be lucky enough to be involved with the darting and radio collaring of animals, or the re-release of game back into the wild.

Most of the volunteer work is relatively unskilled, meaning a healthy, can-do attitude, flexibility and a reasonable level of fitness are the only prerequisites. You'll receive full training on the tasks you're asked to complete when you arrive at your camp, and as you'll be working under the expert guidance of leading conservationists and skilled local wildlife rangers you couldn't be in better hands.
While this kind of project can offer an affordable – and much more interactive – alternative to a traditional safari, you will need to be prepared to work hard in sometimes uncomfortable conditions. You'll also need to remember that the game drives are not about you ticking off animals from your safari bucket list; rather, they focus on tracking and monitoring the animals most important to the research teams you are assisting. Although if you're lucky you'll enjoy a side helping of some of Africa's most spectacular big game while you work.

Don't expect a lie in during your working week on a wildlife conservation project in KwaZulu Natal. You'll be up early and into 4x4 vehicles to head out into the park to track and monitor whichever species are the focus of your project, mapping sightings using GPS devices, noting behaviour and checking camera traps. All against the backdrop of the big, red African sun rising over the KwaZulu Natal wilderness. There are infinitely worse ways to start your day.

You'll always have time over the middle of the day, when the sun is at its hottest and wildlife is generally inactive, to rest up in camp, read a book, eat lunch and relax before heading out again in the late afternoon.

Be aware, however, that not all your working time will be spent 'out in the field'. At least one day a week you'll be back in camp helping input the data collected in the research computers, analysing sightings, and downloading and sorting camera trap images.
Where do I stay?
Your accommodation will be one of a variety of permanent research camps which offer basic rooms and communal facilities. You'll be expected to muck in with camp duties and you can't always expect reliable electricity during your stay. However, these camps are usually in the heart of the reserves you are monitoring, so you can expect a variety of wild visitors to your home-away-from-home every day. These trips give you the incomparable privilege of living and working, even for just a short while, in the heart of the wild African bush.
Our top South Africa Volunteering Vacation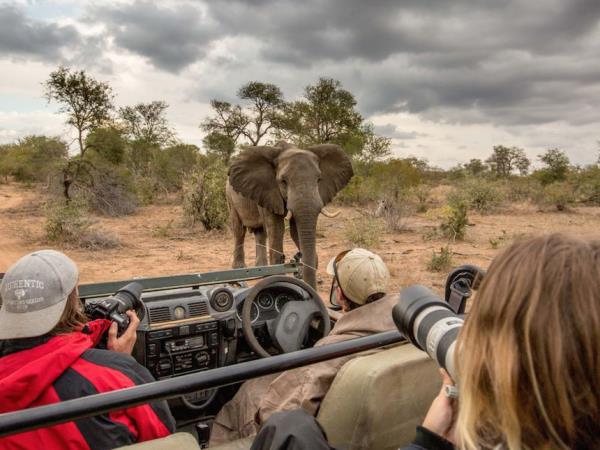 Enjoy amazing wildlife photography while giving back!
From
£

2595
4 weeks
ex flights
Small group travel:
2023: 11 Jun, 9 Jul, 6 Aug, 3 Sep, 1 Oct, 29 Oct, 26 Nov, 24 Dec
If you'd like to chat about South Africa Volunteering or need help finding a vacation to suit you we're very happy to help.

Other volunteering opportunities
in KwaZulu Natal
Animal rehabilitation volunteering
If you want something more hands-on then KwaZulu Natal's rehabilitation sanctuaries may offer an interesting alternative for you. Although dependent on the aims of the project, where re-release back into the wild is the goal for example, your contact with the animals themselves may still be limited.

You might be at a specialist center, looking after vervet monkeys which have been injured, abandoned or displaced from their natural environment, or nursing injured birds back to full flight at a wildlife hospital. You might be taking 24-hour care of baby monkeys, taken as pets then later abandoned, or help with the re-release of animals back into the wild.

Whatever project you work on you can expect to be preparing food, cleaning enclosures, monitoring behaviour and tackling admin tasks to support the running of the center – all on full time working hours (with lunch and tea breaks).
Community projects
These can be combined with wildlife conservation projects and give volunteers an opportunity to understand the challenges faced by the people who live in KZN's poorest communities. These projects usually focus on the construction of much-needed community infrastructure, for example classrooms, toilet facilities, soup kitchens and water catchment systems. The funding you provide to these projects pays local labourers wages so you can expect to be mixing cement, making bricks and working side by side with members of the local community.

You'll also have the chance to meet the children (and other people) your project is benefitting, share stories, dance and sing together, help with extra-curricular English classes, assist with environmental education, organise sports days… how involved you want to get is up to you.
Can I take the family?
These are not trips for young volunteers. Due to the remote nature of the work and accommodation, most of the wildlife conservation projects require participants to be at least 18 years old. However, families with older teenagers who want to volunteer together will be welcome on some of the community projects, and the rehabilitation centers have a minimum age of 17.
When is the best time to go on a KwaZulu Natal volunteering vacation?
The best time to go on a KwaZulu Natal volunteering vacation very much depends on what you want to do, how you want to spend your free time and if you're planning on doing any other travel before or after your project. The projects themselves, particularly the wildlife conservation and animal rehabilitation projects, run and require volunteers all year round.

July to September is the dry season, and the best time to catch wildlife congregating around waterholes in KZN's game reserves and in neighbouring Kruger National Park. Temperatures are cooler for manual work and there's very little chance of rain.
If you're interested in volunteering at the vervet monkey sanctuary and want to be part of the re-release of rehabilitated animals back into the wild, the releases start happening in September onwards through South Africa's summer and autumn months. And if you'd prefer to volunteer with baby animals, rescue centers usually see an influx of tiny creatures needing 24-hour care between September and March – although there's no guarantee the year you visit will see a baby boom.
More about South Africa Volunteering