BEST TIME TO VOLUNTEER IN SOUTH AFRICA

Community projects in Cape Town or Port Elizabeth are ideally situated for breaks at the beach, with Nov-May offering the warmest weather.

If you're volunteering close to Kruger National Park, Jul-Sep is the best time to spot wildlife during weekends off. Some projects peak at different times of the year with Nov-Feb the busiest time for rescuing baby monkeys, whilst Jun-Dec is shark and whale watching season. The best time to volunteer in South Africa depends where you want to go, what you want to do and how you fancy spending your free time; pick a project that suits you, find out availability and pack accordingly. For more information on
the best time to visit South Africa
, check out our travel guide.
Kruger PARK Weather Chart
WHEN TO VOLUNTEER IN SOUTH AFRICA & WHEN NOT TO
December, January, and February, are hot across the country. These are the wettest months in Swaziland, KwaZulu-Natal and Kruger National Park, but the Western Cape will be dry and windy. March can still be wet in eastern South Africa, although storms tend to only occur during the afternoon and can be over no sooner than they've started. By June and July, South Africa is well into the dry season in the north and east of the country although take your brolly if you're heading to Cape Town or following the Garden Route. August and September are still quite chilly on the Western Cape, especially at night. But this is when wildlife watching peaks in the northeast game reserves thanks to the lack of vegetation and little or no rain. Top tip: head to Hermanus for the start of whale watching festivities in September. Although whale watching season tends to wind up by December there are still plenty of opportunities to volunteer for shark research and conservation projects close to Cape Town. Cage dives are dependent on weather conditions so take note as winds whip up at the start of the year. If you are volunteering with vervet monkeys in KwaZulu-Natal, time your visit for when primates are released back into the wild from September to March. October is the start of the rainy season outside of the Western Cape, although afternoon showers rarely bother volunteer schedules for the working week. November to February is the busiest season for baby monkeys with surrogate parents in high demand in South Africa's primate rehabilitation sanctuaries. Baboons are born all year round.
Our top trip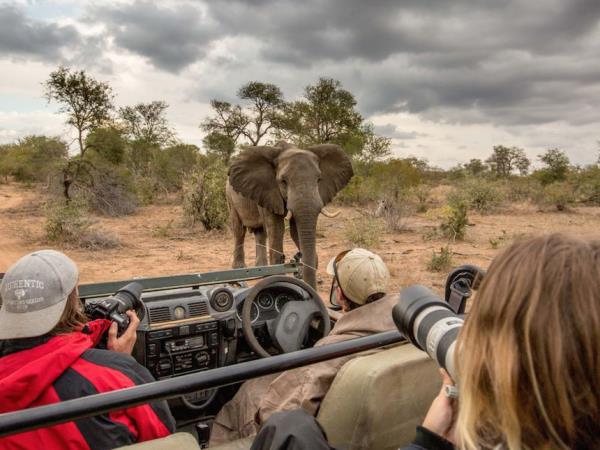 Enjoy amazing wildlife photography while giving back!
From £2595 4 weeks ex flights
Small group travel:
2023: 24 Dec
2024: 21 Jan, 18 Feb, 17 Mar, 14 Apr, 12 May, 9 Jun, 7 Jul, 4 Aug, 1 Sep, 29 Sep, 27 Oct, 24 Nov, 22 Dec
If you'd like to chat about South Africa Volunteering or need help finding a vacation to suit you we're very happy to help.

What happens when in South Africa
What happens when in South Africa
Gemma Lay is a volunteer specialist at our supplier, Pod Volunteer:
"Some volunteers love to head to South Africa to escape the British winter; others find it easier to adapt to South African winters with warm days and breathtaking sunsets. Our projects in South Africa need volunteers throughout the year to support their ongoing work so it's best to think about what suits you as an individual."
Our pick from the South Africa wildlife calendar
The sardine run
The sardine run along the coast of KwaZulu Natal in June and July is one of the world's most spectacular marine migrations. Shoals spread to up to 7km and attract an abundance of sharks, whales and dolphins. This is a good time of year to monitor marine animals and volunteer on responsible whale watching boats.
More South Africa Volunteering articles