SOUTH GEORGIA TRAVEL GUIDE
Who's on board (could be Packham, Carwardine or Scott), when you're setting sail (within the October to March window) and your willingness to chuck a planned itinerary in the bin, will all help to turn a visit to South Georgia – on your way to Antarctica – into a life changing experience. There's no easy way to get in or out of South Georgia with two days at sea putting off fair weather sailors who'll never know what they're missing. Wild weather, whale sightings and more wild weather might find you standing beside the captain as he plots a path through the ice floes whilst early morning calls will have passengers scurrying from their bunks excitedly clutching cameras for what might be visible from the bough.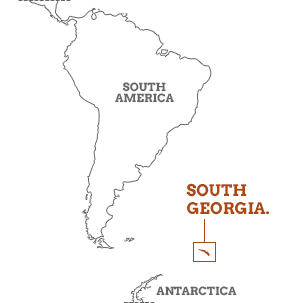 Put your dreams in the fickle hands of nature as you embark on an Antarctic expedition to South Georgia, where Shackleton's spirit embodies an adventure quite unlike any other.

South Georgia is a highly recommended add-on to an Antarctic itinerary, and presents a chance to explore in the footsteps of legends before returning home as an ambassador with tales to tell the grandkids or at least to warrant another pint down the old Hope and Anchor.

Our South Georgia travel guide reveals all about this little island with a big history.
SOUTH GEORGIA MAP & HIGHLIGHTS
Getting to South Georgia by sea from the Falkland Islands takes a couple of days (1,400km) and even the saltiest of sea dogs may succumb to sickness, although whale sightings within the Antarctic Convergence more than ease the pain. From South Georgia to the Antarctic Peninsula via the South Shetlands takes the same distance and then some (2,222km) – and its remoteness is what makes it so unique. Set within the South Atlantic Ocean, and stretching for 170km in length with a maximum width of 40km, South Georgia nowadays has no permanent inhabitants. However, head to Grytviken, on the east coast, and signs of life, past and present, provide a popular port for small ships.
1. Bird Island
This aptly named island provides a home for the British Antarctic Survey team, based at Jordan Cove. Resident seabirds, seals, macaroni and gentoo penguins, and wandering albatross, form the research focus and strict visitor controls prevent the risk of upsetting the balance. However, a visit to the research station will be met by eager faces keen for a change of pace and news from the outside world.
2. Fortuna Bay
As if following in the footsteps of Shackleton wasn't enough – it's a 5km hike to Stromness – a Zodiac ride to Fortuna Bay places you amongst a huge colony of king penguins presiding over a carpet of tussock grass tundra and water-streaked rocks. Aside from the penguins, Fortuna Bay is also the stomping ground for fur and elephant seals; just don't expect quite so warm a welcoming committee.
3. Grytviken
Grytviken really brings the history of Antarctica to the fore with the former whaling station, now a heritage museum, and the nearby Norwegian church and whalers' graveyard, providing fascinating insight into the island's past, as well as the grave of legendary explorer Ernest Shackleton. Write a postcard from South Georgia's only post box; just don't expect it to beat you home.
4. Penguins
St Andrews Bay and Salisbury Plain are covered in chattering colonies of king penguins whilst, on the southeast coast, the specially protected Cooper Island is alive with chinstraps, gentoos and macaronis. Due to the size of these colonies they're permanently occupied and the distinctive smell and cacophony around nesting season (October – November) can be wonderfully overwhelming.
5. Seals
Rutting elephant seals, slapping chests and smashing back down onto the ice, are always a firm favourite with travelers recounting wild tales from South Georgia. Spotting leopard seals appearing out of the ocean can be equally exciting with Antarctic fur and Weddell seals also known to inhabit Antarctic shores and beaches. St Andrews Bay in November is awash with southern elephant seals.
6. Whales
Hulking, rust-coated cylinders and dilapidated, asbestos-filled dorms stacked with harpoon heads and Falklands War related graffiti are, thankfully, all that remain of South Georgia's whaling stations. A far more enriching sight are humpback, blue, fin and minke whales in the Weddell Sea and if close enough, the sight, the sound, and the smell (cat food breath) of a blow, is not something to forget.
Our South Georgia Vacations
If you'd like to chat about South Georgia or need help finding a vacation to suit you we're very happy to help.

More about South Georgia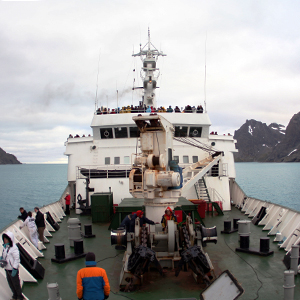 The best time to visit South Georgia is any time during October to March as for the rest of the year this Southern Atlantic island is pretty much inaccessible for all but the hardiest of explorers.