Our Falkland Islands vacations
Small ship cruises, often accompanied by scientific researchers or photographers, offer an exciting and immersive introduction to the Falkland Islands – a remote Atlantic archipelago where you can admire dolphins, whales, seals and many noisy penguin colonies. Cruises are also a gateway to South Georgia and the vast expanses of Antarctica beyond. And because passenger numbers are limited, you won't wait long to disembark for activities and tours, and the communities you visit won't be overwhelmed. Meanwhile, expert local guides ensure that our Falklands Islands vacations have a minimal impact on the wildlife and the fragile habitats they depend on.
Our top Falkland Islands vacations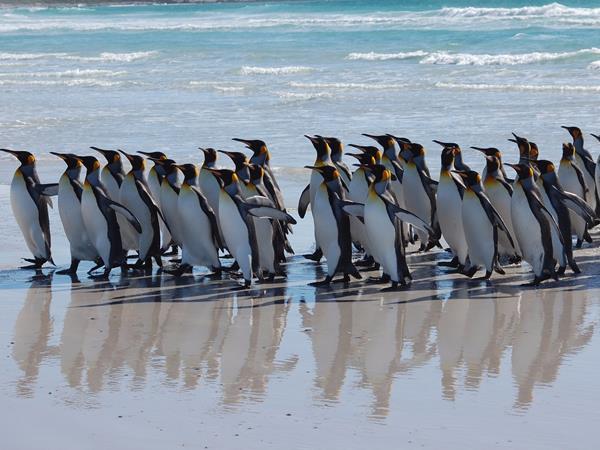 10 days
ex flights
10 day Falklands birds and wildlife adventure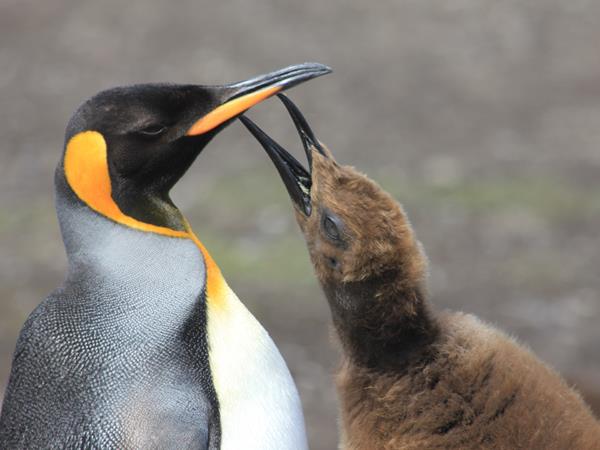 15 days
ex flights
A comprehensive Falklands birds and wildlife adventure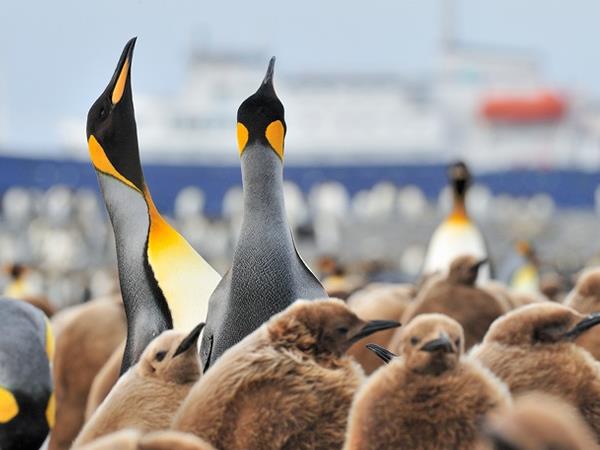 21 days
ex flights
The Ultimate Antarctica Experience!
Small group
2023: 21 Oct, 22 Oct, 24 Oct, 11 Nov, 23 Nov, 17 Dec, 2024: 4 Jan, 16 Jan, 1 Feb, 2 Feb
About our Falkland Islands vacations
Bird watching vacations in the Falklands
You can hardly turn around in the Falkland Islands for falling over a penguin, but this sprawling archipelago has many other avian visitors, as well as an impressive cast of endemic species. Pack your binoculars to watch albatrosses making their (sometimes less than graceful) landings on Steeple Jason Island, or Southern giant petrels waiting for an opportunity to snaffle someone's fish and chips in Stanley. Chirpy Cobb's wrens – found nowhere else apart from the Falklands – thrive on Carcass Island, while striated caracara are birds of prey with a penchant for penguin chicks and lambs.
Antarctica cruises
Many
Antarctica cruises
make a brief stop in the Falkland Islands after navigating the Beagle Channel – or the notoriously choppy Drake Passage – from Ushuaia. However, our cruises are vastly different to the 'all singing, all dancing' mega vessels that most are familiar with. These are small ships, with passenger numbers limited to 250. There's a lower impact on the environments and communities they visit, and greater flexibility when it comes to activities and accessing narrower bodies of water. Routes vary, but there really is no better way to explore this region and its spectacular landscapes than by sea.
Falklands War
Prompted by Argentinean forces invading the Falkland Islands and then South Georgia in 1982, the Falklands War saw Britain firmly stamp its authority over territory both countries claim as their own. Nearly 1,000 military personnel died in the two-month conflict and it was seen as a resounding victory for Britain, but has never been fully resolved. While the islanders largely consider themselves British citizens, Argentina still views 'Las Malvinas' as Argentinean. Most Falkland Islands vacations focus on the wildlife, but some do provide interesting history tours that take you from Port Stanley to key battlefields such as Goose Green.
Types of tours & vacations in the Falklands
Small ship cruising
is the best way to see the Falkland Islands and its wildlife. There's a range of itineraries available, but what they all have in common is a lower impact on the places they visit when compared to larger vessels. Trips typically focus on the two main islands, where penguins are in abundance, but there is much more to
wildlife vacations in the Falklands
than these charming flightless birds. The species here are a link between Patagonia and Antarctica, and they include vast seal colonies, whales, dolphins and both endemic and migratory marine birds.