Bird watching on the Falkland Islands

As well as the birdlife, one of my favourite visits was to the post office in Stanley, where they have the most exquisite stamp collections. The bird ones are delightful works of art.

Penguins may take center stage amongst the Falklands' ornithological cast, and they are indeed worthy protagonists. However, this archipelago of over 700 islands, bang in the middle of the Atlantic, has a lot of avian visitors, and some exquisite endemics too. Let's not forget the crew either, with the Falkland Islands' natural productions being brilliantly managed by
Falklands Conservation
. This local NGO works tirelessly to protect habitats, monitoring seabird populations, nursing oiled penguins and being the Falkland heroes of today, relying entirely on donations.
Penguins
Sometimes we forget they are birds, their lack of flight yet superb swimming skills almost giving them their own marine wildlife status. They are everywhere in the Falklands it would seem, with five species that rule the roost. Volunteer Beach has one of the northernmost colonies of king penguins in the world. Tiny rockhoppers cling miraculously to cliffs on Pebble and Sea Lion Islands. And the islands have the world's largest gentoo population, so you will find them all over the place, even really close to Stanley at Gypsy Cove. Magellanic penguins, fondly known as jackasses, are pretty prolific too. They are totally black and white in colouring, and can be spotted hiding in the tussock grasses on Pebble and Bleaker Islands as well as Volunteer Point. Macaroni penguins are the most elusive with only a couple of dozen pairs and, like the rockhoppers, they defy nature by clinging effortlessly to cliffs, usually alongside their rockhopper mates.
Black-browed albatross
Steeple Jason Island is home to 70 percent of the world's population of black-browed albatross, although you will also see them on South Georgia Island en route to the Antarctica Peninsula. This medium sized albatross has a wingspan of between 200-240cm, and one which is particularly striking as it soars overhead because its wings have a perfect black lining. Their eyes look as if they could have been done by a professional make up artist too, carrying a strong brow look – hence the name. You can see them on a day trip to West Point Island, which is an Important Bird Area formerly called Albatross Island.
Southern giant petrels
Also known as stinkers because they have a rather clever knack of spitting a ghastly substance at potential predators. Some say that the name 'petrel' comes from St Peter, because they have another clever knack of running on water before taking flight. There are approximately 10,000 breeding pairs on the Falklands, and they favour the coastal flats for nesting. They also favour areas in and around Stanley where, if your fish and chips are nicked, it may be a petrel rather than a common seagull. Bleaker and Pebble Islands are also popular spots to see them.
Our top trip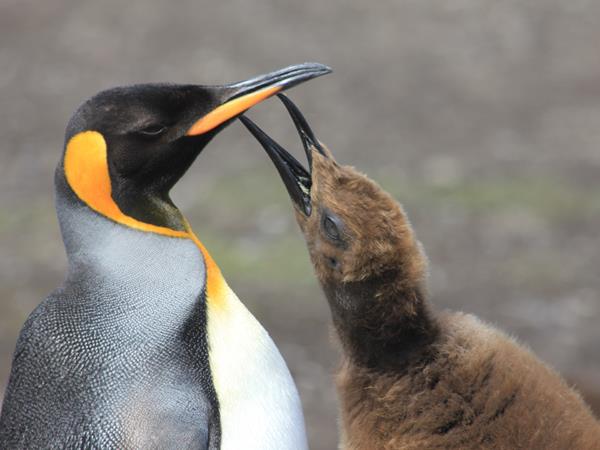 A comprehensive Falklands birds and wildlife adventure
From
£

4832

to

£

5885
15 days
ex flights
Tailor made:
This trip can be tailor made and runs between October - March
If you'd like to chat about Falkland Islands or need help finding a vacation to suit you we're very happy to help.

Cobb's wren
Unique to the Falkland Islands, this little beauty may be plain with brown feathers and a black beak, but it trills and sings from the tussock grasses along the coast like no other. It is at risk, however, from the presence of rats on some of the islands, which eats its eggs. Known locally as the rock wren, because it is perfectly camouflaged against the rocky shores, there are over 2,000 breeding pairs, and the rat free islands of Carcass and Kidney are popular spots. Carcass wasn't such a good place for the first one to have been discovered, however, as it was shot by a local Mr Cobb who sent it to the British Natural History Museum for inspection as a new species.
Flightless steamer duck
The Falklands definitely like their flightless birds, the flightless steamer duck being one of their endemics. Large and striking with a grey body and orange splashes of beak and feet, it has very small wings, meaning that it really can't fly, although there is a flying steamer duck that does. That must suck for the flightless ones. They are the most prolific of all duck species on the Falkland Islands, with over 300,000 breeding pairs. Well, they aren't going anywhere, are they? Although they do like to try, paddling furiously along the surface with their little wings. Keen birders fly in from all around the world to see these endangered species.
Striated caracara
Known locally as Johnny Rook, these guys take no prisoners. They are striking blackish brown birds of prey with orange feet, and can be seen on some of the outer islands such as West Point or Saunders hanging out on cliffside nests among the penguin colonies. There are around 400 breeding pairs on the Falkland Islands, and although they are known to prey on penguin chicks, they tend to favour dead sheep or seabird carrion. Farmers keep them well away from lambs, and they have been known to head towards humans if they are donning red.
More Falkland Islands articles