South Pacific Islands travel guide
For centuries, ever since European sailors returned from these islands with stories of its wild natural beauty and the warmth of its people, the very words 'South Pacific' have conjured up images of paradise in Western imaginations. It stands to reason: these are indeed some of the most spectacular atolls in the world, with white sand beaches, vibrant green jungles and coral-ringed lagoons offering world class snorkelling and diving.

From hiking through rainforest to scaling active volcanoes to snorkelling above World War II wrecks, the South Pacific is about so much more than just beaches.

What these islands aren't, however, is an identikit postcard paradise or a scene from a Gauguin painting. The South Pacific is incredibly varied, home to forward thinking urban areas as well as staunchly traditional waterside villages. And while you might well be heading here to find your own little slice of paradise, don't use this as an excuse to turn a blind eye the very real challenges that these island nations are facing. Climate change has put small countries such as Kiribati at risk of sinking within a generation and precious corals are bleaching as ocean temperatures continue to rise. Find out more in our South Pacific islands travel guide.
The South Pacific Islands are…
colourful, varied and full of surprises.
The South Pacific Islands aren't…
a picture perfect paradise.
Our South Pacific Islands Vacations
What we rate & what we don't
Island cycling
The beautiful beaches and underwater action are top notch, but a South Pacific vacation offers so much more than just a picturesque beachside break. Hopping onto a bike allows you to pedal to the heart of these island nations – zipping down spectacular coastal trails, exploring forested inland tracks and moving from village to village meeting friendly local communities.
Surfing
Water sports in the South Pacific are all about exploring the hidden depths of the deep blue sea, right? Wrong. While there are clear, coral-filled waters aplenty, there's rough and tumble wave riding action for those in the know, too. Fiji is the best place around these parts to hit the breaks, and there are surf schools offering lessons and experiences from total newbies to old hands.
History
The first people arrived here over 50,000 years ago and share ancestry with Australia's Aborigines; you can hear about their lives through village storytellers as well as the islands' many museums. While there, you can brush up on your colonial and WW2 knowledge. Several major WW2 battles were fought in this region and many of the wrecked ships have become dramatic reefs, attracting multi-hued coral and shoals of fish.
Wildlife watching
This unique part of the world is peppered with isolated islands, pristine wilderness and quantities of unusual, can't-see-them-back-home species, including endemic reptiles, and birds such as the Solomon sea eagle. It's also home to at least 11 percent of the world's seabird population and you can spot whales and dolphins in the oceans.
Small ship cruising
This is a great way to sail to the hidden coves and untouched shorelines that larger ships simply won't consider – and in some places, it's the only way to get around. That's why
boarding a boat
is the best, and in some areas, the only way of exploring. Vessels range from plush ships with air con, pools and Wi-Fi to simple (yet comfortable) working ships delivering essentials to remote islanders.
Village visits
Visiting a traditional village is one of the highlights of a trip to the South Pacific. As soon as you arrive, kids call out greetings and village elders take the time to shake your hand and get you up to speed on the local history and legend. You'll usually receive offers to stay for a meal or longer and might get invited to a kava ceremony.
Underwater action
Let's face it: it's the brilliant blue of the ocean and all that lurks beneath that drew you to the South Pacific in the first place. And these islands provide a veritable smorgasbord of underwater delights, from diving, snorkelling and kayaking to paddle boarding, surfing and one of the region's most memorable experiences:
swimming with humpback whales.
Family vacations
The South Pacific makes a wonderful destination for family vacations. For one thing you've got that extraordinary island scenery as a backdrop for all your photos. For another, everyone will love the range of activities open to you, from cycling and hiking to snorkelling with sharks, leaping into waterfall pools, cricket on the beach, or making friends on overnight village visits. And underpinning it all are the deep traditional values and friendly, welcoming natures, of the South Pacific people, smiling greetings everywhere you go.
All inclusive resorts
If you hang out at tourist bars or hotel restaurants then you might miss out on what this region does best: genuine friendliness. What's more, most of the money raised through big resorts goes directly into the pockets of foreign investors. Staying at a locally owned hotel, using local guides and visiting communities away from the tourist drag helps to spread tourism revenue and maintain a sustainable future.
Independent travel
While plenty of people travel independently in the South Pacific, organised tours take you well away from the tourist hubs to lesser known islands and into local communities without you having to negotiate any of the logistics. They'll also use local guides and ensure that your money goes into the hands of local business owners and craftspeople.
Massive cruise liners
Exhaust fumes, coral destruction and a general lack of transparency where environmental impact is concerned mean that massive cruise liners present a real problem. Mangrove forests were felled to create the cruise liner marina in Denarau Port, Fiji, for example, and because most passengers stop for a limited time on a limited number of islands, many local economies have next to nothing to show for it.
Coral souvenirs
Large cruise ships, motorised water sports and general stomping around all help to destroy coral and damage the fragile ecosystems surrounding the islands and atolls of the South Pacific. Collecting live coral is also a terrible idea and although coral souvenirs may look tempting, buying this sort of product is just going to perpetuate the practice of picking it. Do the environment a favour and leave coral underwater.
Eating & drinking in the South Pacific
A lovo is a traditional feast where is marinated, wrapped in palm frond or banana leaves and cooked over hot coals underground, along with a selection of roots.

Each South Pacific island has its own unique food style, influenced by its colonial history and the immigration of Chinese and Indian labourers; you'll find everything from high end French cuisine to burgers to chow mein.

Kava – a muddy brew with a mild sedative effect – is a popular drink on most of the South Pacific islands. Kava ceremonies are used to welcome guests, commemorate occasions and seal alliances. The effects vary from a mild buzzing sensation in the lips to feeling heavy-limbed and blurry-eyed.

Almost 40 percent of Fiji's population is of Indian origin, descended from indentured Indians brought to the islands in the late 19th century to work the sugar cane plantations.

Our top South Pacific Islands Vacation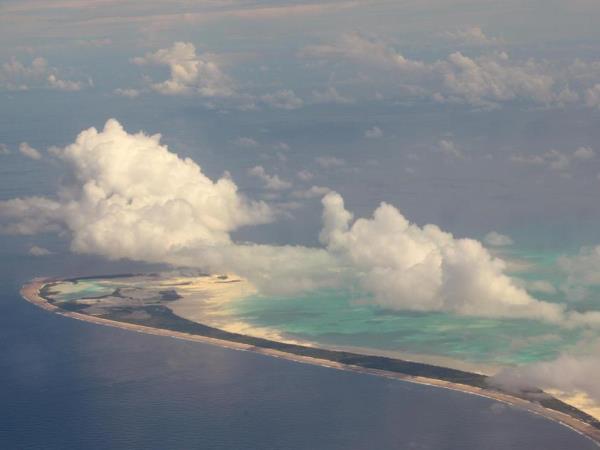 Discover some of the world's smallest nations
From
£

15595

to

£

17595
27 days
ex flights
Small group travel:
2023: 28 Sep
2024: 20 Jun, 26 Sep
If you'd like to chat about South Pacific Islands or need help finding a vacation to suit you we're very happy to help.

People & language
The South Pacific Islands are divided geographically and culturally into three regions: Polynesia, Micronesia and Melanesia. Of the hundreds of languages spoken here, the majority are Austronesian – an ancient family of languages spoken as far afield as Madagascar and Easter Island. These languages are quite similar and islanders from different nations can usually understand each other. The legacy of former French, English and Japanese colonisers is still very much visible today, as it that of Chinese and Indian labourers who arrived in the islands in the 19th century. English is spoken widely, especially in Samoa, Fiji and Tonga, while French is spoken alongside native languages in French Polynesia, New Caledonia and Vanuatu. Many older Micronesians speak fluent Japanese.
Gifts & shopping
Sculpture is a prized art form across the Pacific. Wooden crafts include weapons and model canoes, and many people take home beautifully carved wooden ceremonial kava bowls.

The South Pacific is also famous for its textiles, especially bark cloth, or tapa, made from beaten mulberry bark, It's used to make everything from clothes, baskets and mats to funeral clothing.

Baskets, bags, hats and fine mats made from woven pandanus leaves are popular souvenirs and are relatively cheap to buy.

The word tattooing originated in French Polynesia. It comes from the Tahitian
tatau
, which means 'to mark something'.

How much does it cost?
A local beer = £1.50

A half day snorkel trip = from around £25

A bottle of water = 60p

A meal in a local restaurant = £5

A local bus ticket = 40p
More about South Pacific Islands