Things to see & do in
the Solomon Islands

Don't want the manicured version of the South Pacific? The Solomon Islands are a fully fledged adventure for nature lovers and seekers of authenticity.

Yearning for an old fashioned slice of the Pacific before banana boats and swim-up cocktail bars got in the way? Well, you'll be in luck in the Solomon Islands. Unlike neighbouring Fiji or Tahiti, the roads are often unpaved and the infrastructure far from modern, but who needs speedy WiFi and flat-screen TVs when you've got such an outrageously beautiful landscape?

The shores of the Solomon Islands are wild and largely untouched, and the ocean hides not only vibrant coral reefs but a scattering of World War II relics, too. Venture away from the beaches and you'll reap equal rewards – extinct volcanoes that you can climb up, mangroves where crocodiles lurk under murky waters, pristine lagoons to kayak across, and thatch villages where the welcome is as warm as the sun and age-old traditions still hold fast.
Our South Pacific Islands Vacations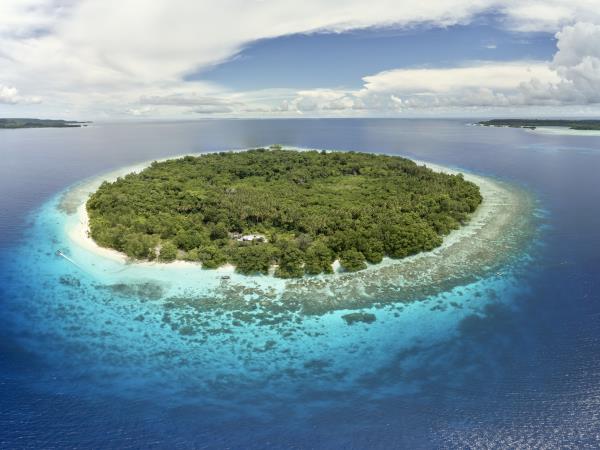 Papua New Guinea, Solomon Islands, Vanuatu expedition cruise
From
US $

11195
17 days
ex flights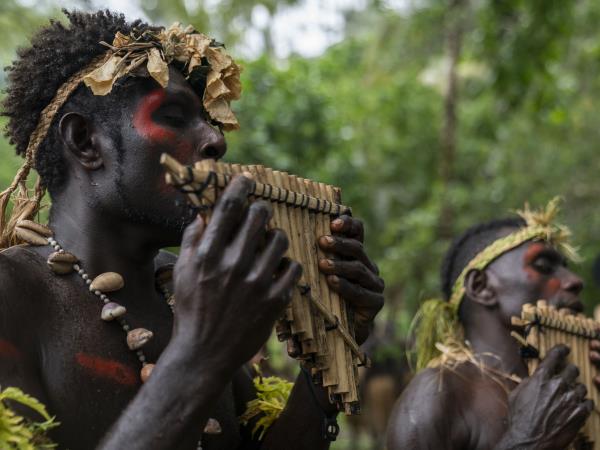 Exploring Papua New Guinea, Solomon Islands & Vanuatu
From
US $

11995
17 days
ex flights
Landscapes in the Solomon Islands
Wedged halfway between Papua New Guinea and Vanuatu, the Solomon Islands consist of 992 islands divided into nine provinces, through only a fifth of these islands are inhabited. This is one of the most pristine environments in the South Pacific, and rainforests, waterfalls, volcanoes, lagoons and rich coral reefs are par for the course here. There's a handful of both active and dormant volcanoes here, too. The rugged and mountainous main island, Guadalcanal, is home to the capital city Honaira, and is dominated by the 2,335m tall Mount Popomanaseu, the highest point in the Solomon Islands.
Over half a million people live in the Solomon Islands, most of them of Melanesian origin, with smaller Polynesian, Micronesian, Chinese and European communities. Over 90 percent of Solomon Islanders identify as Christians and English is the official language, with Pijin used by most people as the common lingo and some 70 other languages still in use. Solomon Islanders are committed to preserving their traditional customary lifestyles, or kastom; and under the Wantok system (which literally means 'one talk'), individuals are supported by members of their clan or extended family.

While the capital, Honiara, is a rapidly growing urban center of some 70,000 people, most Solomon Islanders still live in rural villages where they survive by fishing, hunting and growing crops. Barter and alternative forms of currency such as shell money are still practised on some of the islands.
Our top South Pacific Islands Vacation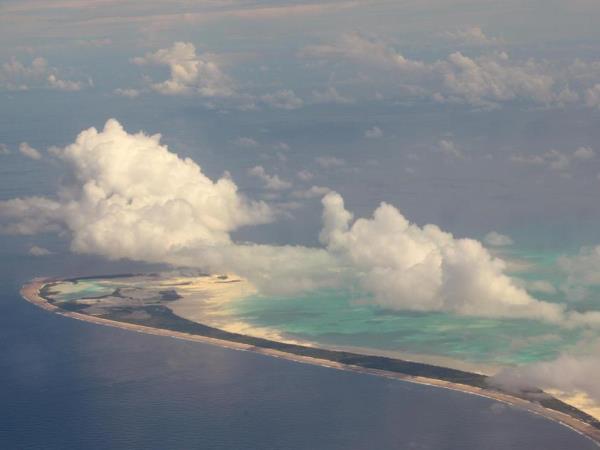 Discover some of the world's smallest nations
From
£

17595
27 days
ex flights
Small group travel:
2024: 20 Jun, 26 Sep
2025: 19 Jun, 25 Sep
If you'd like to chat about South Pacific Islands or need help finding a vacation to suit you we're very happy to help.

Things to do in the Solomon Islands
Cultural encounters
A village tour will is a great way to learn about the country's unique cultures and gain firsthand experience of the traditional daily lives of Solomon Islanders – you'll get to meet the local people, eat a local meal, get the low down on the traditional 'shell money' and learn a few world in native Pijin. Several villages will let you stay overnight. In the outer islands this experience can be rustic – with no electricity or running water – but the clear night skies and sound of the waves more than make up for it. It may be considered impolite to just drop in, so escorted tours are encouraged.
Types of tour
In these remote archipelagos, local sailors still use traditional navigation practices to travel between the islands, and a
small ship cruise
or organised
small group tour
using flights and other local transport is the best way to get around these parts. The Solomon Islands will be one of a number of stops in the more remote areas of the South Pacific and not only will you be able to discover far flung places without worrying about the logistics, you'll have local guides at your disposal to make it all run smoothly.
World War II history
The Solomon Islands' World War II history is ever present, and the landscape is littered with old memorabilia, from tanks and guns on land to Japanese bomber planes and war ships under the water. Much of it comes from the bloody, six-month Guadalcanal Campaign, which lasted from August 1942 to February 1943 and left 6,000 Japanese and American forces killed in action or lost at sea. On Skyline Ridge near the capital Honiara, the Guadalcanal American Memorial tells the story of the campaign, written on red marble pillars.
Diving & snorkelling
Diving is hugely popular here, and you'll find spectacular reef walls where you can spot Moray eels, manta rays, sharks, turtles, and an array of colourful fish. Given the islands' history many people come here specifically for wreck diving. If you're not a diver but are handy with a snorkel, you can still take a peep – some wrecks are a short distance off the coast and sit under shallow waters.
More about South Pacific Islands