Things to see & do in French Polynesia

Look beyond the honeymooners and swanky over water bungalows, and you'll find rugged walking trails, welcoming villages and fantastic opportunities for whale watching.

Out of all of the countries in the South Pacific, French Polynesia has the glitziest reputation, and the islands of Tahiti and Bora Bora have graced the pages of glossy magazines from New York to Beijing. While these high end tropical enclaves are admittedly pretty sweet, there's more authenticity to be found if you head for away from the resorts and into the forests and villages; or set sail for the more remote corners of the archipelago. Wherever you choose to land, though, you'll reap plenty of rewards. From the immense, sculptured tikis on Hiva Oa to the underwater treasure trove around Rangiroa, French Polynesia delights and fascinates in equal measures.
Our South Pacific Islands Vacations
Landscapes in French Polynesia
French Polynesia's volcanic archipelago is made up of 118 islands, around half of which are inhabited. The islands are clustered into five groups – Society, Tuamotu, Gambier, Marquesas and Austral – and are scattered across some 2,000km of Pacific Ocean. The majority of French Polynesians (around 180,000 out of a population of 280,000) live in Tahiti, where you'll also find the capital, Papeete. The next biggest hubs, population wise, are the islands of Moorea and Raiatea. All three belong to the Society Islands.

Each island in French Polynesia boasts its own unique tropical landscape with secluded bays, waterfall scarred cliffs and sacred stone sites adding to the thrill of wet landings and traditional welcoming ceremonies.
History & culture of French Polynesia
The first people to arrive in French Polynesia migrated from Southeast Asia around 4,000 years ago, traversing the challenging waters of the South Pacific in wooden canoes. Most modern French Polynesians are descendants of these ancient mariners. European explorers arrived during the 16th century, and the islands were colonised by the French in the mid 19th century – who invited thousands of Chinese migrants to the country to work on plantations. Today, almost 80 percent of the residents are of Polynesian or mixed Polynesian ethnicity, 12 percent are of European ancestry and 8 percent are of Chinese descent.

Despite French being the official language and Christianity the main religion, French Polynesia moves to its own laidback tropical beat. Traditional welcome ceremonies abound and they differ from one island to the next, as do handicrafts and carvings, with tapa cloth, flower stones, boulders, bones, coconuts and shells all providing unique canvases for intricate designs and sacred inscriptions.

If you want to get a taste of the local food, then poisson cru is often touted as the national dish. Similar to Peruvian ceviche, it includes fresh, raw tuna soaked in saltwater and placed in a mixture of sliced onion, ginger, parsley, lime juice and coconut milk.
Our top South Pacific Islands Vacation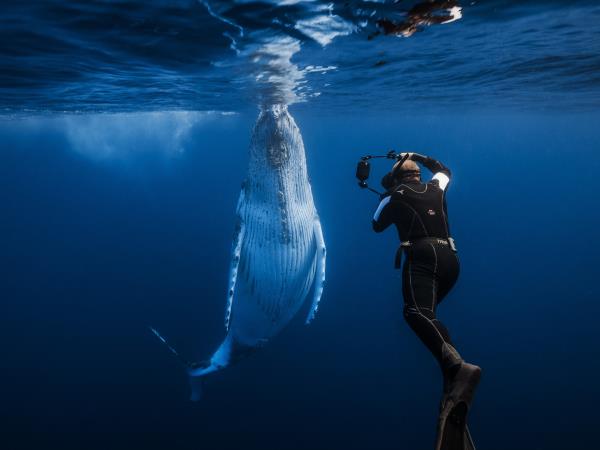 Adventure tour swimming with whales in Rurutu
From
US $

3975
8 days
ex flights
Small group travel:
2024: 13 Sep, 20 Sep
If you'd like to chat about South Pacific Islands or need help finding a vacation to suit you we're very happy to help.

Activities in French Polynesia
Swimming with humpbacks
French Polynesia is one of the best places in the region for swimming with whales. From August to October humpbacks visit the waters around Moorea, 15km west of Tahiti, to give birth, and small groups of travelers are able to get into the water with them, to swim or snorkel, often in the company of an experienced naturalist or wildlife photographer. The sight of mother and newborn calf is incredible and an experience not to be missed
Small ship cruising
As with many of her other island neighbours, small ship cruising is an idyllic way to negotiate the coves and reefs of this stunning country. You could either join a group on a small ship taking in several far flung South Pacific island nations; or stick to the Polynesias and the nearby Marquesas, by booking a place on a
working cargo freighter
. These boats combine tourist and passenger transportation with cargo deliveries and while they're not as fancy as purpose built cruise vessels, they're excellent for reaching out of the way destinations and getting an insight into the local economy.
Go hiking
French Polynesia's rugged, volcanic landscape makes for some pretty great walking trails. Combine this with sweeping ocean views, secret beachside paths and mysterious archaeological sites sitting alongside fertile slopes and you're pretty much in hiking heaven. Trails on Fatu Hiva and Atuona, in particular, are well worth remembering and reward you with some of the best views in the islands.
Discover Polynesian culture
Pearl cultivation is a major industry in French Polynesia, and Tahiti's pearls are world famous. Often described as black pearls, the colours are in fact all different, ranging from light grey to dark green. A visit to a local pearl farm, or to Tahiti's Ribert Wan Pearl Museum, can help you delve into the history and production methods of these precious objects.

The history of these islands is rich and diverse and you'll get more out of a visit here if you take the time to learn about its past. In Puamau, on the island of Hiva Oa, for example, you could check out Mea'e Ipona - an incredible archaeological site full of tikis (ancient stone sculptures reminiscent of those in Easter Island) set amongst lush grounds. Hiva Oa is also where Paul Gauguin spent his final years and created some of his most famous works – you can visit a Gauguin museum and the hilltop cemetery where he is buried. One of the world's largest displays of ancient Polynesian artifacts is located in the Museum of Tahiti and Her Islands (Punaauia, Tahiti).

For a more offbeat experience you could channel your inner Robinson Crusoe and learn some desert island survival skills, such as learning to fish, light fires and use a machete – before being left to survive on your own (ok, with a few fellow landlubbers) for a few days on your very own uninhabited desert isle.
More about South Pacific Islands