Family cycling vacations in Sweden
Just as riding a bike requires a good sense of balance, so too does crafting a self guided cycling vacation with exactly the right amount of support. Carmen Hamdi, from our Swedish vacation specialists Nordic Trails, knows that a hands-on approach at the start – designing fun itineraries that have accurate and achievable daily distances, and developing strong relationships with local suppliers of accommodation and equipment – means that she can be confidently hands-off later.

That early effort lets her happily wave families off on their own, knowing that everything will tick over as smoothly as a well-oiled set of gears. "I love exploring new routes for people to enjoy, especially the islands," says Carmen, "but what I enjoy most of all about organising these trips is meeting people at the end of their vacation to hear how they got on. I find that many people have little perception of what Sweden is like outside the cities. My guests are often shocked by the sandy beaches and that they can swim (in summer, anyway)."
Cycling vacations in Sweden
can take you either around the Stockholm archipelago (around 24,000 islands and islets, most of them deserted) or an hour further south to Sörmland. This historic province is dotted with royal palaces and manor houses, but also has an archipelago of its own and many beautiful coastal towns. Both destinations are capable of offering such a sense of isolation and serenity that it's amazing how close you still are to the capital.
These are technically small group vacations, but self guided. You will bump into familiar faces at times, such as on a ferry transfer or at a little restaurant over dinner, but for the most part your family will be able to travel at their own pace. Routes have been carefully developed through years of experience and first-hand knowledge to ensure that you have plenty of time to stop off for a swim, leisurely picnic or tour of a museum, and be at your accommodation by sunset. Route notes are comprehensive to complement well-marked cycling and walking trails, but they contain a wealth of information on the culture and history of the places you're traveling through. You don't have a guide, but you might as well have.
A typical family cycling tour is six days long, covering an average of 50km every day. The terrain, often taking you along gorgeous lakeside and coastal tracks or through dense forest, is mainly flat. What hills there are tend to be very gentle. And the vast Ecopark in Stockhom, spanning several parts of the city including the island of Djurgården, is an ideal place to get used to your bikes for a day before setting off. The bikes used are hired from local businesses and are suitable for all the terrain you'll cover, from asphalt to grass and dirt. When you are on the roads they will be mostly quiet country lanes.
Our Sweden family Vacations
Cycling in Sörmland
"It was an excellent vacation for an active family. It kept teenagers off social media for long periods of time. We got a great insight into the Swedish countryside." One of the biggest highlights for Michael Murphy and his family was hiking, cycling and swimming around the Stendörren Nature Reserve using a system of suspension bridges. It's usually followed by a stay in the little seaside town of Trosa. While you'll be getting around mainly on two wheels in Sörmland, you will spend plenty of time out of the saddle too, perhaps making journeys by steam train or boat, or even doing a little canoeing on the Marviken lake system.
The minimum age is usually 12, but if your kids are up to the challenge there is flexibility there. Vacation companies may be able to tweak aspects of the itinerary with enough notice, but for the most part you'll follow tried and tested routes from Stockholm and back again via nature reserves, lakes, Gripsholm Castle, Roual Tullgarn Palace and the Nynas Manor House, staying in a picturesque coastal communities and every day presenting an attractive spot for a picnic.
You'll stay in small, independently owned hotels and guesthouses throughout, where food is sourced as locally as possible, and no further than from Stockholm. "We really try hard to use local providers wherever possible," says Carmen. "Equipment for activities is sourced from local suppliers too."
Linda Johnson and her family loved cycling in Sweden too. "Life enhancing," she says. "The operator organised everything beautifully. This meant we were free to enjoy the cycling and discover the Swedish culture and sights. When I returned home I was still glowing from all the memories and sensations from the vacation experiences."
Our top Sweden family Vacation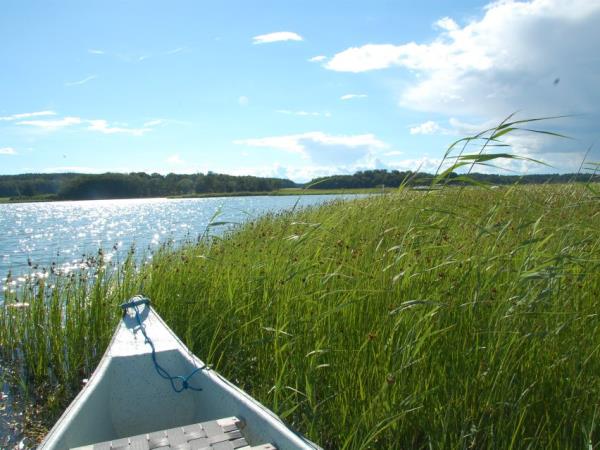 Multi-activity tour in Stockholm's picturesque countryside
From
SKr

10500
7 days
ex flights
Small group travel:
2023: 9 Jun, 16 Jun, 30 Jun, 4 Jul, 11 Jul, 18 Jul, 1 Aug, 18 Aug, 1 Sep, 8 Sep, 15 Sep, 22 Sep
If you'd like to chat about Sweden family or need help finding a vacation to suit you we're very happy to help.

Cycling in the Stockholm archipelago
Stockholm is a city built on islands, but just beyond the capital there is a vast archipelago to explore, comprising of some 24,000 different islands and islets, most of them uninhabited. Plotting a cycling route around this area would be a daunting task for those unfamiliar with it, which is why Carmen Hamdi has dedicated herself to crafting the ideal family itinerary. Across four days (bookended by a couple of nights in the capital) you can comfortably tour a generous handful, making use of an excellent ferry network and many bridges. Here the minimum age for riders is just eight.
"The bigger islands are in the south of the archipelago, which is why we cycle there," says Carmen. "Utö is one of my favourites, with a lively village and a good beach for children. Very few other islands have suitable accommodations. But it can get quite busy in summer. Off season it's lovely. From there you go to Orla, which has a lovely fish restaurant. Gällnö has a little shop and café, and I like it there because it's right in the heart of the archipelago so to get there you pass lot of little islands. There's a rowboat you can take out to hike on a neighbouring island, but there must always be a boat on each island, so you have to be trusted to take one back over with you and not leave people stranded!"
And for those with the time to go a little further, there is the option to extend the itinerary. "Huvudskär is a distant archipelago," says Carmen. "To get there you need to take a boat over sometimes choppy water. It's popular with artists for the light and remoteness. This is where you come for complete calm, as access is quite difficult."
Picturesque rural landscapes such as those you'll find with a short hike in Tyresta National Park combine with gorgeous sea views, fresh salty air and coastal scenery. Dalarö is particularly lovely, with white sand beaches and wooden houses full of character.

"It was all memorable," says Libby Aitchison, who cycled here in 2019. "We had a great time and met some lovely like-minded people." As with Sörmland, expect to be staying and eating locally throughout, keeping the carbon footprint of your vacation lower and ensuring that not only do you get an enthusiastic welcome wherever you stay, but also that the island communities you visit benefit too.
When to go cycling
You can cycle in Sweden between May and September. The summer, between late June and end of August, is when you'll get the best weather, although you should pack rain gear just in case. Out of season these areas will be quieter still, and the water in September will still be lovely for swimming.