Tall Ships sailing vacations
Masts as tall as turrets, hulls close to a century old, and thousands of square metres of sails: sailing on a tall ship is the nautical equivalent of staying in a castle. It's amazing to think, in an age of aeroplanes and America's Cup hydrofoils, that these historic vessels still rule the waves. Thanks to the efforts of the Tall Ships' Race, and charities like Sail Training International, tall ship sailing is no longer a vanishing way of travel. Instead, these boats, often decommissioned cargo ships, live on as places where people, especially young people, can learn about preserving seafaring traditions.

It's no coincidence that tall ships are often named after famous explorers; they are still the go-to vessel for a voyage of discovery.

So many of the sayings we use in everyday life suddenly take on their true meaning at sea. You might indeed batten down the hatches, you'll find out that the bitter end is at the end of the anchor chain, and you'll soon learn that being on an even keel is most definitely a good thing. On our tall ship sailing vacations you can choose whether you want to sail alongside other boats in a regatta (a race), or go on a cruise, where you can spend a more relaxed time sightseeing.
Our Tall Ships sailing vacations Vacations
What does Tall Ship sailing entail?
What is a tall ship?
A tall ship is simply a sailing ship with high masts. Races categorise tall ships in different ways, but they are usually traditionally rigged, which means plenty of beautiful square rigging. The great thing about tall ships isn't just their beauty, but the fact that each one comes with a story, and no two are identical. But you might be surprised to find that lots of tall ships aren't as old as they look – they are often modelled on earlier designs. Some, like Spanish-built wooden ship ATYLA were built in the Eighties, even though, with their wooden hulls and multiple sails, they look like they've got lost on the way back from Treasure Island.
Is tall ship sailing for me?
Go on a tall ship cruise if you love history, stories and language – there's a reason so many myths begin at sea. Bring an appetite to listen – and to learn, especially if you're there as part of the crew. Forget steam chairs and deck quoits, tall ships vacations are actually fairly active vacations. Arctic cruises combine hiking the tundra with hauling in the mainsail. Mediterranean cruises hop between fantastic port towns.
If you participate in a
Tall Ships race
you can't be a dead weight. You'll help with sailing and general running of the vessel, scrubbing decks and peeling spuds with the rest. You'll be thrown in with a motley crew, often with a real mix of nationalities and ages, so bring a sociable spirit and a sense of humour. Many vessels are old and space below deck is confined, with ladders, gangplanks and bunk beds, as well as dinghies that you'll need to be able to clamber in and out of. You'll need to be relatively able-bodied to make your way safely about the boat.
Our top Tall Ships sailing vacations Vacation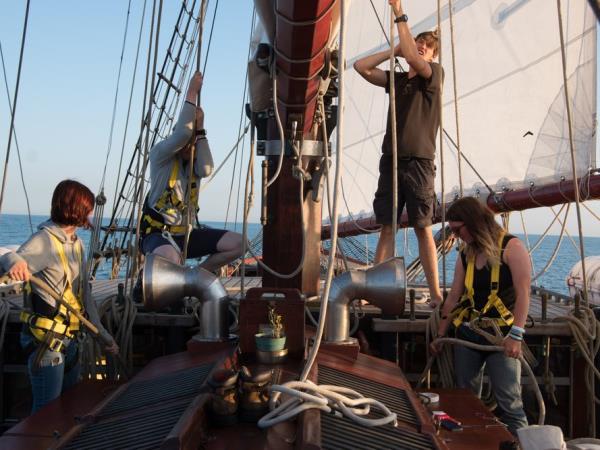 Sailing adventure from Bilbao to the Brixham Pirate Festival
From
€

790
7 days
ex flights
Small group travel:
2023: 24 Apr
If you'd like to chat about Tall Ships sailing vacations or need help finding a vacation to suit you we're very happy to help.

Where to go on a tall ship cruise
It makes sense that many tall ships are based in Europe, as so many European nations sport long and colourful naval histories. On their home continent, tall ships can grace multiple historic regattas and sailing weeks. Lots will take part in Europe's annual Tall Ships' Race, which changes its course every year. They may also also visit Rostock in Germany for Hanse Sail, and Kiel for Kiel Week, two big events in the sailing world calendar. Others will stick to cruising the prettiest stretches of coast close to their home ports. For an adventure into the tundra, go on an Arctic cruise from Spitsbergen in Norway's Svalbard region. Voyages are planned far in advance, and you'll usually be able to see where a particular vessel is going for the following year.
Crewed cruises
Blue whales off the starboard bow! Minke whales off port! Some tall ship sailing vacations come with a full crew, so you can concentrate on other activities, like hiking ashore and looking out for wildlife. You could vacation in the Arctic, stepping off your wooden boat to trek across tundra, watch a walrus haul out onto an ice floe, or spot a pod of beluga whale looming up through the water. If you're feeling less intrepid, you could shimmy over to the Amalfi Coast, to travel on a tall ship with all the trimmings – think swimming pools and loungers on deck – and not lift a finger.
What to expect on board
Some tall ship cruises are a little more lavish than others. Across the world, you'll find square riggers that have been completely refitted to be modern and luxurious inside – take the 1902 Royal Clipper, a rare five-masted ship, which holds 227 guests, has three saltwater swimming pools on deck, and a three deck-high atrium. Or look at rare wooden schooner Linden which, true to her Finnish roots, has a sauna on board. Tall ships that are Arctic-bound actually have central heating on board. However, many are less than lavish. They're functional, rather than flamboyant under their magnificent rigging. There might be a dog-eared book on useful knots in the crew mess, there will be cabins where crew stay in triple-stacked bunk beds, and there will be shared shower rooms and heads (bathrooms).

Sailors are an environmentally conscious bunch. Tall ships aim to use their sails as much as possible, but they do have motors on board and usually use these for getting in and out of harbour and in narrow channels. Many cruises will attempt to retrieve any rubbish found on land or sea as they go along. Some boats have a marine biologist aboard who can help you tell the dolphins from the porpoises, and Arctic cruises have expert guides.

On some tall ship cruises everyone pitches in with cooking. Non-slip matting, cupboards with childproof latches, stoves on gimbals (so they always stay 'level') all make the 'galley' a bit different from your standard home kitchen set-up, and cooking at a slight angle can be quite eventful. On other cruises, there is a designated crew in place to cook all the meals, and on large boats like the Royal Clipper, you can dine as comfortably as you would in a hotel.
Will the boat rock?
You might worry that the boat will be lurching around all over the place in the waves, but generally, sailing boats experience less 'chop' than motor boats – one of the many reasons, alongside their environmental friendliness, why they're better. Once you're on a 'tack' the boat will lean over to a certain degree, and stay in place until you're ready to turn to the other tack. You might stay on the same tack for a whole day. And of course, on the largest sailing boats, the movement is even less noticeable.
What about seasickness?
You should pack seasickness tablets whether you think you get seasick or not, as once you're underway it's quite hard to change your mind and go home without a very long swim. You can get caffeinated tablets for daytime and non-caffeinated for night time. You could also buy acupressure wristbands, and eat lots of ginger biscuits (ginger is supposed to help with nausea). However bad you feel, you'll always feel better above deck than below deck. If all else fails, lie down – it can make you feel less sick surprisingly quickly.
What to pack
When you're on deck on a tall ship in the middle of the sea you can find yourself against all the elements. Don't neglect to bring sufficient warm layers: warm base layers, mid-layers, an insulated jacket and a rain jacket, plus a sunhat and a warm hat. You can bring sailing gloves to protect your hands if you're hauling on lines – some boats have very rough, old lines that can give you really excellent blisters. You should wear sunglasses to avoid the classic 'captain's squint' when you're staring at the horizon.
If you are taking part in an Arctic cruise, consider an eye mask so you can sleep when the sun doesn't go down in summer. Most people find they need plenty of space on their camera, for when a polar bear decides to make an appearance.
As for oilskins and boots – now, these will make you feel like a proper sailor. Heavy, proper wet weather gear is sometimes provided on the boat, so you don't need to buy your own. However, bring waterproofs as well, for times when it's a bit hotter and oilskins would be overkill.
More about Tall Ships sailing vacations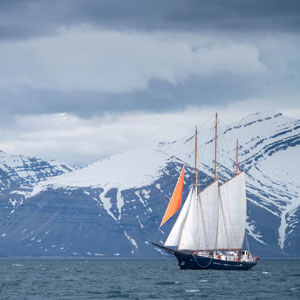 Most tall ships have a packed itinerary planned for summer, hopping between regattas and festivals or thoroughly occupied by a city-hopping coastal cruise.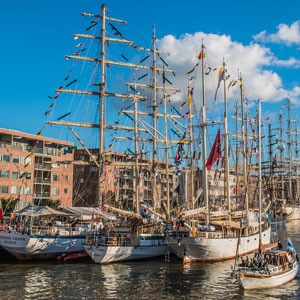 If tall ships have turned your head, then read on to learn about tall ships racing.