Tall ship racing vacations
Almost overnight, a fleet of piratical looking square-sailed schooners appear in the city harbour. They're dressed all over in colourful flags. The crew wave from the deck, thumbs resting on their oilskin braces. They look tired, but happy. They've just completed a leg of the Tall Ships' Race, an annual race that takes place between July and August across Europe. It's an amazing race that's been running in some form since the Fifties.

The ships look magnificent, even with their masts bare. But out at sea, racing for the starting line in fantastic full sail, they become different beasts altogether. Sail a leg of the Tall Ships' Race and see for yourself.

Several of our vacations involve the Tall Ships Race – whether that's delivering a vessel back to its home port after race, taking part in a cruise in company or competing on an actual leg of the race. The itinerary changes every year. One year you might be sailing off the coast of Lisbon, the next year it could be Lerwick in the Shetland Islands. The Tall Ships' Race was designed to foster international friendship – and it works. There's nothing quite as bonding as the experience of crossing the Bay of Biscay in a midnight storm. Doing so whilst your watch leader is teaching you a lewd sea shanty is even more memorable. One thing's for sure: there's nothing quite like this race.
Our Tall Ships sailing vacations Vacations
History of the Tall Ships' Race
When sailing ships fell into disuse after World War II, a London solicitor hit upon the idea of repurposing them for a good cause. Thus the Tall Ships' Race – in which 50 percent of the crew must consist of young people – was born. Its values are simple and wholesome: to teach people about seamanship, teamwork and tolerance as they race from port to port across Europe. The race takes place over around five weeks in summer. The first race was held in 1956, and ran from Torquay to Lisbon. In 2018, the race started in Sunderland for the first time, before heading off to Norway.
The race
There are roughly 100 regular participants in the Tall Ships' Race. Look out for Mir, the enormous Russian ship with its crew of smartly-dressed cadets, or British barque STS Lord Nelson, who is fully adapted for both disabled and able-bodied crew. Crews are normally international – it's in the spirit of the race – but the lingua franca on board is often English. Some people are on board to try and get sailing qualifications. If you clock up enough nautical miles, and learn enough skills, you could get a RYA Competent Crew qualification of your own.

Every year the route is different, but normally there are four legs, between four ports. Most of the time a crew will do a leg of the race together, from one port to another, and then the crew will leave and a new crew will join.
Our top Tall Ships sailing vacations Vacation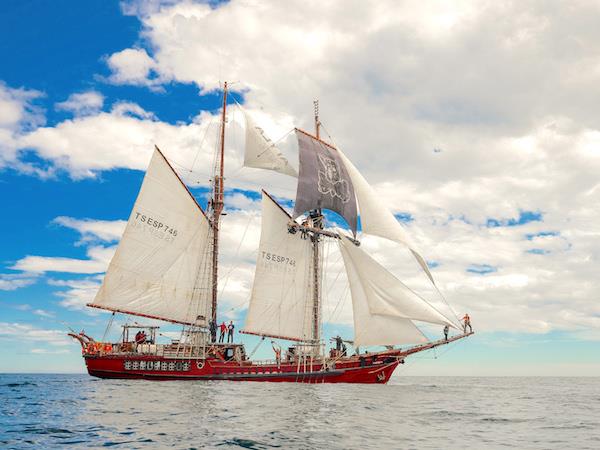 Adventure sailing in Spain on a historic ship
From
€

740

to

€

980
6 days
ex flights
Small group travel:
2024: 17 Mar, 24 Mar, 31 Mar, 7 Apr, 14 Apr, 21 Apr, 28 Apr, 5 May, 12 May, 19 May, 26 May, 2 Jun, 9 Jun, 16 Jun, 23 Jun, 30 Jun, 7 Jul, 14 Jul, 21 Jul, 28 Jul, 4 Aug, 11 Aug, 18 Aug, 25 Aug, 1 Sep, 8 Sep, 15 Sep, 22 Sep
If you'd like to chat about Tall Ships sailing vacations or need help finding a vacation to suit you we're very happy to help.

Keeping watch
The boat sails through the night during the race. This means that there's a watch system in place so that there's always a team of crew on deck looking out for hazards in the sea ahead – anything from shipping lanes to lobster pots and driftwood. If you choose to participate, you'll find yourself in a slightly bizarre situation in which you won't see much of the other watch during the passage, as they'll often be asleep when you're awake. The watches are staggered so that you will do a range of day and night shifts, and all sorts of odd jobs – from trimming sails to tinkering with the sextant – will arise when you're on duty. You can even steer the ship and it's the most thrilling feeling when you can feel the wind pulling you along through the gigantic wheel at your fingertips. Yes, there is a graveyard shift (normally something like a gruelling 4am until 8am) but it usually ends with a bacon sandwich. Though there is an on-board chef or cook, you can also be called upon to assist in the galley as part of your watch duties.
Finishing the race
Different boats will cross the 'finish line' at different times, but most run roughly to schedule. Tall Ships Races include a few days at the end of the trip as a 'buffer' zone in the arrival destination – meaning that if you arrive late you won't miss your home flight or train – and if you arrive on time you can participate in the victory parade... and the revels.
For once you arrive at port after a race, the real fun starts. Millions of people come to the harbour just to see the tall ships when they arrive in port for the 'festival'. You might get involved with welcoming visitors on board, or just get used to waving from the deck. Don't miss a chance to sightsee in your new port but, most importantly, be sure to jump at the chance to look around other boats if you get invited, so you can exclaim at their slightly wider bunks, or marginally cosier mess. There's a crew parade through town with a lot of chanting and then there's a rather large party: after being cooped up on board for a week, the stretching out of sea legs and the letting down of hair are number-one priorities.
Cruising in company
If you don't want to race in the Tall Ships' Race itself, there are plenty of other summer events that involve the tall ships. After all, it would be a shame if they only came out for one race a year. Many of the tall ships also take part in regattas across Europe, including Kiel Week, on Germany's Baltic sea coast. You can also take part in 'cruises in company' – these are often more relaxed journeys, with more opportunities to stop and explore different ports.
More about Tall Ships sailing vacations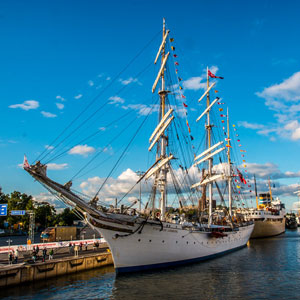 All I ask is a tall ship and a star to steer her by… Whether you're racing them or 'just' sailing, tall ships are a pretty poetic way to travel.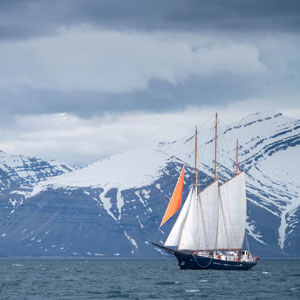 Most tall ships have a packed itinerary planned for summer, hopping between regattas and festivals or thoroughly occupied by a city-hopping coastal cruise.