Best time to visit Torres del Paine

Torres del Paine's weather is, at best, unpredictable, with the chance of all four seasons in one day. The notorious Patagonian wind though, that's almost guaranteed.

With long, light days and a good chance of clear, bright skies, the Patagonian summer months of December to February are generally considered the best time to visit Torres del Paine National Park. Unsurprisingly this is also high season, so you'll need to book well in advance to secure accommodation – even in the park's refugios and campsites. Mid-November to mid-December tend to be less crowded, with spring flowers in bloom, while autumn, from mid-March to late-April offers a backdrop of spectacular autumn colours and wonderful sunsets. In the winter months, while beautiful, snow will make some of Torres del Paine's trails inaccessible and many of the hotels will be shut.
Torres del Paine National Park Weather Chart
Kathy Jarvis from leading Patagonia specialists Andean Trails – and a former Patagonia tour leader – says: "My favourite time of year is March/April as the leaves are turning gorgeous autumnal colours and there are generally fewer people on the trails and less wind too. Give yourself plenty of days to allow for bad weather - Paine is notorious for cloud and rain, so add an extra couple of days to give yourself the best chance of seeing the peaks."
Things to do and things not to do
in Torres del Paine National Park
Things to do in Torres del Paine National Park
It doesn't have to be the strenuous five-day 'W' trek or the even longer 'O' circuit, but you'll need to do some walking to really appreciate the power of Torres del Paine. The park's most spectacular sights – the Valle Francés or the base of the Torres themselves, for example, are only accessible on foot. But there are easy to moderate day walks a-plenty, as well as more challenging treks. Well-marked paths make self-guided walking easy, and even small group tours often include a free day or two in the park.
A network of hikers' hostels (refugios) dot Torres del Paine National Park offering basic yet clean and comfortable overnight accommodation along its myriad of trails. Many small group tours and bespoke itineraries offering a few days of walking in Torres del Paine will make use of the refugios but don't be put off by the dorm accommodation – they tend to be sociable and friendly places to stay, in spectacular settings.
Torres del Paine protects 26 species of mammal, including pumas and the endangered Chilean huemul deer and over 100 species of birds which rely on its unique plant-life, so make sure you stick to the trails. With visitor numbers ever increasing the threat of erosion around the park's marked trails is ever-present. And once destroyed, Torres' fragile flora takes years to grow back, hampered by the harsh climate.
Things not  to do in Torres del Paine National Park
Don't think you can see everything here in just one day. While Puerto Natales is only an hour and a half's drive away from the park's entrance, unless you want to spend most of your traveling around you're going to need to stay for a night or two in the park. There are plenty of accommodation options – from hotels directly on the park's road and ferry network to more basic refugios only accessible on foot. Don't dismiss Torres del Paine National Park if a gentle stroll is more up your street than a hardcore hike. The walk from the Salto Grande waterfall – for example – to Mirador Los Cuernos and back takes just two hours over gentle terrain, while the regular catamarans crossing the turquoise Lago Pehoé and glacier-backed Lago Grey offer a relaxing way to enjoy some of the park's most spectacular panoramic views. Patagonia has been beset by an influx of foreign investment – often multi-millionaires buying up tracts of land for cattle and sheep ranches, and more recently interest from Chinese agricultural firms. Only by generating income from untouched land – including Torres del Paine – will the unregulated sale of parcels of Patagonia be less appealing to the government. So, don't begrudge the entrance fee. In 2011 an illegal campfire set over 40,000 acres of Torres del Paine National Park ablaze in a fire that took weeks to contain. The forests and fauna razed will take years to recover fully. There are now strict laws against lighting fires in the park, so don't be tempted to flout them.
If you'd like to chat about Torres del Paine National Park or need help finding a vacation to suit you we're very happy to help.

Torres del Paine National Park
travel advice
Adventure tips
John Penge, from our leading small group vacation specialist, Exodus Travels, shares one of his favourite Torres del Paine adventures: "Do the zodiac excursion to Balmaceda Glacier. Speeding along the water through this epic landscape is a rush and you will be awestruck when you get close to the glacier and hear the thunderous sound of it cracking."
Packing tips
Kathy Jarvis, from one of our leading Patagonia specialists, Andean Trails shares her packing tips: "The trails are good, but the weather can vary so pack accordingly - I recommend taking lightweight layers and full waterproofs, be prepared for freezing temperatures, high winds or glorious sunshine. The wildlife is stunning - take good binoculars and a book to help you identify what you see."
Hiking tips
Rosie Tobin, from South America specialists, RealWorld Vacations, shares her top hiking tips:
"Pack snacks! Although you'll probably be eating breakfast and dinner in your hotel, and the hotel can provide you with a packed lunch, you should pack snacks such as nuts and energy bars. There are no corner shops or ice cream vans!"

"If you're not a hiker, or prefer gentle walks, stay in a hotel on one of the lakeshores, such as Lago Grey or Rio Serrano. The lakes are beautiful, with many flat walking trails to follow."

Kathy Jarvis, from Andean Trails:
"There are some fabulous short walks within the park - one of my favourites is from Laguna Verde down to the administration center, and another is the trek along the Pingo valley, plus for superb views do not miss the Mirador Ferrier. Be sure to walk as far up French valley as you can too, to get the best views of the granite spires."
At Responsible Travel, we think the best people to advise our travelers are often... other travelers. They always return from our tours with packing tips, weather reports, ideas about what to do – and opinions about what not to.

We have selected some of the most useful Torres del Paine travel tips that our guests have provided over the years to help you make the very most of your vacation – and the space inside your suitcase.

Do some walking beforehand, if you want to get the most from it. Also, don't forget a camera or you will be truly sorry!

"Every day was so different, but the first day trekking in Torres del Paine to the base of the towers was a great first day. You really do get 4 seasons in one day, we had sunshine and snow! Pack lots of layers and good waterproofs, the weather is very changeable. Hiking poles and gaiters were useful." – Louise Albertella on our Patagonia trekking vacation

"Make sure you have appropriate footwear (hiking boots). There is no need to bring a sleeping bag as these can be hired at the time – and they are good sleeping bags." – Frank Sperling on our highlights of Patagonia vacation.
More Torres del Paine National Park articles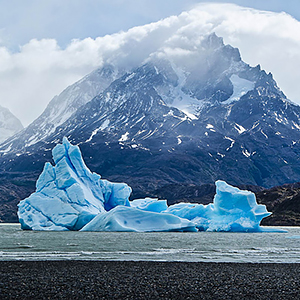 Torres del Paine National Park deserves its reputation as the jewel in Patagonia's crown.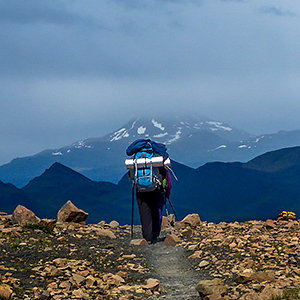 The four to five day 'W' trek through Torres del Paine National Park is all about scenery.