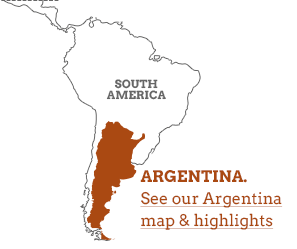 "Although this was a town with a main street and a railway station, and people with dogs and electric lights it was near enough to the end of the earth to give me the impression that I was a solitary explorer in a strange land." Paul Theroux's description of Jacobacci in The Old Patagonian Express taps part of Argentina's appeal. But you don't have to hit Patagonia (next stop: Antarctica) to discover that even 'clichés' like tango are captivating.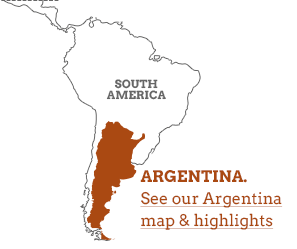 Tango symbolises Argentina – distinctive, seductive, steeped in pleasure.

Enjoy pulsating capital Buenos Aires, gaucho-roamed Pampas, superb wine regions, and natural wonders like the Esteros del Ibera wetlands, whale-filled ocean and the unforgettable Iguazu Falls. The end-of-the-world wonder of Patagonia's plains and peaks, alpine lakes and growling glaciers are deep icing on a rich cake. For Theroux, Argentina offered "something altogether wilder, the...romance of strangeness".

Our Argentina travel guide welcomes all aboard for a journey of your own.
Argentina is...
a dance with your mind and senses
Argentina isn't...
corrupt, bankrupt and somehow less interesting than Brazil.
What we rate & what we don't
Chamamé
Don't mention tango in northern Argentina. Here, the intoxicating local music and dance form chamamé rules the roost. Fusing elements of polka with native Guarani culture, its defining sound pairs accordion with guitar and double bass, while couples skip across the dance floor or men perform tapping solos called zapateos. The HQ of chamamé is the elegant city of Corrientes.
Carnaval
Brazil hogs the Carnival spotlight but Argentina is home to fantastic festivities too, but with fewer foreign tourists. The two best places to enjoy the experience are the northern cities of Corrientes and Gualeguaychu, which stage parades over several weekends – and are close enough to visit both to compare floats, costumes and sound levels!
Dining clubs
Argentina's dining pleasures extend way beyond prairie barbecues. If you're in Buenos Aires, seek out its acclaimed 'Closed Doors' (Puertas Cerradas) dining clubs – many at chefs' homes. Get a city map and book hotspots like the upscale Paladar, cosy La Cocina Discreta or hip Casa Saltshaker. Reservations essential - and expect to eat late!
Salta
Salta boasts Argentina's best preserved colonial architecture outside of Buenos Aires. This glorious backdrop is brought to life by its famed folk music performances, while the region's indigenous past – dating back to Inca times and beyond – is explored in its Archaeological and Ethnic Pajcha Museums. Even today, it has a less "European" feel than the rest of the country. Salta is also the start point for the precipitous 'Train to the Clouds' climbing to 4,200m.
Argentine tango
One of the most gorgeous expressions of sensuality you can do in public, the Argentine tango is as much state of being as dance – with music that blends passion with longing. Buenos Aires has various milongas (dance halls) to watch experts or show off your own dips and flicks. Salon Canning, Confiteria Ideal and La Catedral are top spots.
Iguazu Falls
Bordering Brazil, Iguazu Falls are the planet's greatest cascades, a sweep of around 275 falls plunging into a jungle-ringed foaming cauldron. Gaze from walkways down the Garganta del Diablo (Devil's Throat), take a drenching boat trip under a fall, then explore jungle trails snaking into surrounding national parks. Some nationals need visas to enter Brazil – check beforehand.
Patagonia
Patagonia would be a unique and wonderful country all by itself. Iconic sealife throngs its long coast: albatross and penguins; whales and elephant seals. Inland, lonely steppes mix with jewel-like lakes, glacial peaks and dazzling salt-flats. Rustic mining and ranch towns complement 19th century Welsh settlements like Gaiman and Dolovon for characterful human presence.
Wine
Argentine Malbec is justly renowned as one of the world's oenophile treats, but the country produces a wide range of superb wines, with some of the best from vineyards that count among the world's highest. Mendoza is the most famous region, but also seek out Salta and Jujuy, San Juan and La Rioja, plus Patagonian sparkling wine.
If you'd like to chat about Argentina or need help finding a vacation to suit you we're very happy to help.

Trying to see it all
The vastness of neighbouring Brazil may make Argentina look relatively small on the map – but it's actually 11 times bigger than the UK! So don't be tempted to try and cram in too much in a whirl of planes, trains and wheels. Pick and choose, and let a slower pace really let you take in Argentina's magnificence.
Inflation
Argentina has lured tourists with dirt cheap prices since its spectacular 2001 economic crash. However, further uncertainty in 2014 has plunged the peso into crisis again. Crazy inflation means prices fluctuate daily. Restaurants chalk up menus to avoid reprinting them each month, and some have refused to take advance bookings as they have no idea how much a meal will be worth in a month's time. One solution? Pay in US dollars.
Evita
Eva Duarte rose from humble beginnings and championed Argentina's poor. Respect. But 'Evita' and hubby Juan Peron also ruled with an iron fist, using those poor as leverage on power.
Rodeos
Gaucho rodeos are a draw for some visitors to Argentina, based on their role as a showcase for 'traditional' skills seen as a stirring part of cowboy culture. But 'traditional' doesn't necessarily mean 'good'. There is plenty of evidence that animals suffer greatly during many rodeo events – and we believe that isn't a part of responsible tourism.
Eating & drinking in Argentina
Beef is revered in Argentina, enjoyed in city steak houses (parrillas) and al fresco ranch barbecues.

Argentina makes magnificent wine. Top regions are Mendoza, Salta and Jujuy, San Juan and La Rioja, plus sparkling wine from Patagonia.

The Lake District town of Bariloche is Argentina's chocolate-making capital – perfect as hiking fuel or just a sweet treat.

Argentinians eat and drink late – most dine from 10pm and drink after 11pm.


Marlene Dietrich once said that in Brazil they throw flowers at you, in Argentina they throw themselves.

People & language
Argentinians are courteous, so politely greet people you meet. And dress decently in towns – only slobby tourists go round in shorts! Despite not having the Inca history or Amazonian tribes of its northern neighbours, Argentina's cultural diversity is impressive; from the Welsh-descended settlers of Patagonia and Buenos Aires' Italian migrants to more ancient indigenous peoples like the Guarani, Querandi, Puelches and Mapuche.

Never refer to Las Islas Malvinas as 'The Falklands'

Don't suggest Brazil are better than Argentina at futbol
Gifts & shopping
The Malbec is great but buy some less familiar Argentine wines like pinot noir or Patagonian sparkling.

Fine leather is widely available, with belts of particular local pride.

If you like the traditional mate tea, buy a decorative mate set.

Artisan wool products are a speciality from the northern provinces.

Proper ponchos are very heavy – but also very warm.

Dulce de leche is Argentina's delicious creamier version of caramel - a real sweet treat.

Butch Cassidy, the Sundance Kid and Etta Place lived for several years near Cholila by Patagonia's Los Alerces National Park

How much does it cost?
Three-course meal for two in mid-range restaurant: £25

Entry to Iguazu National Park: £9.60

Bottle of good Argentinian wine in a shop: £5-£15

Return journey on Salta's 'Train to the Clouds': £110

Return airfare from Buenos Aires to Iguazu: £150

A brief history of Argentina
Argentina is negotiating turbulent social and economic waters following the biggest financial crisis in its history – which makes tourists especially welcome (even if some financiers are not). The past decade has seen a series of debt defaults and tortuous negotiation with foreign financial institutions as Argentina's government has made the welfare of its own citizens a priority over wealthy foreign investors. But inflation and other economic woes continue to stress Argentine society, while the plunging value and instability of the peso means tourists are sometimes asked to pay in US dollars.
Read more