Horse riding vacations in Argentina
"The landscapes here can sometimes leave you speechless," says Katrin Hempler, from our partner Ampascachi Horse Riding Vacations. "You're riding in places where you can go for five hours without seeing another human, and where people still use horses as their principal means of transport: children going to their rural schools in the most inhospitable corners of the mountains in Cordoba, gauchos traveling to the estancia to work. Nothing is staged or artificially organised for tourists."

There's getting off the beaten track, and then there's horse riding in the mountainous foothills of Argentina, in the provinces of Cordoba (central), Salta or Jujuy (both to the north-west). Explore lunar-like valleys dotted with huge cacti, where condors soar overhead and vividly colourful mountains dominate the background. And visit handicrafts markets and working cattle farms for a deep dive into indigenous culture where very few travelers set foot or hoof.
Despite the sometimes rough terrain, you'll enjoy a comfortable ride throughout. Peruvian pasos are employed, reckoned by many to be among the best saddle horses in the world. The paso llano gait resembles a fast, smooth walk, the horse is able to cover long distances in a short period of time and the rider isn't moving up and down, making it an ideal horse for anyone with back pain. Before setting off you'll be able to try out a handful of mounts to find one that suits you, learn about the horse's character, and practice a few basic techniques.

These trips are fine for first-time riders as you will be accompanied by an expert baqueano (cowboy guide) the entire way, but it helps to have at least some prior experience in the saddle. Expect to form a bond with your horse during your trip, as your guides explain how they are tamed and trained, how to take care of them, clean and feed them, and the various pieces of equipment used. Saying goodbye at the end might be pretty difficult.
Whereas a gaucho is an Argentinean cowboy, predominantly a land worker, the baqueano is, in the words of Katrin Hempler "like a human GPS". They know their region intimately, and that well-developed sense of direction allows them to keep the group and other guides correctly oriented, and quickly establish alternative routes if needs be. They'll also be responsible for looking after the horses though you can feel free to get involved too.

With the help of your local guides and baqueano, you'll learn a great deal about Argentina's landscapes, culture, traditions and history, as well as its horses. They serve as your introduction to rural communities where no English is spoken, ensure that camps are set up correctly, and provide plenty of advice so that by the time you get home you'll be half cowboy / girl yourself.
Our Argentina Horse riding Vacations
Life as a gaucho
There are various itineraries open to you. You might be based in the central Cordoba province, riding in the Traslasierra Valley and staying at a family-run estancia (working farm), or further to the north in the Andean foothills of the Salta and Jujuy provinces.

Depending on your location and level of experience, you might be taking day rides out to get used to the paso llano gait and have lunch with families in their rural homes. You might be pausing to wander handicrafts markets where indigenous people come to sell traditionally made fabrics, musical instruments and pottery – any money you spend here will go direct to local artisans. You could be wine tasting in Cafayate, known for its excellent vineyards, and picnicking afterwards on cheeses and cold meats before an evening of folk music. One day might find you admiring the multihued rock formations of the Quebrada de Humahuaca valley, a UNESCO World Heritage Site, another stopping in at a pulperia, a country store where gauchos come for a cold beer after their work day ends.
Staying on a working estancia in the mountains means you'll have to cope without electricity, but the rewards are more than worth not being able to charge your phone for a while. If you're inclined to, you can help the gauchos with their tasks, from moving cattle into the corrals for branding, vaccination or tagging, and maybe trying to lasso a calf. You'll dine on delicious rural Argentinean cuisine throughout – grilled lamb cooked on a spit, home-grown vegetables and, it doesn't really need saying, some of the best beef you'll ever taste.
Due south
Patagonia is another classic horse riding destination,
gaucho
culture thriving in a pristine wilderness of green pampas, forests and dormant volcanoes. Here you'll ride between
estancias
from Argentina to Chile on hardy Criollo horses known for their strength, health and loyalty. Undulating terrain, the occasional river crossing and some steep uphills, not to mention the sometimes unpredictable Patagonia weather, can make this trip more suited to experienced riders. It's not too physically demanding however, and saddle time each day varies.
Eloise Barker, one of Responsible Travel's intrepid team of writers, rode a Criollo in Patagonia: "We rode American style – one hand holding the reins. For someone used to English riding, this was a far more relaxed way to be in the saddle, and you could put your hand on your hip as you cantered along and feel like a real boss. At our ranch, the Criollo (in Argentina, it's pronounced 'cri-oh-sha') horses were often bred with Arab horses. I had a Criollo-Arab cross called Renata, and she was wonderfully spirited. My partner, who was less experienced, was given a calmer horse, a Criollo mixed with a Friesian, which was a heavier set breed, and made for a very surefooted mount. Our guide wore his Basque-style
boina
– a large, red beret – instead of a helmet.
"For most of the ride we were accompanied by curious ponies that tagged along with us and irritated the horses no end by butting into the line. Raggedy sheep with their lambs and trailing sheepdogs crossed the path, and we followed a couple of condors up the valley. And the views afforded from an extra five hands off the ground were amazing."
You can also take a short riding vacation in
Mendoza
to the west, bordering Chile. Mendoza is one of Argentina's most prominent wine regions, but tasting sessions here in the Potrerillos Mountains incorporate 4x4s, so no need to worry about slipping out of the stirrups.
Our top Argentina Vacation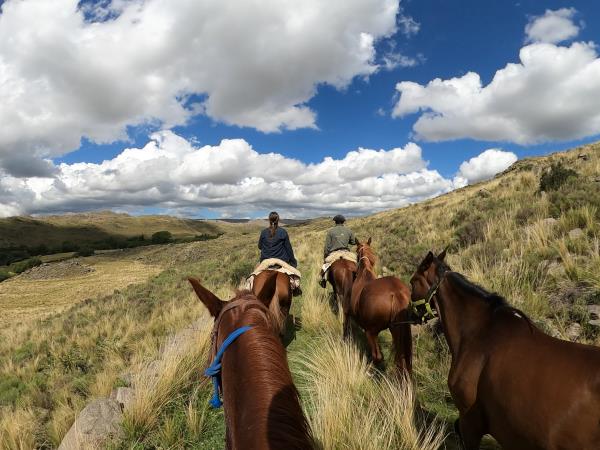 Amazing horse riding in the peaceful mountains of Argentina
From
€

2130
8 days
ex flights
Small group travel:
2023: 26 Mar, 2 Apr, 9 Apr, 16 Apr, 23 Apr, 30 Apr, 7 May, 14 May, 21 May, 28 May, 4 Jun, 11 Jun, 18 Jun, 25 Jun, 2 Jul, 9 Jul, 16 Jul, 23 Jul, 30 Jul, 6 Aug, 13 Aug, 20 Aug, 27 Aug, 3 Sep, 10 Sep, 17 Sep, 24 Sep, 1 Oct, 8 Oct, 15 Oct, 22 Oct, 29 Oct, 5 Nov, 12 Nov, 19 Nov, 26 Nov, 3 Dec, 10 Dec, 17 Dec
If you'd like to chat about Argentina or need help finding a vacation to suit you we're very happy to help.

Practicalities
Argentina horse riding trips are predominantly guided small group tours, with numbers capped at around six, but there are some tailor made options as well. Across 8-10 days you'll ride reliable steeds that will often have been bred, tamed and trained by the operator, and some operators can also provide entertaining cultural programs available for non-riding companions too. A horse riding vacation can easily be combined with time in Buenos Aires, Argentina's tango-mad capital, the mighty Iguazu Falls or the wilds of Patagonia.
Your accommodation will be enticingly varied, from hotels to mountain cabins, estancias where morning heralds fresh brewed coffee and baked pastries, and campsites where the logistics team will erect tents for sleeping, dining and showering (in hot water) in advance. Some days you'll have picnics, supporting local farmers by purchasing fresh foods, and of course whether you're with Argentinian gauchos or Chilean huasos in Patagonia, they know their way around a barbecue.