Walking in Turkey travel guide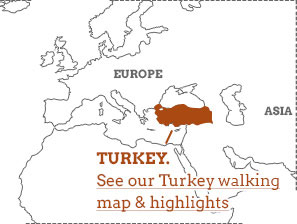 Long distance walking in Turkey may be still in its infancy, but thanks to the efforts of the likes of Kate Chow, a writer and champion of sustainable tourism in Turkey, many historic roads, village paths and caravan tracks have been knitted together. Walking these routes allows for an original take on Turkey to take shape, and for vital tourism income and jobs to reach communities that are often being hollowed out by lack of opportunities.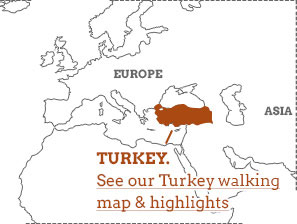 Routes such as the Carian Trail, St Paul Trail and Lycian Way are modern classics in long distance walking, labours of love created by dedicated hikers and historians.

For the avid walker, there is the inviting challenge of unspoilt terrain that undulates with the coast and mountain foothills, and scenery that seems to literally dazzle, especially along the magnificent Turkish Riviera. Then there are the fascinating traces of ancient civilisations and remote rural communities that have been stitched into these routes, sure to put a spring in your step, too.
Find out more in our walking in Turkey travel guide.
Our Turkey walking Vacations
What does a walking in Turkey vacation entail?
Coast or inland?
Two of Turkey's most celebrated long distance routes, the Lycian Way and the Carian Trail, follow the country's Mediterranean coast. If you want ancient sites mixed with golden beaches and plenty of opportunities to swim, then these are good options. Inland you can see a much more remote, uninhabited part of Turkey and lots of very traditional communities, with the St. Paul Trail leading you through the Taurus Mountains and Turkish Lake District. And then of course there is Cappadocia in Central Anatolia, one of the world's great hot air ballooning destinations and a hiker's paradise.
Small group or self-guided walking?
Turkey walking vacations are predominantly small group trips, which take place on selected dates across the milder spring and autumn months and are accompanied by local guides. This take all the logistics off your hands, so that you can just enjoy the walks, and they are very sociable experiences and offer a greater level of insight into the region you're hiking through.
There is also a handful self-guided, tailormade walking trips available, during which your accommodations are pre-booked and your luggage transferred between them, but you are free to make your way in your own time. Popular routes are very well marked, with rocks painted red and white indicating the way roughly every 30m, so you won't get lost.
The majority of walking trips are point-to-point, taking place over a week and spanning a section of a long distance route, but you can also tackle a two-center vacation on the Carian Trail, or dip in and out of the Lycian Way by sailing and sleeping aboard a
traditional Turkish gulet
. Self-catering cottages in a charming village on the Lycian Way are also available.
How fit do I need to be?
Given that most long distance Turkey walking tours involve some steep ascents and descents, and uneven terrain in places, you will want to be reasonably fit, and a bit of experience won't hurt either. Daily distances vary by trip, but you can expect to be covering between 12 and 15km every day, and to be walking for six to eight hours. These are relaxed itineraries however, that assume people will be taking their time, so if you walk regularly at home you won't be exhausted. Bring a set of walking poles and suitable footwear; a hat to keep the sun off is also highly recommended.
Our top Turkey walking Vacation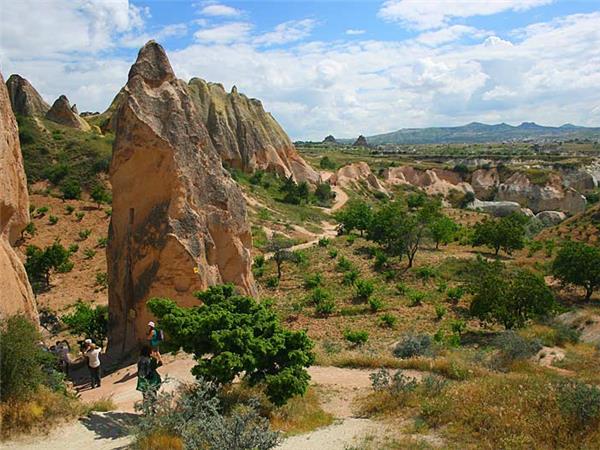 Trek the unique and fairytale landscape of Cappadocia
From
US $

1599

to

US $

1949
8 days
ex flights
Small group travel:
2023: 6 May, 20 May, 26 Aug, 9 Sep, 16 Sep, 30 Sep, 7 Oct, 21 Oct, 28 Oct
2024: 13 Apr, 27 Apr, 4 May, 18 May, 8 Jun, 6 Jul, 24 Aug, 7 Sep, 14 Sep, 28 Sep, 5 Oct
If you'd like to chat about Turkey walking or need help finding a vacation to suit you we're very happy to help.

Is a Turkey walking vacation for you?
Go on a Turkey walking vacation if…
...you want to savour a slice of the real Turkey and experience rural hospitality, a world apart from the busy seaside resorts.
…you have a passion for history and legend, as whether you're on the Lycian Way, the Carian Trail or in the Taurus Mountains there are traces of ancient civilisations to be seen around every bend.
…you're a sucker for a view. The Turkish Riviera, is a bejewelled coastline looking out over deep blue sea studded with islands, backed with forested mountains that are scattered with little villages. It's an absolute stunner.
Don't go on a Turkey walking vacation if…
...you can only travel in summer. Not only are July and August the busiest and most expensive months to visit the Turkish coast, but it's frankly much too hot to tackle any long distance walking, anywhere in the country. Look at spring or autumn instead. …you want an easygoing walking vacation suitable for younger children. The minimum age to hit the trail here is around 12, and some routes can be pretty steep in places. …you're not up for a bit of a challenge. Trails are waymarked and you'll have maps, but there are some tricky ascents involved at times, and while you'll definitely encounter other people, it's far from the experience of walking in more well-known locations.
"From day 1 the vacation had so many different memorable experiences but not many can compare with the early morning Balloon trip. Good shoes with good grip, poles and a water bladder are a must. This is a fantastic destination and so much to see and do. I would rate this vacation as excellent and an 11 out of 10. From the routes to the food and the care of the staff and guide were brilliant." – Martin Cox on a Cappadocia walking vacation in Turkey
Best time to go on a Turkey walking vacation
Given that temperatures on the coast frequently top 35°C in July and August, the best time to go on a Turkey walking vacation is simply – not summer. Coastal routes such as the Carian Trail and the Lycian Way do offer shaded sections as they pass through forest, and of course many opportunities for a refreshing swim, but in general the heat will be pretty unpleasant even for just a week. Winter, from November to February, tends to be fairly mild, but rain and thunderstorms are common which is not conducive to enjoyable walking. Instead, look to spring and autumn – April, May, September and October – when temperatures are pleasingly warm and the scenery at its most attractive.
More about Turkey walking