Istanbul is the only city in the world that straddles two continents – and as you might expect the cuisine, like the culture, bridges Europe and Asia, with seriously enticing results. The same goes for many other parts of Turkey which, due to the country's position on the continental crossroads, means it's influenced by – and is hugely influential on – many neighbouring cuisines.

Foodie tours of Turkey, or indeed simply eating locally throughout any vacation, are a great way both to sample regional specialities and traditional dishes while also supporting producers and family run restaurants. One example is itineraries that involve wine-tasting sessions around Selçuk. Vineyards aren't allowed to advertise their products due to strict Islamic alcohol laws, which especially affects those newer to the industry without established brands. Organised visits can make a substantial difference.
With an expert guide, you can discover where locals like to eat in Istanbul, Bodrum and Göreme. Learn how to cook classic Turkish meals. And if you're vegetarian or vegan, you can rely on your guide to help you find food you can trust. Eating a vegetarian diet in Turkey is actually pretty easy, as many dishes can be made meat-free, but for
vegan
food you're usually best off sticking to small, family-run places.
One of the most interesting things about food and drink in Turkey is appreciating the variety you'll find in cuisine and specific dishes, depending on where you are in the country. Istanbul food tends to go fairly easy on the spice, with a lot of rice-based dishes. Expect a lot of seafood and fish in the Black Sea region, while in Central Anatolia the cuisine is often meaty, with manti dumplings a speciality. You'll find kebabs everywhere, but the combos and recipes change city by city. And in the west of Turkey, where olive trees grow prolifically, liberal lashings of healthy olive oil are the norm.
Istanbul
The Turkish capital is overflowing with appetising eateries. We suggest the Kadikoy district, where you can stock up on picnic provisions such as olives, cheeses and pastirma (seasoned and cured beef) from Şarküteri (delicatessens). You'll taste some of the best street food of your life in the area around Eminonu, where local favourites include barbecued corn, roasted chestnuts and – of course – the sweet Turkish delight. The famous and incredibly aromatic Egyptian spice bazaar is a must-visit; you'll have the chance to meet a spice merchant and discuss their wares.
Göreme
Turkey's magnificent Cappadocia region has a wine industry some 4,000 years old. Göreme, gateway to Cappadocia, has numerous wineries where you can taste the local vintages. It's also a great place for a cookery class with an award-winning chef, who'll give you finger-licking good lessons in preparing seasonal Central Anatolian dishes.
Selçuk
The wines of Selçuk use a variety of local fruits, in an industry revived by post-war settlers. In Selçuk you can watch as speciality meals are created in a traditional family-run restaurant, or have fun putting your own abilities to the test learning how to make Turkish stuffed dumplings (manti) and stuffed grape leaves (sarma). You'll also visit a market to stock up on ingredients.
Bodrum
Coastal cuisine is of course focused on fresh seafood, and you'll taste incredible fish in Bodrum, Canakkale or Cirali. If you're cruising on a gulet the crew will sometimes BBQ your meals either on deck or in a secluded bay. Bodrum is fantastic for exploring traditional food production methods. You can meet a local wine-making family, and join farmers in their fields and hot houses. Or you can try your hand foraging for vegetables and help to prepare a shared gozleme (flatbread and pastry dish).
Our top Turkey Vacation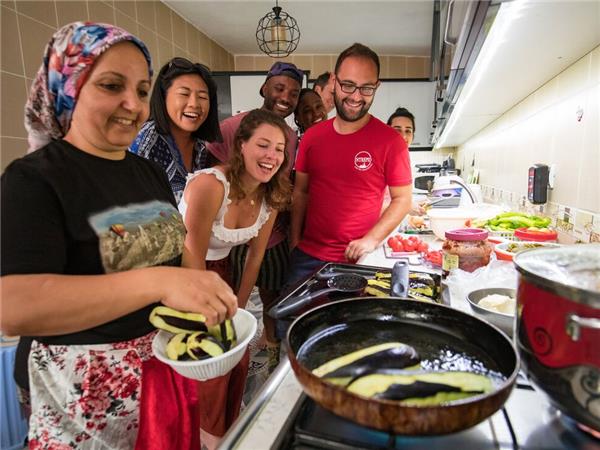 Exotic 2 week culinary and cultural tour of Turkey.
From
US $

1866

to

US $

2235
11 days
ex flights
Small group travel:
2023: 22 Apr, 20 May, 12 Jun, 2 Sep, 23 Sep, 7 Oct
2024: 18 May, 15 Jun, 31 Aug, 7 Sep, 14 Sep, 21 Sep, 5 Oct
If you'd like to chat about Turkey or need help finding a vacation to suit you we're very happy to help.

Akyaka
This town on the southwest coast of Turkey is notable for its dedication to the slow food movement, with cuisine based around fresh harvests and catches. It's also worth mentioning, because Akyaka sounds a lot like the noise I make when destroying a plate of baklava.
Eating & walking in Turkey
Turkey is attracting a well-deserved surge of interest for
walking vacations
at the moment, which naturally present a way to experience typical rustic cuisine. Walking the Carian Way for instance, you might snack on figs, almonds and carob honey for energy, and pause in a local eatery to dine on meze:
gül dolmas?
(roses stuffed with rice and herbs),
mücver
(spiced fritters of courgette), cigar-shaped cheese,
filo böregi
(spinach and cheese pastries) and garlicky grilled peppers.
Street food to look out for
Throughout Turkey you're going to see no end of nuts, cheeses, pastries both sweet and savoury, and lashings of yoghurt. More substantial street foods you can expect to encounter (and should definitely try) include etliekmek, flatbread baked with ground meat, peppers, onions and tomatoes; gozleme, the famed Turkish pancake; and pide, which resembles a pizza with toppings such as grilled lamb, spinach, egg and peynir sheep's cheese. And then there is dondurma. This traditional – and utterly irresistible – Turkish ice cream is thickened with mastic, and made chewy with salep flour from the powdered bulbs of wild orchids.
Kebabs in Turkey are a world apart from the post-night out pita bread stuffed with shaved meat used to soak up the beer that many of us are familiar with. Those of Istanbul are particularly mouth-watering, while you can also try a testi kebab, cooked in a clay pot. Vegetarian options, such as eggplant kebabs, are available too.