Responsible tourism in Tuscany
---
TRAVEL RIGHT IN TUSCANY
Towns and villages in Tuscany present a preserved way of life where everything stops for lunch, seasonal produce is all that's available and green painted shutters adorn peeling mustard coloured walls. Responsible tourism in Tuscany stems from the need to preserve traditional ways of life both in rural communities and in urban centers. You won't find a national supermarket on every corner or a fast food joint or a coffee chain from where to feed a familiar fix. This is Tuscany, it's been around a while so travel with respect, patience and a sense of achievement as you practise your Italian and search to suspend sublime simplicity. Respecting the elderly, keeping the noise down and trying your best to speak the language require the minimum effort from responsible travelers and seeking out smaller communities away from major cities is a great way to soak up an authentic ambience as well as benefitting rural businesses.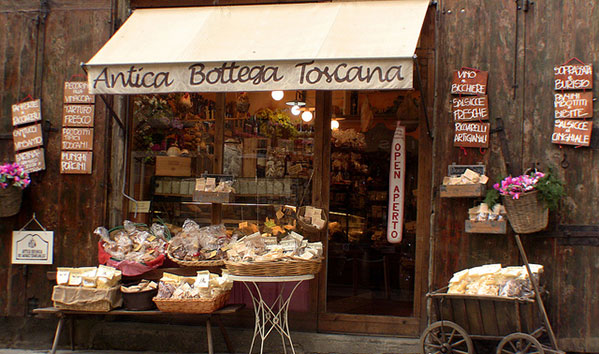 People & culture
---
PRESERVING RURAL COMMUNITIES
AGRITURISMO
---
Agriturismo accommodation gives travelers the chance to keep things local, and often ingredients used at mealtimes will have come directly from the soil surrounding the property. Diversifying into tourism has allowed agricultural land owners to keep up traditional practices whilst still supporting each other through local cooperatives in order to protect rural communities in harsh economic times.
The agriturismo properties that we recommend promote sustainable and organic farming methods with well stocked gardens, ducks and chickens, and hundreds of olive trees providing self sufficient produce in addition to locally sourced Chianti wine and seasonal fare from nearby farmers' markets.
Staff employed to work at these sorts of properties are all from the surrounding area with workers residing over kitchen gardens and olive groves whilst walking and horse riding guides are revered for their knowledge of Tuscan flora and fauna as well as the best places to stop for lunch.
Fair wages and training opportunities empower rural workers and help to create a healthy relationship between tourism and traditional practices with recommendations for local markets, rural restaurants and authentic workshops all continuing to promote responsible tourism in Tuscany.
What you can do
Get in touch to find out which agriturismo operators in Tuscany we recommend. Although these sorts of places are often remote, they really do offer the chance to immerse yourself within rural locations with a small car all that's needed to keep mobile whilst exploring the region. Booking breakfast or half board allows you to taste ingredients that have travelled less than a few steps as well as cutting down the need to visit a supermarket if you're thinking of self catering.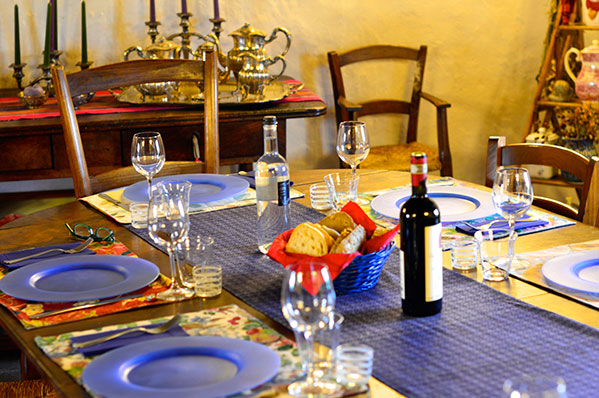 THE ENVIRONMENT
---
Spreading tourism beyond the likes of Florence and Siena helps to lessen the impact on ancient architecture and, if you're driving, reduce the build-up of pollution; although several cities, including San Gimignano, offer park and ride schemes to keep tourist traffic away from city centers. Taking a train or bus into a city also offers a chance to travel like a local as well as providing a much more affordable alternative to expensive city center parking fees.

Supermarkets, such as Pam, Conad and COOP, are located out of town with a few mini versions appearing in larger cities. Sometimes it's inevitable that self-catering requires a 'big shop' but try to spread your food funds responsibly by shopping at smaller, independent stores or eating out at rural restaurants or trattoria without the tourist menus.

What you can do
Recycling is encouraged in public bins and bottle banks although many of these facilities can be overflowing so try to reduce your waste as much as possible without adding to the pile. Out of town supermarkets still offer bags without the price tag and although the majority will be biodegradable don't let this stop you taking your own bag along, just to be on the safe side. Eat at city restaurants that are off the main tourist strip. Take a train or bus into city centers. Stay at agriturismo accommodation and eat with the family or find out where they recommend dining out locally.
WILDLIFE & ENVIRONMENT
---
HUNTING AND ZOOS
hunting
---
Cuts and hunks of wild boar are everywhere you turn in Tuscany with whole hairy legs adorning the counters, doorways and ceilings of almost all independent delicatessens. Although boars were hunted from existence in many parts of Italy, Tuscany's tangled woodlands and dense forests provided hidden habitat, and larger animals imported from Eastern Europe in the 1950s now thrive in much greater concentrations. This increase in population directly impacts on farming communities with crops, grapes, fences and livestock all under threat from rampaging sounders of wild boar. Several other animals: hares, rabbits and pheasants, have also had their nests and habitat damaged by boar snuffling for food, with truffles a prized pick for pigs much to the annoyance of keen-eyed foragers. Thanks, in part, to a dwindling interest in hunting and agricultural smallholdings becoming smaller, boars are showing no sign of reducing in numbers and have been known to be aggressive to people, especially sows protecting litters of piglets.
Italy's Worldwide Fund for Nature
recommends farmers trap boars in order to prevent a further increase in numbers; however, farmers would much rather see an extension to winter hunting seasons which also include the chance to shoot deer.
What you can do
The hunting season in Tuscany takes place from the first Sunday in September to the last day of February. If you're walking in Tuscany during this period then pay heed to signs and listen to local advice in order to avoid areas renowned for hunting. It's also worthwhile avoiding areas of woodland where wild boar are known to live in large numbers, especially at night and away from signed paths. Finally, fully grown wild boar that have been trapped are a much more authentic local 'product' to a farmed equivalent and offer a meatier, richer, almost gamey, taste to savour with an almost clear conscience.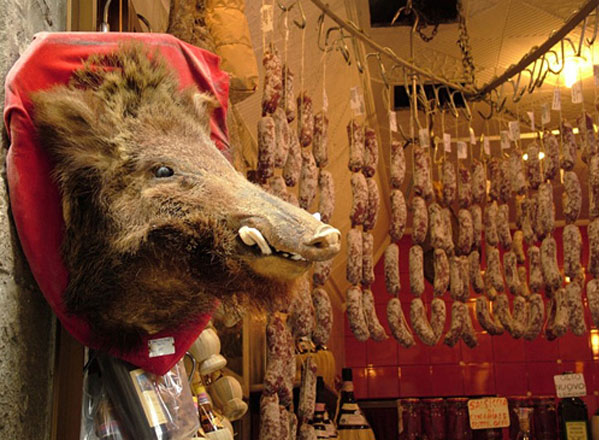 zoos
---
Poppi Zoo near Arezzo features several animals that are native to the mountains, waterways and woodlands of Tuscany including otters, deer, beavers, porcupines and European marmots. In captivity terms, these creatures live in fairly wide open surroundings although nothing in comparison to the freedom that they'd experience in the wild. Poppi Zoo also holds larger mammals, such as wolves, wild cats, monkeys and brown bears. None of these animals are meant to be behind bars or to step paw on concrete and although Poppi has cleaned up its act somewhat and increased enclosure capacity there's still nothing more pitiful than a wide eyed brown bear begging for food from laughing tourists whilst lumbering over a concrete construction.

What you can do
Don't be tempted to see animals in zoos that aren't fully active in returning residents to the wild. Tuscany has numerous regional parks and wide open protected spaces both inland and along the coast from where to spot indigenous animals in their natural surroundings. Going on a guided small group tour lets you find out more about typical Tuscan flora and fauna without the need for fences, with numerous trails from where to watch out for wheeling eagles or shy deer presenting a much better alternative to concrete-clad zoos.
RESPONSIBLE TOURISM TIPS
---
TRAVEL BETTER IN TUSCANY
It's safe to drink the tap water in Tuscany and many cities have drinking water fountains. Take a refillable bottle for a free drink and to help reduce waste.
• Every Tuscan town and village will contain at least one or two churches or cathedrals, with cities featuring an almost bewildering array of ecclesiastical environments. Even for non-religious travelers, entering a church is extremely worthwhile with stained-glass windows and great views from tall towers offering just a couple of excuses to peer inside. As you'd expect, peace and quiet is the order of the day with respect for worshippers and other visitors paramount to the experience. Dress relatively conservatively, remove your hat and pay attention to signs forbidding photography.
Hunters, wild boars, river rats and snakes all add to the excitement of an autumnal stroll in Tuscany so tread with care and stick to designated paths so as not to put yourself or wildlife in danger
Camping out and wild swimming isn't allowed across the region so do your research if you're hoping to get closer to nature or pay heed to signs saying what you can and can't do.
Eating out is always better when surrounded by the sing song shouts of Tuscans so be brave and head for rural restaurants or smaller trattoria where English is rarely heard and dishes are as authentic as the ambience.
Tuscans traditionally value fresh and seasonal produce above all else with home cooking certainly preferential to industrially prepared alternatives. Follow the locals' lead and only buy products that are in season. Also, look for regionally produced wines bearing DOC or DOCG labels or, better yet, get friendly with a local family and see if they've got any home brew on the go.