VIETNAMESE HILL TRIBES TRAVEL GUIDE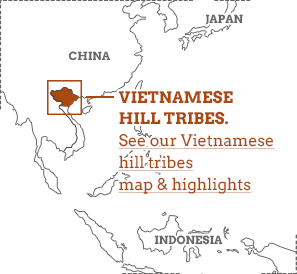 Think of Vietnam and the chaotic and dynamic megacities of Hanoi or Ho Chi Minh come to mind, or perhaps a string of golden beaches and the limestone peaks of Halong Bay. But a more traditional, less touristy Vietnam still exists – nestled in the mist soaked hills of the central highlands and the lush mountain landscapes along the China and Laos borders. Here, traditional hill tribes of different ethnicities speak a multitude of languages, wear incredible, handwoven clothing, and carve out an existence from the land using age old practices.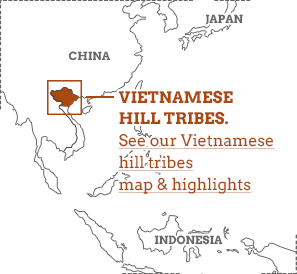 Vietnam's rural highlands are home to a colourful patchwork of minority ethnic hill tribes, living as they have for centuries, away from the modern world.

Hiking or biking remote trails to get to know their mountain homelands is an unforgettable experience. Meet rice farmers, weavers and silversmiths; stay in a stilted village house and listen to traditional poetry, songs and music; or simply trek through the glorious mountain scenery they have called home for centuries. It's sure to be one of the most insightful and rewarding things you do in Vietnam. Read on in our Vietnam hill tribes travel guide.
WHAT DO VIETNAMESE HILL TRIBE TOURS ENTAIL?
Who are the hill tribes?
The Vietnamese government recognises 54 ethnic groups, each with its own unique cultural identity. The Hmong people, originally from China are well represented in northwest Vietnam's more mountainous regions, particularly around the market town of Sapa, and are known for their embroidered clothing.

The Jarai and Bahnar ethnic groups are prevalent in the Central Highlands of Vietnam and hold tight to their animistic beliefs and rituals. Visitors can spend the night in a Rong house, a communal stilt house with a soaring roof that's unique to this area.

One of the largest ethnic groups in Vietnam, the Dzao are famous for their brightly coloured, intricately woven dress. Women's clothes come with the additional adornment of silver coloured beads and coins.

The Tay people, who live in villages around Mai Chau and Pu Luong, are an ethnic minority originating from Thailand with several villages to be found within the mountain foothills and valleys north of Hanoi, close to the Chinese border.

To the southwest of Hanoi, the area around Pu Luong Nature Reserve is home to ethnic Thai tribes, who can often be recognised by their silk woven clothing and head scarves as well as their stilt houses.
Where do they live?
As the name suggests, the majority of Vietnam's hill tribes live in the country's northern uplands, mostly in isolated villages, which are accessible from the hill station town of Sapa. A large number are also found in the remote Pu Luong region, south of Hanoi, and further south the Central Highlands are home to over a dozen different ethnic communities living mountain lifestyles. Kon Tum, home to the minority Jarai tribe, makes a good base here.
Can I stay with them?
Homestays are an integral part of most hill tribe tours. They offer they chance for genuine insight into hill tribe life that you won't get from merely passing through, and the people you meet are usually happy to share their fascinating customs and ancient traditions. Bear in mind, though, that on many of our trips, homestays will involve eating simple, local food and staying in basic accommodation; for example you may have to sleep on a thin mattress, use outside bathrooms and wash with cold water. But this is all part of the experience.
What will I be doing in the village?
On some of our hill tribe trips you'll be invited to work with the local people – for example, joining them to feed the animals, clean houses, plant and water vegetables or prepare food. There's also plenty of opportunity for cultural activities. You could learn how to make silk lanterns at a local home, join in traditional sports such as archery and tug-of-war, or spend time in communal village houses listening to folk singing and watching traditional dancing.
If you'd like to chat about Vietnamese hill tribes or need help finding a vacation to suit you we're very happy to help.

How do I get to the villages?
The best and lowest impact way of visiting Vietnamese hill tribes is on foot or by bike, and in any case, many of the villages are not served by roads. Some of our trips will combine travel by car and train with walking or biking, while others will involve trekking from village to village and passing through forest, fields and rice paddies along the way. This can be a challenging way to travel with distances of up to 15km a day and some steep climbs, so a decent level of fitness is necessary. On our dedicated cycle tours, you'll cover up to 66km a day on varied terrain, with some potholed roads and uneven tarmac.
Small group or tailor made?
Joining a small group vacation is one way to take the edge off the nerves you get from traveling to new and unusual destinations, as you leave logistics up to a tour leader who's in charge of transfers, accommodation and ensuring that your itinerary flows. You'll meet likeminded travelers and local walking guides, share experiences, and will no doubt find a few friends along the way. Tailor made walking vacations give you chance to explore with more flexibility than a fixed itinerary. You can also have an English-speaking guide all to yourself who'll fill you in on cultural etiquette, where to walk and where not to.
Are hill tribes vacations suitable for children?
Yes, Vietnam is known as a family friendly travel destination, but unless your kids are adventurous teenagers it's probably best that you don't take the family along on a hill tribes trek. For the most part these trips involve long days, walking long distances and, in some cases, basic conditions that won't suit younger children.
Best time to go on a Hill Tribes Vacation in Vietnam

Head for the northern hills during the drier months of October and November for clear skies and tip top hiking conditions.

Oct-May is the best time to visit the hill tribes in northern Vietnam. There are variations within this season – Oct-Nov are cooler with clear skies; Dec-Feb can be bitterly cold, and the northeast monsoon brings mist to the rice terraces, but it can be busy nevertheless due to the vacation season. Mar-Apr are warm, mostly dry, and the landscape is littered with spring blooms. Hanoi is soggiest Jun-Aug; these are not great months for trekking around Sapa. The Central Highlands are temperate year round, with trekking best in the warm, clear months of Apr-March. Rainfall increases around Jun-Aug. Bear in mind that the weather at these altitudes is changeable and it may rain at any time. Fog is also common, so those stunning views may be obscured.
More Vietnamese hill tribes articles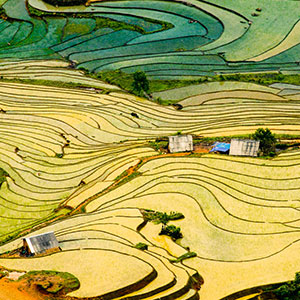 From cycling in the hills to walking from village to village, there are plenty of ways to visit Vietnam's minority cultures.