Family volunteering in Borneo
Deforestation through logging and palm oil plantations has turned Borneo's rainforest canopies into threadbare blankets, full of holes. Wild orangutans spend a massive proportion of their lives traveling, sleeping and eating in trees. That's where you come in. Volunteers are needed to patch up the gaps by planting saplings and protecting trees that were planted a few months before.

Far from being back-breaking all day slogs, most of the work that you'll be doing requires just a couple of hours' labour per day. Kids as young as eight are able to achieve tangible results. If they can listen to instructions, handle a machete (yes, a machete), and get their hands dirty – they're in.

But hey, you know your kids. Early starts (5.30am), no pool, noodles for breakfast. Happy hols?
Our Borneo volunteering family Vacations
Rewards are infinite and although you might not spot an elusive wild orangutan you will see plenty of other animals whilst undertaking your daily 50km commute by boat along the River Kinabatangan. Proboscis monkeys, civet cats, flying lemurs, hornbills, white bellied sea eagles, long and short tailed macaques, kingfishers, egrets and pygmy elephants have all been seen on the way to work.

Of course, these are wild animals so please don't expect to tick them off in your I-Spy Borneo book – managing overeager animal expectations is very important both for kids and adults.

Alongside learning about the importance of replanting Borneo's rainforests you'll also be introduced to indigenous Orang Sungai people who live along the banks of the Kinabatangan. Working with local people provides insight into different lifestyles and encourages kids to expand their cultural understanding without feeling like they're in a human zoo.

Local people will be your hosts, guides, drivers and teachers. You'll also stay in locally owned guesthouses and traditional dorm-style long houses. Your presence not only helps to heal the rainforest but also encourages employment and provides a boost to local economies. All you have to do is roll your sleeves up and help make a difference. And you will make a difference.
Mags Nixon and her 10-year-old daughter, Minnie, went to Borneo with one of our expert volunteer vacation specialists, The Great Projects: "The local Orang Sungai community are definitely now seeing tourism as a positive alternative to poaching. Homestays are now a popular option on the Kinabatangan River over more expensive lodges. These are a great opportunity for tourists to taste local lifestyle/customs and for locals to benefit directly from the tourist dollar."

This is a great way to learn first-hand about interconnected ecosystems, different cultures, and observe animals in their natural environment. We all need to stand up and take responsibility for protecting the planet for generations to follow. This type of volunteering project provides an opportunity to do just that as well as creating an experience to be enjoyed together, as a family.
What will we be doing?
For two or three days out of an eight-day trip you'll be helping to patch the holes in the rainforest by weeding around saplings that were planted (by other volunteers) a few months previous. This is to let the light and air get to young trees that have become overrun with long grass and roots. On other occasions it will be you that plants the saplings in rainforest clearings set aside for new growth.

It takes 6-9 years for saplings to grow to a size that can successfully accommodate a nesting orangutan.

You may also be raking leaves to use for compost and carrying saplings to the site for planting. Tools are basic and include a machete for weeding and a long narrow spade for digging out a hole for planting. All training will be given which is why it's important children, and adults, are engaged and listening when instructions are given.

Early starts (5.30am) are the norm so as to avoid the heat of midday. You'll usually be on the river at about 6.30am, after breakfast, and spend a couple of hours working at the selected site before returning to your lodgings in time for lunch. Afternoons will include nature watching trips on the river, rainforest walks, interactive art, craft and dancing demonstrations, and chances to relax and get to know other volunteer families. No swimming in the river though; it's way too dangerous.

You'll also be invited to spend an afternoon at a local school where children can interact with their peers and assist the outreach activity team with ongoing community projects. Eating in the homes of villagers and working with tribespeople allow personal bonds to form. It's through this organic interaction that you'll also be helping to bridge the gap between community and the environment.
Where will we be staying?
The reforestation project takes place on the outskirts of Sandakan in southwest Sabah. You'll be staying in Sukau village and traveling 50km into the rainforest by boat on the Kinabatangan River. The village guesthouse provides a basic en-suite family room with air-con. Clean and comfy but no frills.

Lunch and dinners are in the private homes of villagers. Food will have been sourced locally and will include everything from ferns cooked in coconut milk, water lilies and bamboo shoots (rebung) to freshly caught fish, squid and chicken (usually deep fried). Breakfast is included at the guesthouse and usually consists of soy noodles, boiled eggs, sweet toast, fruit, juice and coffee (bitter but bearable). Drinking water is also available – don't forget your reusable water bottles.

This area is the home of the Orang Sungai people. Representatives of the local tribe and programme facilitators (from volunteer organisation Ape Malaysia) will help you to get orientated around the village and introduce you to local people and other families. You'll get picked up from Sandakan airport before transferring to Sukau via an overnight stopover in a traditional long house dorm in Sepilok.
Our top Borneo volunteering family Vacation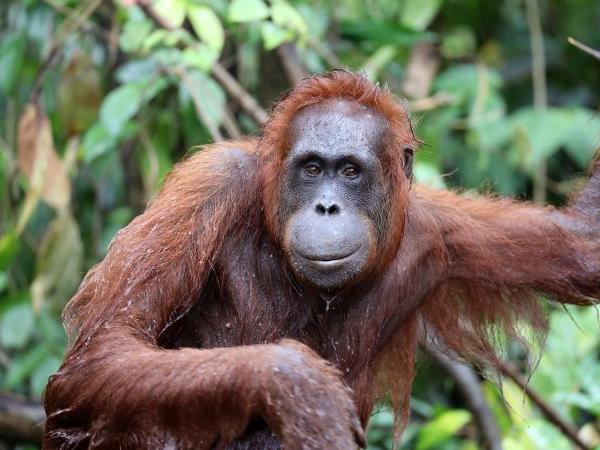 Care for stunning endangered orangutans in beautiful Borneo
From
£

1195

to

£

1895
13 days
ex flights
Small group travel:
2023: 2 Apr, 16 Apr, 30 Apr, 14 May, 4 Jun, 18 Jun, 2 Jul, 16 Jul, 6 Aug, 20 Aug, 3 Sep, 17 Sep
2024: 31 Mar, 14 Apr, 28 Apr, 12 May, 2 Jun, 16 Jun, 30 Jun, 14 Jul, 4 Aug, 18 Aug, 1 Sep, 15 Sep
If you'd like to chat about Borneo volunteering or need help finding a vacation to suit you we're very happy to help.

How will our presence help?
Rainforest resources and the Kinabatangan River are vital for the everyday lives of Orang Sungai people. Volunteers provide an integral link between the natural environment and the local community. Getting to know fellow workers, school kids and guest house hosts are all ways in which your presence helps. It's not just hard graft and manual labour that makes a difference – although it certainly helps – it's the cultural exchange and shared understanding of conservation issues that really hits home and helps to create a sustainable future for the project and for local people.
Helping to patch up the gaping holes in the rainforest canopy is also vitally important. Helping to fix those holes recreates Kinabatangan's '
corridor of life
' which allows animals unrestricted access to roam from the sea mangroves downstream to the deepest, darkest rainforests further inland.
The cycle of volunteers allows saplings to be planted and then to be protected while they grow taller and stronger. Your efforts over the course of a week, for instance, will go towards planting anything up to 50 trees and ensuring another 50 are given the best chance to grow. You're part of an ongoing collective process that will allow endangered animals to live and travel in their natural rainforest habitat along the banks of the Kinabatagan River.
"Over the past 8-10 years it has been challenging and it has not been easy. But in the last two years the project has moved quite far forward in terms of restoring the Kinabatangan landscape. A lot of what we have been doing has been achievable only because we have had participation from volunteers."
– Mark Benedict is programme coordinator for local volunteer organisers Ape Malaysia
What do I need to bring?
Old clothes that you don't mind getting ruined are essential. Long sleeves, long trousers and solid hiking boots are definitely recommended. Long football style socks are great as you can tuck them into your trousers and keep them pulled up above wellie or hiking boots. Top tip: buy some leech socks at the central Sandakan market. They have tie cords at the top and bottom to protect from pesky bloodsuckers. Leeches are harmless but can be a worry to young adventurers.

Same with mozzies – get some eco-friendly insect spray and keep covered up during the day and use a mosquito net at night. Ticks are also present in the jungle. The best prevention is to keep covered up and apply an organic vinegar-based spray to your skin and clothes. Ticks hate vinegar just as much as they don't like DEET.
Buoyancy aids are provided on the boats and full safety briefings are included before you board. Bring your own pair of binoculars if you have them to make sure there are enough to go around. Ear plugs are a godsend, as the rainforest has no volume switch even in the middle of the night.

Also, don't forget your reusable water bottle. You can refill with drinking water in the village. Big bottles are really worthwhile, as you will drink a lot of water to cope with the heat and humidity.
Are we going to be able to do this?
If your family is fairly fit and open to meeting new people in a relatively wild and basic environment then you can SO do this.
Getting stuck into tasks and working as a team are essential ingredients to a successful volunteering trip. You'll also need to be flexible when it comes to meal times and sleeping arrangements. Choice will be limited so be prepared to eat what you're given and sleep in the same family room. If you like camping then this is actually a step up – go with the flow and enjoy the experience as a whole.
If you're in any doubt then talk to the volunteer company that is facilitating the trip. Don't be afraid to ask questions that might seem slightly obvious. Will bedding be included? Yes, it will. Do they have hot water? Yes, but limited. Do they have a pool? No, they don't. Wait, what?!
Basically, you're going to get out what you put in. Making new friends, learning new skills and taking on board conservation concepts through first-hand experiences are part and parcel of the vacation. You're not just going to be watching animals and doing a bit of digging – your family is going to be immersed in a completely different way of life.
Mags Nixon and her 10-year-old daughter, Minnie, went to Borneo with one of our expert volunteer vacation specialists, The Great Projects:
"We loved it! It's the perfect amount of volunteering versus incredible wildlife sightseeing for kids aged eight and above. The Great Projects' pre-trip knowledge and booking was excellent and the local organisation, Ape Malaysia, is well organised and has passionate, local staff. This project allows you to really get to know the wildlife on the banks of the Kinabatangan River – not just one tourist boat ride but numerous … enough to know your long tailed macaques from your short, and your proboscis from your pygmy."
Find out more about Mags and Minnie's adventures volunteering in Borneo by watching their
video diaries.
More about Borneo volunteering