Samboja Lestari Rescue Centre
in Borneo
Borneo's tropical rainforests are some of the most biodiverse on the planet. They provide natural habitat for pygmy elephants, clouded leopards, proboscis monkeys, macaques, freshwater dolphins, pangolin anteaters, crocodiles, sun bears and orangutans as well as hundreds of species of birds.
Unfortunately, for profit-hungry export industries, Borneo's natural resources also equate to timber, coal and vast areas of land to grow monoculture crops like palm oil. Kalimantan in Indonesian Borneo has seen massive sections of primary rainforest razed to the ground. According to research by
WWF
, it's estimated that more than half of Kalimantan's protected lowland tropical rainforests were lost to the timber industry from 1985 and 2001.
Our Borneo volunteering Vacations
Without their natural habitat, animals like orangutans and sun bears face extinction. Thankfully, there is some hope on the horizon. Wildlife rehabilitation sanctuaries, such as Samboja Lestari, offer an escape for abandoned, displaced and orphaned animals. However, the process from rescue to recovery to release takes years to complete and needs a large team of permanent local staff and the help of volunteers before an animal's journey to rehabilitation can even start to happen.
Samboja Lestari occupies a huge 20km² site in East Kalimantan situated some 40km from the port city of Balikpapan. It was founded in 1991 by the Borneo Orangutan Survival Foundation (
BOSF
) on land that had been devastated by logging, drought and wildfires. The intention of the park was threefold: to provide a safe place for rescued orangutans and sun bears; to help to restore the natural rainforest; and to offer an alternative source of sustainable employment to local people.
By providing a step-by-step programme from rescue to release, the permanent team of 200 local staff are responsible for keeping the area's orangutan population from extinction and volunteers play a vital role in supporting permanent staff at the center. Practically everyone living in the surrounding region will have a family member employed at Samboja. This community connection, combined with outreach activities in local schools, goes some way to ensuring the roots of change are in place for future generations to continue the good work.
Rainforest & land destruction
Kalimantan's natural resources provide people living in remote rural areas with the opportunity to make money in order to survive and the means to give their children an education. Small-scale farms and subsistence crops were once the only signs of agricultural land use in rural areas. Local economies were once based around sustainable harvests of honey, rubber, rattan and fruit.
However, the advent of widescale logging for timber, coal mining and palm oil plantations has led traditional land owners to be swept aside by the bulldozers and industrial-sized bullies. Pollution through pesticides and highly toxic herbicides have made it impossible for organic farming to continue. This leaves indigenous local people with little or no option other than to seek poorly paid alternative employment within destructive export orientated industries such as palm oil production.
In the 1980s the Indonesian government established a commercial
land-share system
. In theory, the system let villages sign over development rights in return for some part of the profit. But in practice, many villagers said, companies often secured the permits they needed through some combination of intense lobbying, bribery and strong-arming, and the result was broken promises and missing payments.
Of course, the cost to the environment and the wildlife has been devastating. Provinces such as East Kalimantan were once covered in ancient old growth forest. Today less than half of the original forest canopy of East Kalimantan remains. For an area of almost 130,000km² that's a massive loss.

Slash and burn farming techniques are used to clear huge sections of forest in order to plant profitable oil palms. Not only does this devastate the natural landscape, but it also opens up tropical peatlands that contain 20 times more carbon than any other type of mineral soil. Peat swamp forests play a vital part in reducing the risk of floods by regulating natural water supplies over vast areas. They also provide one of the last remaining essential natural environments for orangutans that have been forced from their traditional rainforest habitat.
Wildfires
The draining of peatlands and practice of ripping out old-growth tree roots also leads to soil erosion and dry tinderbox forests.
Out of control wildfires
are inevitable and the smoke alone is responsible for respiratory illnesses amongst the human population as well as sending megatons of carbon dioxide into the earth's atmosphere.
Imagine how an orangutan tries to cope in this sort of scenario, fleeing burning forests, toxic smoke, with nowhere to turn to other than fiercely protected palm oil plantations. It's no surprise that this forest dweller has been placed on
WWF's endangered species list
.
Kate Helliwell lives and works at Samboja Lestari Rescue Centre in East Kalimantan:
"One of the most current issues that Borneo's wildlife faces are the yearly forest fires that swallow up huge areas of habitat during the dry seasons. These fires are set by humans in an attempt to destroy small or large plots of land for farming. However, more often than not, they get out of hand due to the unique peat soils and the lack of moisture around during dry season. These fires end up spreading across vast areas of rainforest and in those areas the damage is devastating."
Without their natural habitat for shelter, food and protection, orangutans are incredibly vulnerable. As if the destruction of their homes from wildfires wasn't enough, orangutans also have to contend with the very real threat from humans. Baby orangutans are still being sold into the illegal pet industry. The emotional trauma for the animals affected is huge: female orangutans only have four or five babies in a lifetime. Babies stay with their mothers for at least seven years before becoming strong and knowledgeable enough to fend for themselves. Alongside chimps, orangutans are second only to humans in terms of this ongoing nurturing parent and child relationship.

But it's also humans who hold the key to preventing Asia's only great ape, and hundreds of other endangered indigenous animals, including clouded leopards, Borneo bay cats, sun bears and Sumatran rhinos, from becoming extinct. Sustainable palm oil production can provide an alternative income to local farmers without the need to destroy more of the rainforest.

Kate Helliwell: "The good news is that law enforcement is now cracking down on those people setting the initial fires. Organisations that struggle to protect the forests, such as BOSF, can finally turn to high authorities and get help. This is a step in the right direction but it will take a long time to properly enforce these laws due to the complexity of the problems. In the meantime, habitat is still being lost and will continue to be, until better strategies to control the setting of fires are actually put into use."

Reforestation and rescue centers, such as Samboja Lestari in East Kalimantan, also offer opportunities for employment. Animal care workers, construction teams and local farmers who provide food for the animals and on-site team are essential for keeping ongoing conservation projects alive. Only by connecting with the local community can we begin to make a difference.
Our top Borneo volunteering Vacation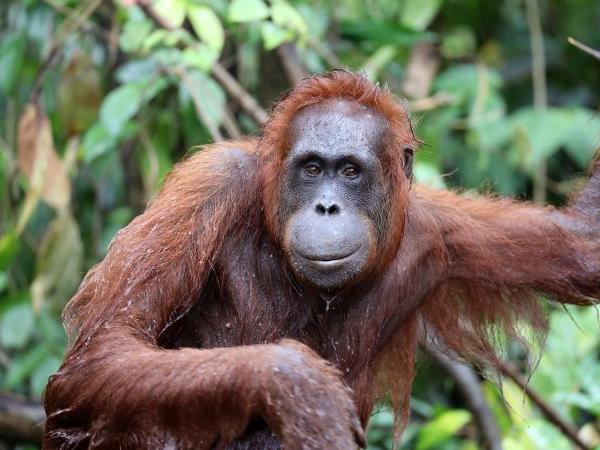 Care for stunning endangered orangutans in beautiful Borneo
From
£

1195

to

£

1895
13 days
ex flights
Small group travel:
2023: 4 Jun, 18 Jun, 2 Jul, 16 Jul, 6 Aug, 20 Aug, 3 Sep, 17 Sep
2024: 31 Mar, 14 Apr, 28 Apr, 12 May, 2 Jun, 16 Jun, 30 Jun, 14 Jul, 4 Aug, 18 Aug, 1 Sep, 15 Sep
If you'd like to chat about Borneo volunteering or need help finding a vacation to suit you we're very happy to help.

How do volunteers help?
When orangutans are first admitted to the center they will go into quarantine for two months before being allowed to join a group at a similar stage of development. Usually orphaned babies will go into a nursery house where they'll receive round-the-clock care. There are also multiple man-made islands along the Black River that offer a safe and quarantined environment for animals suffering from diseases or disabilities that prevent them from ever being able to be rereleased.

Educational playgrounds and 'forest schools' allow babies to make the next step from the nursery. This is where they'll learn how to make nests, forage for food and find out the skills they need to survive on their own in the wild before returning to their cages at night.

Providing enrichment for orangutans is a key element of a volunteer's role. Hessian sacks sewed up and stuffed full of food provide a stimulating puzzle as well as a way to help animals learn how to forage. Collecting natural resources that would usually be used for nest building, such as bendy green branches for weaving and thicker branches for structure and leaves for comfort, also encourages natural behaviours to kick in. Small construction projects such as creating platforms so orangutans can live on self-contained islands instead of cages are also vital.

Basically, without a volunteer workforce the permanent staff wouldn't be able to do their jobs. The rehabilitation and release rate of orangutans would grind to a halt. Additional animals wouldn't be able to be admitted to the center as there would literally be no space. Without volunteers the variety of long term projects, including reforestation, couldn't continue.

Kate Helliwell is volunteer co-ordinator at Samboja Lestari for our wildlife volunteer specialists The Great Projects: "In Samboja, volunteers become part of a team where we work alongside local staff to help improve facilities. One major part of what volunteers do is work on construction projects. These are all funded by the money volunteers pay for their experience as well as charity funds raised by BOSF. For instance, right now we have just finished our biggest construction project to date. Over the previous three months we built a gabion wall outside of one of the orangutan islands. The reason for this was that this area was suffering badly from erosion, meaning orangutans could not be placed on the island. The island is now usable and two orangutans will shortly be moved there to live out the rest of their lives."
What else can I do to help?
It's going to require a global effort to prevent orangutans from becoming extinct. Money is needed to sustain centers like Samboja. Helicopters are needed to transport animals safely to a release site. Medicines, clinical care and veterinary expertise is required to nurse animals back to health. Food needs to be purchased to keep up with consumption and continue the relationship with local farmers.
Volunteering is an amazing experience and will truly change your life as well as enriching the lives of animals and supporting local people in Borneo. You can also make a difference by what you consume at home by avoiding products with palm oil in or by buying products bearing the
Roundtable on Sustainable Palm Oil (RSPO) logo
.
Find out more about how organisations such as WWF are trying to turn palm oil production into a major force for
sustainable development in Borneo
, and beyond.
More about Borneo volunteering