Wheelchair accessible Nile cruises
If you're a wheelchair user, then you might assume that the distance of ancient sites from the river and their fragility, as well as a choice between either busy and multi-decked cruise ships or much more basic
felucca cruises
rule out the Nile as a vacation destination. Far from it, in fact, as although there is still plenty of work to be done when it comes to making Egypt a fully accessible destination, for wheelchair users it is relatively easy to embark on a Nile cruise, especially when opting for a tailormade accessible vacation.
Excursions along the Nile are manageable. Most (not all) of the key sites such as the Valley of the Kings in Luxor, Karnak Temple and Kom Ombo, are easy enough to get around in a wheelchair, but you will want to have someone to assist you when going up slopes, over bumpy or loose ground, or carrying the chair up a few steps. Traveling by yourself would mean in many places you would be reliant on the kindness of others, or handing out liberal amounts of
baksheesh
(a form of tipping) so joining an organised tour is definitely recommended.
A similar situation applies to the cruise ships themselves – they're not perfect for wheelchair users, but doable. Many larger vessels will have lifts between decks, and will offer support to passengers requiring it when embarking and disembarking. At the present time we're aware of only one small ship sailing the Nile that is completely wheelchair accessible, but that certainly doesn't mean that others are out of the question, as long as you know what to expect.
The majority of cruise vacations on the Nile take place aboard small ships, which typically carry between 50 and 150 passengers, with smaller, sail-powered feluccas darting along between them. If you're looking for a
wheelchair accessible cruise on the Nile
then you will be traveling on a five-star, deluxe small ship. Expect a superb range of amenities aboard: air-conditioned, en suite cabins (several of them designed to be wheelchair accessible), restaurant and bar, comfortable lounge and an entertainment programme. Speaking more generally, most small ships on the Nile have open sun decks to take in the views along the banks (sailing is usually done by night but depending on where you are you may return to the ship during the hottest part of the day). And of course there are plenty of ships that have lifts between decks.
Our top Wheelchair accessible vacations Vacation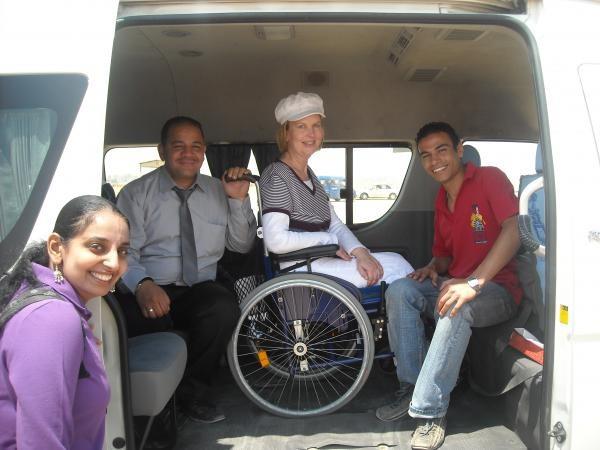 Egypt wheelchair accessible Nile Cruise
From
£

2047

to

£

3575
8 days
ex flights
Tailor made:
This trip can be tailormade throughout the year and can be adapted to suit your interests and requirements as necessary. We can easily accommodate disabled travelers traveling alone
If you'd like to chat about Wheelchair accessible vacations or need help finding a vacation to suit you we're very happy to help.

Wheelchair accessible Nile cruises go virtually everywhere that a not-specifically accessible cruise would go. You might start with a few days in Cairo first, taking in the must-see landmarks including the Great Pyramids of Giza, the Sphinx, and the fascinating Egyptian Museum, then head south to Luxor for your cruise departure. Note that due to the Egyptian government trying to
dissuade foreigners from taking the day train from Cairo to Luxor
, on an organised vacation, you will be taking the night train. Given the trains have narrow corridors and are not well set up for wheelchair users in general, the preferable option is likely to be flying down.
As they're powered and so not reliant on either wind or current, small ship cruises travel upriver as well as down, with Luxor to Aswan or Aswan to Luxor the normal route, and an itinerary of between three and seven days. You are likely to spend at least one night docked in each of these cities, since there is so much to see.
Luxor
for instance has the fabled
Valley of the Kings
, Karnak Temple, and the Colossi of Memnon, earning it a reputation as 'the world's greatest open air museum'. Stops en route include Edfu and its Temple of Horus, which was buried in the desert sands for centuries, the double temple of Kom Ombo, and in Aswan you might also take a day-trip to the spectacular temples of Abu Simbel, carved in the 13th century BCE.
On a wheelchair accessible Nile cruise a specially adapted, air-conditioned vehicle will be used to get you from the river to each ancient site, as well as for airport transfers and to restaurants. All accommodations and restaurants used are suitable for wheelchair users. You'll be on a cruise ship with a lift between decks, and there will not only be support available for getting on and off the ship, but also at every location to ensure you have no issues with broken paths or steep slopes – if you're traveling alone, assistance can be provided throughout in this case.
Traditional feluccas are unfortunately not really ideal for wheelchair users, as they lack any but the most basic of amenities and can be quite uncomfortable. Feluccas are small and cramped, you'll be sleeping on deck (if on an overnight cruise), and there are no onboard bathrooms. However, they are the classic mode of travel on the Nile and felucca sailing is a magnificent experience, so if you're content to rough it a little, then opt for a tailor made tour that might be able to arrange a day trip.
If you have any queries or concerns about taking a wheelchair accessible Nile cruise that are not addressed on this page, our dedicated
Travel Team
will be more than happy to get the answers you need.
More about Wheelchair accessible vacations