Winter multi activity vacations guide
Picture the scene: a frozen lake, a smouldering fire, a star-filled night. Laughter emanates from a log cabin as newfound friends celebrate their return to base after a day spent snowshoeing in snow-covered pine forests. Dressing for dinner has never been so informal with long sleeved thermal tops the order of the day and rosy cheeks, thanks to fire and food, helping to create that wonderful winter glow.

Forget about expensive ski resorts and packed pistes; winter activity vacations in remote wilderness regions are much more exciting.

Our winter multi activity vacations guide lifts the lid on locations from Lapland to Austria, the Alps to Canada, where small groups, solo travelers, friends and families can come together to enjoy not just a single sport but a whole host of memorable winter activities. Enjoy husky safaris, cross country skiing, ice skating and snowshoeing in a single trip; these activities take very little time to learn so beginners can dive right in and old hands can make the most of colder climes. You'll be in the company of local experts, too, for whom these sorts of winter activities are for life, not just for Christmas.
Our Winter multi activity Vacations
What does a winter multi activity vacation entail?
Embarking on an outdoor activity vacation in the winter might seem like madness but it's amazing how warm you can get in freezing temperatures and not just thanks to log fires and a few glasses of grappa. A combination of top quality thermal clothing, expert local guidance and different snow-based activities every day creates a wonderful week or more in some of Northern Europe's and North America's lesser-visited locations. Generally, all equipment, from snowshoes to snowmobiles, is included in the trip price, along with cold weather gear, too.
Small group tours
Small group winter activity vacations typically involve up to 16 energetic adults looking to get together for organised outdoor adventures in the snow. Solo travelers are welcome to join in the fun, and can share a room with another participant of the same sex at no additional cost, or book their own room for a reasonable supplement. It's easy to bond over that first welcome meal when you're all slightly nervous at the prospect of the activities ahead.

Small group vacations such as these involve a certain amount of joining in and socialising, and make an excellent and active long weekend or whole week away. All meals, especially in remote regions, will be included, and accommodation ranges from good standard small hotels to cosy cottages and rustic mountain lodges. Of course, you'll be in the company of expert wilderness guides and activity instructors throughout.
Tailor made trips
On tailor made winter activity vacations, you get to choose what you do and when so you can be as active or as chilled as you like. Trips often last just three or four days; good news for couples or groups of friends looking for an extra special weekend break. You can choose your own departure dates and sometimes your accommodation style, with a night in an igloo or Aurora cabin about as romantic as you can get whilst wearing thermal underwear. You'll still benefit from an expert local guide as you find out about local culture, life in the wilderness and the best places to watch the Northern Lights.

Whichever type of trip you choose, we recommend finding out exactly what's included before you book; some activities may be optional extras, and not included in the price. Ask the tour operator if cold weather clothing is included; how many meals are provided; how many activities are included and are they led by local experts.
Fun for families
Some winter activity vacations are designed for groups of three or four families with children aged from five to 15. Places like Finland are fantastic for families. Lakes are frozen, fells and forests are covered in snow; it's a huge, outdoor adventure playground. Tobogganing, husky safaris and reindeer rides put the rosy red glow back into the cheeks. Evenings are spent in cosy winter cabins or with warm drinks at a remote Aurora camp, to round off full days without a TV in sight. Sharing experiences together, as a family, will have you reminiscing and laughing for years to come. You can't get much better than that.

Although Christmas in Lapland can send shivers up spines for some, for others, especially families with young kids, the allure of seasonal snow is just too much to bear. Tailoring a tour at Christmas can conjure the best of both worlds with visits to see Santa just one of various winter activities to ensure everyone gets what they want and not just on December 25th.
Which activities can I try?
There are a whole range of activities available on these trips, and the good news is that you don't need prior experience in any of them; full instruction is given at the beginning of each day.
Snowshoeing and cross country skiing both included within the majority of our vacation itineraries. Once you get the hang of shuffling or gliding without falling over you'll be well away. Guides and instructors will be on hand to help you at every slip and slide with top quality equipment ensuring smooth passage through areas that are often well beyond the reach of winter walkers or drivers. Find out more about
cross country skiing
and
snowshoeing
in our dedicated travel guides.
Husky sledding is popular on multi activity vacations in Lapland. Mushing a team of four to six dogs, sometimes as far as 40km in a day, and spending a night in a wilderness cabin is an amazing way to experience the winter wilderness.
Reindeer-drawn sleigh rides are also a wonderful way to enjoy snow-covered scenery as you turn a 7km journey into a magical experience of absolute beauty. Snowmobiles, on the other hand, can cover 60-80km in a day, with tundra and vast frozen lakes proving no obstacle for Arctic thrill seekers.
For many, a winter break must also include one essential: the Northern Lights. However, don't make this your ultimate raison d'être for traveling as nature is a fickle beast. Just count your lucky stars if you catch a glimpse and be prepared to stay up until the wee small hours, with your eyes on the skies.
Our top Winter multi activity Vacation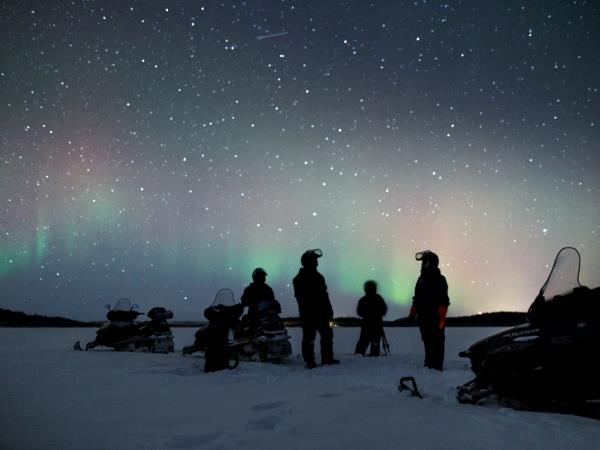 Winter activities & Aurora hunting in Finland
From
£

1595

to

£

2250
5 days
inc UK flights
Small group travel:
2023: 28 Nov, 5 Dec, 12 Dec, 19 Dec
2024: 2 Jan, 9 Jan, 16 Jan, 23 Jan, 30 Jan, 6 Feb, 13 Feb, 20 Feb, 27 Feb, 5 Mar, 12 Mar, 26 Mar
If you'd like to chat about Winter multi activity or need help finding a vacation to suit you we're very happy to help.

Where will I be staying?
In Northern Europe, comfortable hotels, guesthouses and large, shared chalets in superb wintery wonderland locations are the norm, often featuring treats such as a yoga studio or sauna. Some multi activity vacations include a night or two in a wilderness lodge or mountain hut. Naturally, the more remote you go, the more rustic the accommodation may be. For anyone keen to spot the Northern Lights, accommodation with huge, north facing windows or glass igloos makes viewing easy and cosy. In Canada's Algonquin Provincial Park, you can check into wooden, canvas-covered cabins which are unheated, but their feather duvets are sufficient to keep you warm in the silence of a deep, dark maple forest.

All meals will typically be included; there might not be too many opportunities to eat out if you're based in a remote log cabin or on a reindeer farm. Chefs in communal lodges use fresh local ingredients and traditional recipes to ensure you're well-fuelled and warm for the activities ahead. Due to the remoteness there won't often be a huge range of dishes available, particularly the further north you go in Lapland. Ask your vacation company which meals are typical, and let them know as early as possible before departure if you have any dietary requirements. You might also want to pack extra snacks, just in case.
Fitness levels
Activities like cross country skiing and snowshoeing can be used as full on exercise or as a gentle means of exploring in the snow. Going uphill for long periods can really get the lungs pumping and the leg muscles burning. Dog-sledding, too, is no stroll in the park. If you're standing on a sled 'mushing' a team of willing huskies for up to five hours you're going to know about it, and that's without having to jump off and push if you get stuck in a drift. Of course, some tours can be quite sedate affairs with reindeer rides and snowmobile safaris complemented by outdoor grills beside a lake and nights spent watching out for the lights in the sky. Be honest and choose an itinerary to suit your fitness levels or use an upcoming trip as an excuse to get ready for action. Being a passenger on a husky-sled is still an amazing experience, just a little less tiring than keeping pace with the dogs.
What to pack
In Lapland in winter, the temperatures can drop to -30°C. In Austria, Slovakia or the French Alps you can expect slightly milder temperatures, but still well below zero. Most companies will provide a very warm set of overalls, heavy duty gloves and suitable footwear for snow, but do pack your own synthetic or wool layers, and several pairs of socks, to keep yourself warm. Outdoor clothes don't need to be waterproof because at minus temperatures you rarely get wet, so you can jump into deep drifts without a hint of damp; snow just brushes off. Don't over pack: perhaps a couple of pairs of thermal underwear are enough. Mittens are often favoured over gloves – they're easier to get on and off.

"Take no more than two outfits to wear around the lodge and take layers for wearing under the gear provided. Some good thermals and a couple of long sleeved t-shirts will suffice. No one dresses up for dinner, and you never go outside without your warm one-piece suit and boots. You only need to bring one coat to get to and from the airport." – Lynn Lovelock, in a review of her winter activity vacation in Lapland
Responsible tourism
In many areas of the world mountain slopes covered in snow have become synonymous with ski resorts and winter vacations, which can be hugely environmentally damaging thanks to the infrastructure needed, as well as the dependence on fake snow. However, snowshoeing, cross country skiing and husky sleds are traditional modes of transport which are efficient and non-damaging means of crossing frozen landscapes. Our tours take place away from the big resorts, in areas that can really benefit from tourism income, and in places and at times of year when natural snow cover is more reliable.

With regards to Lapland's native Sami people, many of our winter activity vacations in this region will visit Sami communities and reindeer farms, as well as using Sami guides who can explain how they consider the lights in the sky to be the departed souls of their ancestors. From respecting indigenous people's beliefs and learning about the bond that local people have with nature, to exploring untouched environments and providing work for people who don't want to make a living from mega mountain resorts – there's much more to winter activity vacations than you might first expect.
Best time to go on a winter multi activity vacation

However low temperatures drop in winter, as long as you're keeping active and have your thermal underwear on, you'll feel a warm glow.

If you're taking off to Lapland this winter then be warned: things can get decidedly dark and bitterly cold, especially in Dec-Jan. Mar-Apr are the best time to go as snow is deep, days are lengthening and temperatures are creeping up to zero. Austria, the French Alps and Slovakia are best for winter activities from Feb-late April; in Canada's Yukon Territory, you'll find plentiful snow all the way into early May. The further north you travel the colder it gets, but when you're so active by day and watching out for the Aurora at night, there's every chance you won't even notice.
Finnish Lapland Weather Chart
Winter multi activity vacations, month by month
Finnish Lapland
At the start of November and into December Lapland can be pretty dark and, well, depressing so this is not the best time to go for winter activities. In January and February, however, snow starts to fall in earnest and Finns around the Arctic Circle start snowshoeing and socialising all the way to spring. The Northern Lights can be seen from autumn to Easter but it's anyone's guess as to when clouds will part like theatrical curtains to reveal lights alive. Also, be aware that, for some, Lapland in December can mean only one thing – Santa!
Canada
Party time in Canada kicks off when the snow falls, with December and January ideal for exploring backcountry trails on dog-sleds or cross country skis before warming up with a hot chocolate and sauna. The Northern Lights tend to be spotted more frequently in the Yukon during February, March and April so disappear into the darker depths outside of Whitehorse and avoid having one too many Canadian craft ales if you're looking to stay up for the big show.
Slovakia
Winters in Slovakia can be long and hard with the heady heights of the High Tatras still receiving snow as late as May and early June, although winter multi activity breaks focus on the colder months of December to February. Lower down the slopes of Slovakia's highest peak, Gerlachovsky Štít, winter activities focus around the village of Tatranska Lomnica as well as the snow-covered highlands in Velka Fatra National Park. Families can enjoy sleigh rides, ski lessons and dog sledding.
The Alps
In the Austrian and French Alps you'll find snow on higher ground from January through to mid-March. February, especially, can be truly beautiful with blue skies and very little cloud encouraging cross country skiers and snowshoe shufflers to whip off any extra layers only to put them on again, rather quickly, as soon as night falls.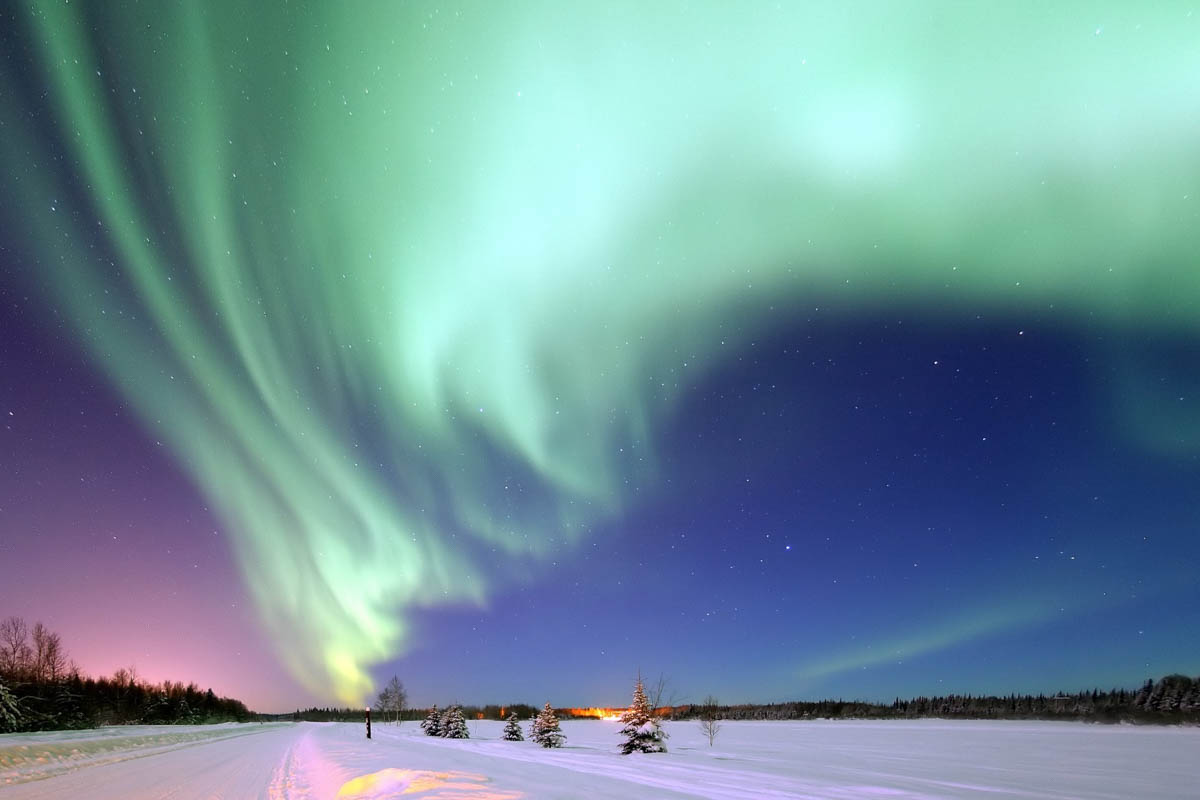 Ali McLean, from our supplier Activities Abroad, shares his advice on the best time to visit Lapland:
"The snow is pretty much guaranteed from mid-November through to late April and each month has much to recommend it. Personally, March is my favourite because the temperatures are improving, the daylight hours have increased and you get endless ice-blue skies that seem to stretch away to eternity. There's a further bonus in March – there tends to be greater solar activity around the equinoxes so there's often a lot of Auroral activity."
More about Winter multi activity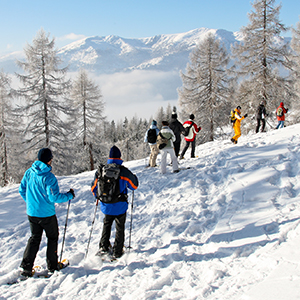 Thinking of a winter activity vacation but without the super sophisticated ski crowd? Look no further than our wonderful winter activity adventures within the wilds of Northern Europe and North America.
If you want to discover one of Northern Europe's wildest settings for winter multi activity vacations, plant your snowshoe clad feet firmly in Finland.