Winter multi activity vacations map & highlights
Winter wonderlands aren't too hard to find if you know where to look. In the Alps, Austria's East Tyrolean terrain and the southern slopes of the French Alps are just a couple of treats for fans of snowshoeing, cross country skiing and tobogganing. Head north into Finland and Swedish Lapland for Aurora Borealis action or why not explore further east, and seek out Slovakia's snow-covered High Tatras, where sleigh rides and grilled fish next to frozen lakes are as essential as saunas? Over the Atlantic, and then some, you'll find Northern Lights in Canada's Yukon territory as well as snowmobile and husky safaris around Whitehorse; now that's something to really make North America great again.
1. Austria
Explore the slopes surrounding the East Tyrolean town of Kals am Grossglockner and you'll gain instant access to back country trails where winter walks, with snowshoes or cross country skis, offer authentic Austrian experiences within Hohe Tauern National Park. Make the most of hiking to mountain huts, tobogganing before teatime and après ski in traditional Tyrolean taverns.
2. Canada
Let the Northern Lights be your guide on a tailor made winter activity tour of Canada's westernmost territory, the Yukon. Adjacent to Alaska and absolutely Aurora Borealis abundant, the frozen lakes and rivers, close to Whitehorse, offer ample excuses for activities outdoors. Alternatively, why not disappear into Algonquin Provincial Park, a few hours north of Toronto, and allow the call of the wild to really take hold.
3. Finnish Lapland
Cross the Arctic Circle in Finland and follow the Northern Lights into Lapland as this is one of Europe's premier locations for winter multi activity vacations. Cross country skiing and snowshoeing followed by dog sledding and optional ice climbing in Finnish Lapland's pristine national parks are just some of the activities to look forward to, alongside cosy log cabins deep within the Aurora Zone.
4. French Alps
If you've always fancied the French Alps in winter, but without the hefty price tag, then head to the slopes of the south for an exciting winter multi activity break that doesn't involve skis or snowboards. Husky sledding, climbing frozen waterfalls with crampons and ice axes, 140mph zip-wires, romantic nights in an igloo – you name it and the French Alps has it, plus lots more besides.
5. Romania
The pristine landscapes of rural Transylvania in Romania are even more magical when admired under a canvas of crisp white snow. Staying in a family-run guesthouse in a small Saxon village, you'll hike and snowshoe in the footsteps of bears and wolves through quiet forests, warmed by lashings of homemade plum brandy, and visit a marvellous sanctuary giving rescued bears a chance at a new start.
6. Swedish Lapland
You might not find ice hotels or Santa theme parks but Sápmi (Swedish Lapland) in the winter will give you an opportunity to dog sled over frozen lakes and through snow-bowed forests en route to watching the Northern Lights. Sample life as a Sami from the cosy comfort of a tented wilderness camp where moose, reindeer and ice cool Swedes help you welcome in the New Year.
Our Winter multi activity Vacations
If you'd like to chat about Winter multi activity or need help finding a vacation to suit you we're very happy to help.

Winter multi activity vacations advice
Winter wardrobe
Petr Ivánek from our leading Slovakia partner, Slovakia Explorer:
"If you are a winter sports lover don't forget to bring plenty of warm clothes. Temperatures during the winter are very cold as one might expect. Daytime temperatures in the mountains can range from -20°C to 0°C. Temperatures drop considerably at higher altitudes and it is imperative that you come prepared with suitable clothing and footwear."
Aurora appreciation
Ali McLean, from our partner Activities Abroad, shares his Finnish Lapland family experience:
"A couple of years ago I was at Lake Inari, standing on the frozen lake waiting for the Northern Lights. It was -27°C and the kids were sitting inside a hut under blankets and next to a fire. About midnight the Lights came out and I ran in asking them to come and see the display. My daughter looked at me and said, 'nah dad, we've already seen them.' Kids have to be a certain age to appreciate them; I'd say anyone below their teenage years doesn't have enough of a grasp of what they are and gets too tired and too cold for the hunt. It tends to be a trip for the older generation while the kids get stuck into all the great winter sports."
Snowshoe techniques
Tom Wilkinson, snowshoeing expert at our partner, Exodus, shares his tips on technique:
"If you can walk you can snowshoe. There are, of course, techniques/tips for going up and down, and through deeper snow, but really this is the winter sport anyone can do. With snowshoes a beginner can access places usually reserved for red hot off-piste skiers – and you're far less likely to crash into a tree on snowshoes! Aside from thinking you'll be using tennis racquets (modern snowshoes are sleek and light) people can forget that if you're walking in deep snow, walking in single file means the person at the front does all the work breaking the trail, though good etiquette is to take turns doing that!"
Fabulous Finland
Ali McLean expands on his love of Finnish winters:
"I always plump for Finland in winter. The lakes freeze and the forests and fells are blanketed in snow turning the great outdoors into one huge adventure playground. The Finns love the arrival of winter and who can blame them? They see it as a time to be outside and actively enjoying a huge variety of winter activities. It is the variety that draws me to Finland when it comes to winter activity vacations – it allows you to pretty much tailor your trip to your own abilities. You could be an explorer heading off into the dark Arctic night on a snowmobile or you can kick back and relax in a spa hotel. I know it sounds corny, but Finland really is suitable for anybody."
At Responsible Travel, we think the best people to advise our travelers are often... other travelers. They always return from our tours with packing tips, weather reports, ideas about what to do – and opinions about what not to.

We have selected some of the most useful winter multi activity vacation tips that our guests have provided over the years to help you make the very most of your vacation – and the space inside your suitcase.

To walk in snowy woods along paths through the trees, to hear nothing but the sound of my breath was so soul restoring.

"The sheer scale of Lapland and being able to get a feel of how the Sami live (reindeer farming, sledging with huskies, ice fishing) was wonderful. One good set of thermal underwear and woollen clothing is all that is needed. Excellent cold suit, heavy duty gloves and boots provided. Very relaxed atmosphere so no smart clothing needed. i.e. don't spend a fortune on special clothing." - Tom Lupton, Finnish Lapland

"Don't hesitate to opt in for the activities as the search for the Northern Lights then becomes secondary. Don't rely on seeing them and don't spend hours in a car trying to find them - do the activities and hopefully see them whilst enjoying yourself." - John White, Finnish Lapland

"The whole thing was excellent. My children loved learning to ski and the dog sledding, but I think my favourite was the winter walk on New Year's Day. Snow would probably be better during the February half term - but if you want to book at Christmas it is still fantastic, you just might need to be more flexible." - Paula Stevens, Slovakia's High Tatras

"You have to be fit to be able to enjoy the snowshoeing and cross-country skiing. Skiing involves quite a bit of your thigh muscles and so does snowshoeing. The environment was really amazing and serene. Just what l really wanted, a real break from everything. My mind was so refreshed after this wonderful trip. Don't over pack. I brought way too much winter clothing." - James Tan, Finnish Lapland

"To walk in snowy woods along paths through the trees, to hear nothing but the sound of my breath was so soul restoring. Every aspect of the trip was wonderful, the activities were tailored to individual needs, the guides and staff at the lodge were knowledgeable, helpful and good company in every way. To sum up: standing on a frozen lake gazing at a star filled sky at midnight then being blessed with the light show of one's dreams - that's one memorable night!" - Marilyn Molyneux, Finnish Lapland

The food is hearty and delicious and perfect for the climate. We enjoyed every meal.

"It was good to meet people, such as the reindeer herder and the husky personnel, who were genuinely interested in the welfare of their animals. We were also impressed with the warm and friendly welcome from all the staff whose livelihood depends to a large extent on outside visitors such as ourselves." - Linda Dixton, Finnish Lapland

"The excursions we took, husky sledging and the reindeer herder were obviously genuine locals letting us into their lives rather than tourist attractions; if we help them to survive in difficult circumstances so much the better." - Richard Bowling, Finnish Lapland

"Do not underestimate the cold. In our 4 nights we had a temp range of -12 to -26 and taking gloves off to take photos can become a real chore. Take plenty of layers and keep them lose fitting not tight (inc 3 pairs of socks at a time). Take hand warmers (for feet as well) and a full face balaclava if possible. The hotel is cosy and the people very friendly but don't have too high an expectation of the accommodation. Rooms can be very basic and there is no choice of meal (except veg option) but the food is hearty and delicious and perfect for the climate. We enjoyed every meal." - Steve Buckingham, Finnish Lapland

"Northern lights were amazing but so were the night time bonfires under the stars, dog sledding, skidooing, snowshoeing, cross country skiing and taking photos on the bridge by the Russian border at night, and just the beautiful scenery. More light than expected in the day even though the sun did not rise above the horizon." - Fiona Kempton, Finnish Lapland

"My favourite memory was the day we spent with the reindeer herder, sitting around the fire drinking coffee outside in the snow covered forest clearing with all the reindeer milling around us. It was so interesting hearing all about Petri's lifestyle, and the Sami culture, a real privilege." - Norman Smith, Finnish Lapland

"This is not a glam vacation; leave all your glamour at home. For example don't even think about wearing mascara you come back with panda eyes as the cold freezes your eye lashes, not an attractive look even in the middle of nowhere. Seriously, the main point is to make sure you wrap up warm." - Teresa Cooper, Finnish Lapland
More about Winter multi activity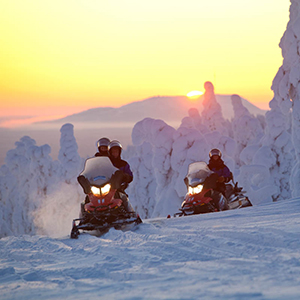 Throw another log on the outdoor sauna, hail the huskies to heel and stay awake long enough to experience the Aurora Borealis; our winter multi activity vacation guide will have you excited all the way through to the end of April.
If you want to discover one of Northern Europe's wildest settings for winter multi activity vacations, plant your snowshoe clad feet firmly in Finland.