Yoga and wellness vacations

The 'path to wellness' is an oft used phrase, but what exactly is wellness and how on earth do I get there?

Wellness has become a bit of a buzzword these days, which isn't to say that's negative; it's not, but you can't really go anywhere – a restaurant, the gym, the doctors, your own front room in front of the TV – without someone or something questioning your wellness. It's adopted an almost mystical façade, as though 'wellness' is a well-kept secret that we're only just discovering.
It isn't. Wellness, put simply, is a positive approach to living; an active process of becoming more aware of ourselves and those around us to make positive choices towards a happier, healthier and ultimately more fulfilling way of life. To assess wellness is to assess much more than just our physical health through exercise and nutrition though and requires a bit of a mental detox too, and it is this that differentiates a yoga vacation from a yoga and wellness vacation.
What does 'boot camp' mean in yoga speak?
Generally, if you see the words 'boot camp' or 'detox' when applied to a yoga vacation, you can assume that there will be a healthy dose of wellness served up alongside your yoga. Don't be fooled by the term 'boot camp' though – a yoga boot camp is not a stand-in-a-field-at-dawn-doing-jump-squats boot camp. It's much gentler, and the term has morphed to mean a lot more where its association with yoga is concerned over recent years. There are more vegetarians, vegans and pescatarians than ever before and more people that are interested in a super-healthy lifestyle, so boot camp where yoga and wellness is concerned means more of a 'blended retreat' offering guests a little bit of everything that is important: fabulous nutrition, a light detox, which is more in line with 'clean' eating, some therapy-led classes, and some other exercise options – be that yoga, body conditioning or emotional freedom techniques.
Is a yoga and wellness break right for me?
As life gets more hectic and we have less time, and so become more prone to tiredness, stress and (*sob*) ageing, wellness retreats are a 'let it all go and get yourself together again' break. They offer a life laundry service combining meditation, stress reduction, detoxing, hormone balancing, self-growth and life coaching, alongside active, physical interests: a one-stop-shop towards a better, brighter you.

What they are not is a yoga vacation, so if you are someone who feels that the rest of your life is ticking along nicely and whose number one priority is to progress your yoga practice then you should choose a yoga retreat where the focus falls firmly on yoga, teaching at least two classes a day and with the option of additional one-on-one tutoring.

Our top Yoga Vacation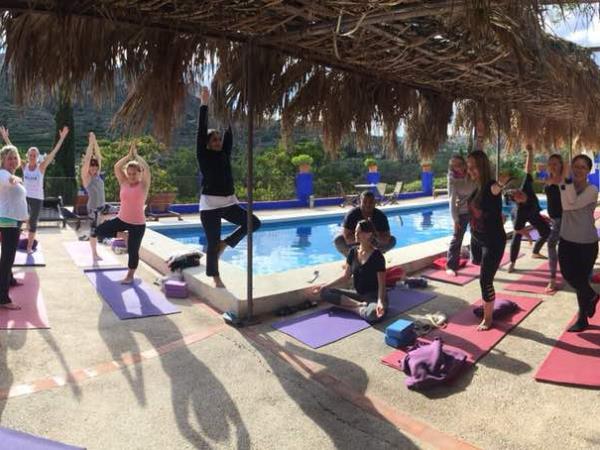 Yoga and meditation in the magical countryside of Valencia
From
€

495

to

€

1045
6 days
ex flights
Small group travel:
2019: 27 Jan, 3 Feb, 10 Feb, 17 Feb, 24 Feb, 3 Mar, 10 Mar, 17 Mar, 24 Mar, 31 Mar, 7 Apr, 14 Apr
Hello. If you'd like to chat about Yoga or need help finding a vacation to suit you we're very happy to help. Rosy & team.
Nicola Stone, from our supplier, Yoga Breaks in Spain, explains further:
"I used to work on a wellness retreat out in Spain and it was a six night retreat, but with only three classes of yoga throughout the whole week. I had a lot of people coming on that retreat saying they wished that there was more yoga involved because what they had really wanted was to progress their practice. A wellness retreat on which the teachers aren't dedicated to yoga won't help to progress your yoga practice very far because often you'll have teachers that are Pilates, yoga and personal training practitioners all rolled into one, so they won't be specialists in one field. Wellness retreats are more of a combination break for relaxation, body conditioning, life coaching, and a bit of nutrition advice – there's nothing wrong with them at all, but it's a very different vacation to a yoga vacation."
Convert currencies