Trace your finger along the course of the Zambezi on a map Ė itís an easy progress. It follows a lazy, curving shape, reminiscent of a reclining S, but its cleanly curling outline says nothing about this diverse and at times dramatic river. Rising just inside Zambia, it flows through eastern Angola, before crossing back into Zambia. Here it heads south and then east, following the border with Zimbabwe, then on into Mozambique, crossing the country in a south-easterly dash to the finish line Ė the Indian Ocean.
At 2,574km, this is Africaís fourth longest river, and its longest river to flow east. Perhaps its most famous feature is the Victoria Falls, on the Zambia-Zimbabwe border, where the river plunges as deep as 108m into a sheer basalt gorge, creating a spectacular curtain of water almost two kilometres wide. There are other falls along its long route, as well as broiling rapids, and the river flows past an ever evolving landscape of savannah and broad floodplains, narrow gorges and high hills. In some places the riverside geography squeezes the flow to just 200m across, while in others it can become a broad, gentle stream, as much as eight kilometres wide.
With rivers come life, and the Zambezi supports a range of wildlife along its course. Hippos and crocs live in large numbers next to calm stretches of the river, and elephants, giraffes, zebra and Cape buffalo frequent the riverine woodlands. Birds of all kinds feed and hunt along the riverís banks and in its shallows, including fish eagles and various species of heron, egret and kingfisher. The fertile waters of the Zambezi draw people in, often from some distance, to fish, while its floodplains, particularly around the upper river, provide good agricultural land. Poor roads in the river valley mean itís often easiest to travel by canoe, and lots of the tiny villages that dot the banks are only accessible by boat.
Canoeing on the Zambezi is a chance to see the river and its surrounding landscape from a different perspective. Thereís no polluting, noisy safari vehicle, no fancy lodges, just the peace and quiet of the river, and the sound of the paddle slapping against the water, the bird calls, and maybe a distant elephant trumpet. The only energy youíll use is your own, as you paddle along, and the only emissions will be yours, too Ė sighs, that is, or the odd ďwowĒ, as you float past pods of hippos wallowing in the deep water, or pause to admire the statuesque silhouette of a sea eagle on a branch.

It tends to be small group vacations to Zambia, which sit on the adventurous side of things, that include some canoeing on the Zambezi. Not that itís dangerous or even technically difficult, but just because it isnít the standard game drive and walking safari that tailor made trips tend to include. Some tailor made tours do offer a dayís canoeing as an optional extra, admittedly, but really, canoeing is best when itís more than just a one-off experience. To really get to know the river, and fall in with its rhythms and wildlife, you need to take a canoe safari, spending two or three days on the Lower Zambezi, wild camping each night under the stars, and leaving behind only footprints in the sand as you paddle away the next morning. Better yet, book onto a 10 day small group trip that makes canoeing its main focus, with some game drives peppered in.
The combination of canoeing and camping is a true wilderness adventure, propelling you to an untamed side of Africa, away from the safari lodges, spas, swimming pools and sundowners. Head out each day in the early morning, before the heat rises and when the easterly head wind is at its weakest. The pace is always gentle so you can make the most of any wildlife sightings. Look out for elephants feeding on the banks, crocs basking in the sun and the riverís rich birdlife. You might also see Cape buffaloes, baboons, vervet monkeys and even lions.
This is an incredibly intimate and Ďrealí way to see Zambiaís wonderful wildlife, which generally is unperturbed by the presence of canoes, and it makes a unique and low carbon alternative to the classic game drive in a diesel powered safari vehicle. The guides and tour leader accompanying you will point out what youíre seeing, give you canoeing tips, and cook meals, typically on gas to avoid using firewood which depletes limited resources. Camping is usually semi participatory, though, so youíll need to put your tent up and down, and muck in with camp chores.
The canoes used on small group trips that are focused mainly on canoeing the Zambezi are Canadian-style two-person vessels. You donít need experience of paddling one, but itís helpful if youíre reasonably fit as this is an active trip. Oh, and, needless to say, itís important that you can swim confidently, too. Bring lots of sunscreen and a hat, and gloves to protect your hands from any blisters caused by paddling. Most of all, bring a sense of adventure, a love of wildlife and an ambition to off-road it in Africa.
Our top Zambia Vacation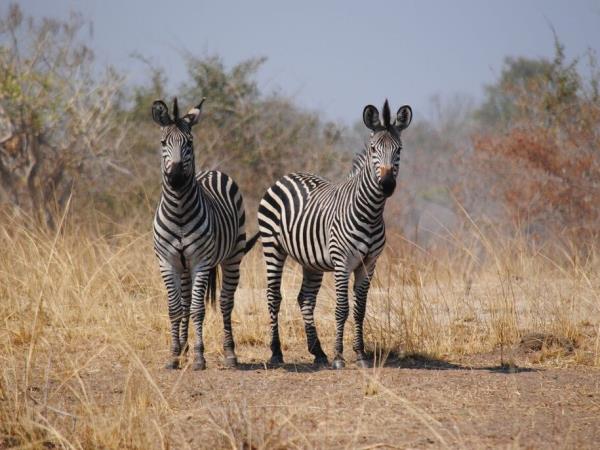 Raw and untamed adventure showcasing amazing African nature
From
£

4195

to

£

4755
14 days
ex flights
Small group travel:
2023: 26 Jun, 9 Oct
If you'd like to chat about Zambia or need help finding a vacation to suit you we're very happy to help.

Overland small group tours, usually with a maximum of 12 people, that include time on the Zambezi might begin by traveling from Livingstone and the Victoria Falls, across the rolling miombo forested hills of southern Zambia and down into the Zambezi Valley lowlands. After two days of canoeing, with a night wild camping in the middle, this kind of overland tour might then make for South Luangwa National Park, and then on into Malawi. Specialist
Zambezi River canoeing vacations
of 10 days often start in Zambiaís capital Lusaka, before driving down to the Zambezi at Nyamomba where youíll board the canoes. They include game drives in Chiawa Game Management Area and the Lower Zambezi National Park and nights either wild camping or in campsites along the river.