Zambia vacation travel advice
Simon Mills, from our supplier, Native Escapes, shares his Zambia travel advice, on walking safaris, bringing the kids and what you get for your money:
Tips on walking safaris
"Zambia is unbeatable for walking safaris – they originated in South Luangwa, so it is a huge thing there. The northern part of South Luangwa is quite remote, so there's some incredible walking to be had – some trips are set up seasonally and you can walk between lodges, and there are other, more wild trips where you have a team of locals with you that unpack and pack your tent each night and day and you walk between sites camping as you go. Safari in a game vehicle is one thing, but safari on foot with a ranger is another thing entirely because all of your senses are heightened. It's not set up so you stumble into lions, although you can do that, it's more about noticing the smaller things around your feet – you start to understand so much more about the flora and the fauna. It's a very special experience."
Visa advice
"The Victoria Falls really are as incredible as they are made out to be. The Zambian side is on the corner, which is a slight disadvantage to the Zimbabwe side, which is face on, but that said, Zambia have really got their act together with Zimbabwe and they have a UniVisa now, which is brilliant. You used to have to get a different entry visa every time you crossed between the countries even though it's just a bridge that you can walk across that links them, but the UniVisa allows you numerous entries and exits throughout your stay, which allows people to get great views of the falls from both angles."
Costs & what you get for your money
"I love Zambia, it is one of my favourite places to go on safari. The wildlife is terrific and has such good numbers of elephants, cats and general game. Game drives and walks are often undertaken without seeing another vehicle, so the solitude and silence (especially on walks) is really enjoyable. You can just hear the sounds of the bush and appreciate your surroundings. When all is said and done, Zambia is not a cheap safari destination as internal flights can tot up. It's cheaper than Botswana, but more expensive than South Africa. That said, given the quality of the wildlife experience, the remoteness of some of the camps and just the fact you can fully appreciate the bush without others around – in my opinion, it is certainly worth it."
Traveling with kids
"There is a good range of accommodation and kids are welcome at a number of lodges; not the more remote bush camps, but other lodges in the Lower Zambezi for instance and the lodges close to Mfuwe in the South Luangwa. It is considered to be malarial though, so younger families are often put off by that."
Trip planning advice
Dirk Reiche, from our supplier Sunway Safaris, explains why it's worth getting off the beaten track: "By going to parks other than South Luangwa you get to experience what Zambia is truly about. With African parks now working very hard in lifting the animal populations and anti-poaching campaigns, all of the less known and visited parks are slowly going back to their original pristine selves. For example, I would say that North Luangwa National Park is the top game park in Southern Africa. It has a very small road network and that makes it truly wild! Other parks, like Liuwa Plain, are renowned for their wildebeest populations which come from Angola with the rainy season.
If I had to choose a park to visit it would be Bangweulu, a swamp in the Northern part of Zambia. Large herds of black lechwe and sitatunga are found here as well and the infamous shoebill bird. Close by is Kasanka National Park, home to the largest mammal migration on the planet! I guess you thought that was the zebra and wildebeest in Tanzania and Kenya? Nope – it's Kasanka, with 10 million-plus straw-coloured fruit bats. They migrate from the Congo Basin to a single stand of forest in Kasanka in October and November each year in search of certain trees that come into fruit with the start of the rains."
HEALTH & SAFETY IN ZAMBIA
HEALTH
Visit your GP 4-6 weeks before departure to ensure you have all the necessary vaccinations and medication. If you have pre-existing health problems, get an earlier appointment.
Only drink bottled water and avoid ice in drinks.
Malaria is present in Zambia and antimalarial medication should be taken. Dengue fever, carried by mosquitoes which are most active during the day, is also present. There is no medical protection against dengue fever. Use mosquito repellent and a mosquito net, and wear long sleeves and trousers.
A yellow fever vaccination certificate is required for travelers over nine months of age arriving from countries with risk of yellow fever transmission. It's also required for travelers who have transited more than 12 hours through the airport of a country with risk of yellow fever transmission.
Make sure you have adequate travel health insurance (covering all activities you might take part in, for instance at Victoria Falls) and have accessible funds to cover the cost of any medical treatment abroad and repatriation.
Medical facilities and communications in Zambia are poor, especially in rural areas. Even basic drugs and clean needles may not be available. Emergency services are limited. Make sure you know your blood group and carry a sterile medical kit including needles and dressings.
Rabies has been reported in domestic and wild animals in Zambia. Bats may also carry rabies-like viruses. Avoid contact with all animals.
Food bought from local street vendors may not meet adequate hygiene standards; your tour guide should be able to recommend the safest places to eat. Food served in lodges will be of a very high standard.
If you need emergency medical assistance during your trip, dial 999 and ask for an ambulance. You should contact your insurance/medical assistance company promptly if you are referred to a medical facility for treatment.
SAFETY
Zambia is generally a safe country to travel in, with relative political stability, but do keep up to date on the FCO website.
Always follow your driver or guide's advice when in national parks and around wildlife, especially on walking safaris. Likewise, camping in game reserves is thrilling as you are surrounded by wildlife – including elephants, lions and hyenas. Your guide will explain the regulations at each camp – do pay attention to them!
Travel in Zambia's major cities, as well as the game parks, is generally safe during daylight hours. Bag snatching, pick pocketing and theft from parked cars is not uncommon, though, at some restaurants and internet cafes in downtown areas, particularly near bus and railway stations, and in some shopping areas. Keep large amounts of money, jewellery, cameras and phones out of sight, avoid walking alone after dark and use taxis pre-booked through your hotel.
There is a risk of explosive remnants of war in remote areas near the borders with Angola, Mozambique and DRC. Take care if you venture off road in these areas.
Adventure sports, including those in the Victoria Falls area, carry risks; follow safety instructions closely.
Homosexuality is illegal in Zambia. Same sex couples should act discretely.
Our top Zambia Vacation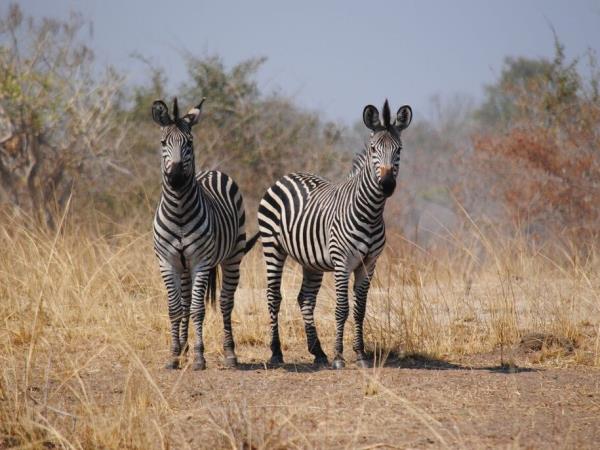 Raw and untamed adventure showcasing amazing African nature
From
£

4195

to

£

4755
14 days
ex flights
Small group travel:
2023: 26 Jun, 9 Oct
If you'd like to chat about Zambia or need help finding a vacation to suit you we're very happy to help.

TIPS FROM OUR TRAVELLERS IN ZAMBIA
At Responsible Travel, we think the best people to advise our travelers are often... other travelers. They always return from our tours with packing tips, weather reports, ideas about what to do – and opinions about what not to.

We have selected some of the most useful Zambia travel tips that our guests have provided over the years to help you make the very most of your vacation – and the space inside your suitcase.

Take motion sickness tablets for charter flights. They are very small planes and can be quite bumpy! Take more memory then you think you need if you have a digital camera.

"Don't delay... Go now before you are too old or sadly the animals are gone! This rates as the top vacation we have done, equal with an Antarctica expedition! Make sure you have a good zoom camera. We bought a new one en route! Try a monocular if you can't use binoculars. You will be amazed how early you want to go to bed! But DO go to the water holes at night and early morning as it is amazing and you will have missed unforgettable memories otherwise!" – Heather Gratland

"Do it! Especially if you enjoy wild camping – not the kind with running water and generators at each site, but camping in places that are quite remote with few amenities." – Kelly Towle

"Definitely go to Lower Zambezi: in any brochure or website it's presented as a second choice to South Luangwa, but it's a 'can't-miss' location." – Vincenzo Baracciale

Don't worry about the standard of accommodation - it far exceeded our expectations.

"Pack light and bring comfortable shoes. And don't worry about bringing massive amounts of toothpaste or back-up shampoo. Every few days the group stops at fairly well stocked groceries at which just about anything can be purchased and re-stocking is a breeze." – Honey Bernstein

"Check what time of year you are going – I found it was very cold camping and I hadn't packed enough warm clothes. Don't expect to see every big cat, but you'll see some amazing animals." – Anna Downie

"Do it! Money well spent." – Katrin Nyman

"Definitely recommend doing micro-light over falls – not cheap and can't use own camera (can buy either video or photos of your flight from wing mounted Gopro) but the experience and views are something else." – Vince Williams