Responsible tourism
Sri Lanka eco lodge accommodation
Carbon reduction
Your vacation will help support local people and conservation. We must also reduce CO2. Learn about the CO2 emissions of this vacation and how to reduce them.
Environment
We have created our location to be a natural part of our wild surroundings.

Our operation is based on a philosophy of minimalism: the more discrete and low impact the better.

A self-imposed restriction ensures that any hotel like development and expansion is avoided. The camp set up is preserved as a small and special lodge and with only 3 accommodation units.

This is the best way to keep the original, pure, jungle experience as well as a precondition for managing the place without electric light (which would spoil the experience and discourage wild animals from moving close to the camp).

In January 2002 we opened for tourists and began using ecotourism as a way forward. A tool to conserve the environment through creating new nature based jobs. Simply by using the nature in a constructive – not destructive way in the local area which is a wilderness, forest as well as slash and burn cultivation area north of the Yala National Park.

By inviting tourists to come and live with the jungle lodge team in the wilderness it is our aim to create awareness amongst the local community and authorities about the special value of the natural environment outside the Yala National Park itself.

We do not follow any blue print project implementation program and we are economically 100% depending on the arrival of visitors. But we are always working to use our influence and network so as to preserve this unique piece of nature from the threat of destruction.

We are very passionate about preserving our local area as elephant habitat but also working for co-existence between humans and elephants. Through our local community based organization working for preserving biodiversity in an effort to pushing development planners to consider nature conservation as a modern, constructive idea ...

Preserving wild, natural habitats and forests outside the national park is the most important way to solve the 'human-elephant conflict', the main threat to the Sri Lankan elephant population.

The camp is situated in a border area between protected areas and human habitation as well as farming areas so this area is also a place to witness this part of life in remote rural areas. That is why we refer to our approach as 'reality tourism'.
Community
All staff members are from the local area and trained and educated for tourism at the lodge, using their natural sense of hospitality.

We consider sustainable small scale nature based tourism an important contribution to the environmental threats to the area and work to build awareness of nature tourism as a tool to use the local environment in a constructive way as an alternative to using nature in destructive ways.

Small scale responsible tourism is generating a new type of income in the the local community and we have proven this is a different way to use the local environment in a positive way compared to traditional land and forest use. At the same time the management depend on the local knowledge of the jungle which the local staff team possess.

We are conscious about using simple technology only as it can be handled, repaired and managed by the local staff.
6 Reviews of Sri Lanka eco lodge accommodation
---
Reviewed on 17 Apr 2017 by
Nicola Round
1. What was the most memorable or exciting part of your vacation?

Our stay was an absolute dream from start to finish. Kamal and the team made us feel so welcome and the food was superb. The most memorable part has to be the wildlife we saw. At the camp, and on our walks, we saw so many different birds as well as lizards, snakes and giant squirrels! And the team are very knowledgable about birds in particular. We did three safari trips in to the National Park and were lucky enough to see leopards as well as elephants, water buffalo, crocodiles, eagles, wild boar, mongoose and so much more.


2. What tips would you give other travelers booking this vacation?

If you are looking for a unique, peaceful, wonderful place where you can be totally immersed in nature then this is the place for you. But if you are looking for nightlife and you can't live without a hot shower then it's probably not for you.


3. Did you feel that your vacation benefited local people, reduced environmental impacts or supported conservation?

Yes absolutely.


4. Finally, how would you rate your vacation overall?

Unforgettable. A truly special place, we are so grateful to have experienced the accommodation and the wonderful team. Thank you!
---
Reviewed on 17 Feb 2006 by
Camilla Berndtson
My stay at this lodge in Sri Lanka was an absolutely beautiful experience. I don´t think that I've ever felt so relaxed. Staying in a simple (but clean and neat) hut in the jungle and listening to the sounds of birds and sometimes even elephants made me feel very, very, very happy and close to nature.

I can't tell you how grateful I am to have been able to do this trip, and finally one of my dreams came true when I saw an elephant..... I definitely felt that my vacation benefited local people, all the staff (except the host - Lars) was from the area and had a lot of knowledge about the nature.

Rating:*****!! Will travel with you again as soon as I can.
---
Reviewed on 18 Oct 2005 by
Rachel Morgans
1. What was the most memorable or exciting part of your vacation?

The whole experience of staying here was memorable, from the incredibly warm welcome through to the amazing food prepared by local staff on an open fire. Unfortunately we arrived after the rains had started so we didn't see a lot of wildlife but if we had wanted guaranteed sightings we would have gone to a zoo.


2. What tips would you give other travelers booking this vacation?

Go with an open mind and take things as they come. Lars and his staff will bend over backwards to accommodate your wishes but there are limits and visitors should recognise this.


3. Any areas for improvement?

Definitely. The accommodation is made from local materials and any timber is taken from trees that have already fallen rather than cutting down growing trees. Several of the local staff have been converted from abusing the environment e.g. poaching to protecting it.
---
Reviewed on 21 Jan 2005 by
Annabel Smith
It was everything we hoped it would be, so far away from the hustle and bustle of the rest of Sri Lanka. Although there had been other quiet, peaceful times and places they were always punctuated by noisy traveling and so on. The accommodation is very comfortable and really well thought out. It's basic, washing with water from a well and lighting in the form of candles and hurricane lamps. This is as it should be, because the idea is to have as little impact on the surrounding jungle and its inhabitants as possible. Lars is a very good host and is a really dedicated to his cause. The local guys who Lars employs are very knowledgeable about the fauna and flora of the jungle. We went on three guided walks through the wonderful jungle and saw clues to elephant and bear and porcupine activities! They all made our stay very relaxing and enjoyable as well as interesting and we learned a great deal. We really felt part of it all. The food was really excellent, and the evening meal was prepared by torch, candle and hurricane lamp light! All in all everything was fantastic, the people the place and the atmosphere!
---
Reviewed on 13 Dec 2004 by
Peter Davis
1. What was the most memorable or exciting part of your vacation?

Our overwhelming feeling after the vacation, is a great sadness for the loss of life and suffering caused by the tsunami disaster. Though, we very much enjoyed our stay at the Lodge, even though the monsoon rain curtailed the walking safaris.


2. What tips would you give other travelers booking this vacation?

This is a real jungle experience far from normal comforts, such as running water.


3. Any areas for improvement?

I understand that the manager, Lars, intends to provide some running water in the accommodation, and an attached toilet which would be very good ideas.


4. Any other comments?

I think Lars is doing a great job and the project is definitely worthy of support. It would be good when Lars has managed to build more accommodation to allow more people to stay at one time.

---
Reviewed on 15 Dec 2003 by
Kim Brown
Staying here was the most amazing experience! I stayed at an ecolodge on the edge of the jungle and learned how to track wild elephant and leopard. We had the lodge exclusively to ourselves. Bathed at a well - no electricity - watched displays by fireflies at night - food was delicious and cooked over small wood stove. Staff were wonderful - felt very safe yet living at one with nature. Altogether - a life enhancing experience.

---
Popular similar vacations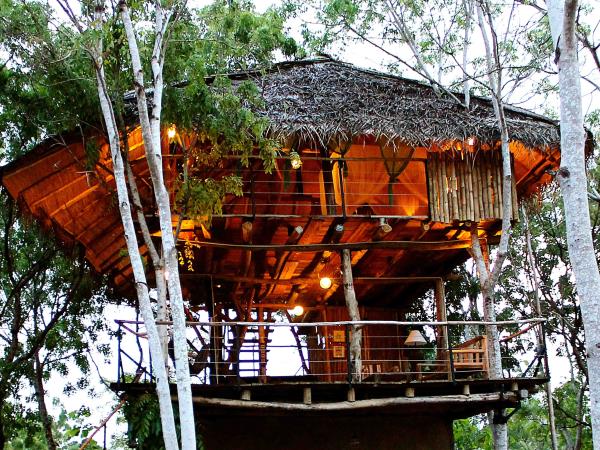 Luxury treetop lodges & mud chalets in the wild
From US $120 - US $175 per accommodation per night (sleeps 2)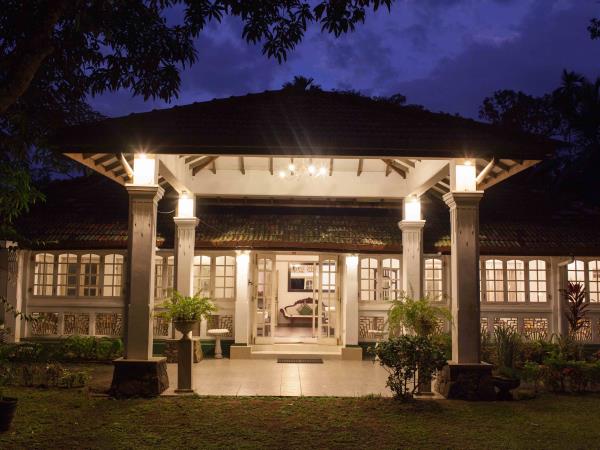 Historic Boutique Hotel in Kandy, Sri Lanka
From US $65 - US $125 per accommodation per night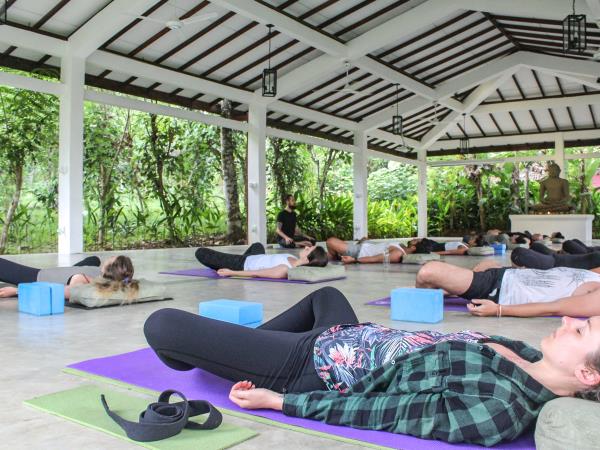 Ayurveda, yoga & wellness retreat in rural Sri Lanka
From US $110 - US $240 per person per night