Sri Lanka travel guide
---
2 minute summary

Sri Lanka came to the world's view in 1975 with Paul Theroux's hit travel journal, The Great Railway Bazaar: "Galle was a beautiful place, garlanded with red hibiscus and smelling of the palm-scented ocean, possessing cool Dutch interiors and ringed by forests of bamboo". He also commented on its poverty and, although the economy started to pick up after that, Sri Lanka was then ravaged by the 26 year civil war, ending in 2009. As well as the tragedy of the 2004 tsunami.
As Sri Lanka starts to blossom and boom, the world is waking up to this island idyll. Its archeological wonders of temples and ancient kingdoms are appearing on magazine front covers again. The rainforests and national parks have jumped to the top of every conservationist's Christmas list. Surfers are celebrating and honeymooners swooning. It is no longer just a place to tag onto the end of a trip to India. Theroux's train has hit the fast track, however, and only time will tell if it runs out of control, with its glistening cargo of tourist bullion. Travel responsibly and you can help drive it in the right direction.
What we rate & what we don't
---
Our guide to the best & worst of Sri Lanka
Underrated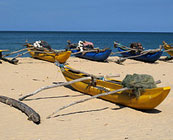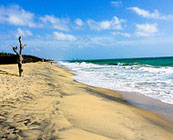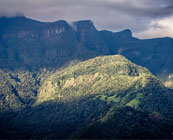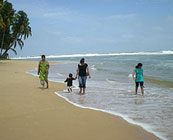 The north east
Only now opening up since the end of the war in 2009, infrastructure is still thin on the ground, but people are open and delighted to receive guests into landscapes and seascapes that are starting to breathe again. Such as Pasekudah Bay or the inland lagoons and fishing villages around Kalkudah. Our responsible tourism operators are adding tours there now, so jump on board before the developers get there.
Kalpitiya peninsula
On the northwest coast, this is far from the all-inclusive resorts of the southwest, but home to the quiet, quintessentially idyllic beaches we all yearn for, with the Puttalama lagoon on one side and Indian Ocean on the other. The most developed beach is Alankuda beach with winds that make it kite surfing central, but there are other more sheltered havens. Whale and dolphin watching trips also go from here.
The Knuckles Ranges
Much less known than the Nuwara Eliya tea plantation regions, these tea covered hills rise to more than 1800 metres, and are a hiker's hideaway in clouded forest of the central hill country. There are five major forest types here teeming with endemic birds and home to deer, monkeys, wild boar and the slender loris. Trails abound, as do cooling waterfalls. Get in.
Young travelers
Sri Lanka was traditionally a 60 + vacation, 'doing' archaeological highlights, harking back to colonial times and still calling it Ceylon. Yet with such a family orientated culture, Sri Lanka is surprisingly, still relatively undiscovered for families, except at the 'could be anywhere' resorts on the southwest coast. With white water rafting, great food, elephants in the wild and surfing, getting real and responsible is so much cooler.
Rated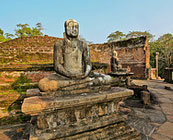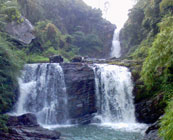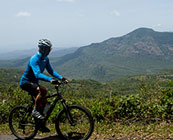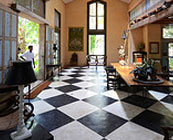 The Cultural Triangle
The ancient artery of Sinhalese civilisation, where tourists will debate whether the vast palaces of Anuradhapura are better than the extraordinary ruins of Polonnaruwa. Or if the caves at Dambulla are more worthy of a hike than the majestic rock Sigiriya. Just follow the trail of Buddhist pilgrims who still come here today in their thousands. For them there is no debate. They are all spectacular.
Ella
This charming little village turns quickly from sleepy to dreamy as you arrive into its luscious hill country by train, take a two hour hike up to Ella's Rock or Little Adam's Peak for spectacular views, or to Ravana Ella Falls where you can also cool down with a dip. Plenty of small guesthouses serving some of the best food you will find.
Cycling
A great way to get around Sri Lanka with a vast network of quiet roads alongside coconut groves, paddy fields and tea plantations. It isn't all steep either, with a lot of the paths very manageable. You can hire a bike in the main tourist hubs, but not so easy in rural areas. It is also worth hiring a local guide if you are going into the rural areas, and many tour operators can organize this.
Geoffrey Bawa
A prolific Sri Lankan architect who died in 2003, his work is known as tropical modernism and seen in hillside houses, beach hotels and even the Sri Lankan parliament. His work is about connecting with natural heritage, working with landscape in a sustainable way long before it became fashionable. You can visit his gardens at Lunuganga. Look out for the work of Sri Lankan architect Cecil Belmond, a contemporary creative of similar genius status.
Overrated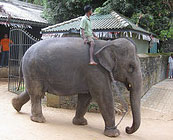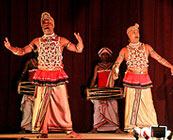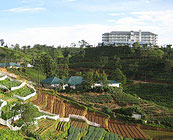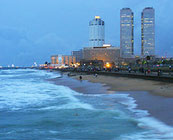 Pinnawala
More of a circus than what it is sold as – an elephant sanctuary or orphanage. The elephants are, in fact, in captivity, many not orphans at all but bred on site, as this is a big tourism earner. And they are trained to interact with tourists in a way that is unnatural and unkind. Head out to the national parks to see these wonderful creatures in the wild instead.
Kandy
Considered a must see by many, and certainly the Temple of the Sacred Tooth Relic is superb, it is now losing its eye 'kandy' appeal. Suffering from pollution and over development it doesn't have a cultural capital feel about it anymore. The Kandyan dancers and drummers are a bit too touristy for many although the Botanical Gardens are gorgeous. Make it a one night stay.
Nuwara Eliya
The highest town at 1,900m, and so a good outlook point for the British who made this their focal point for all things colonial. Although hard to know why as the weather is often pretty dismal here. It still feels like the Home Counties, with tea plantations and factories, mock Tudor, gentlemen's clubs and cricket. Falls somewhere between 'what ho' and 'WTH?'
Parts of the coast
There are many lovely beaches but on the southwest coast some of the beaches are very overdeveloped, catering for mass tourism, when in fact they look like idyllic isolated beaches online. So, if you want to tie on a couple of special beach days to a cultural vacation, head north, east or indeed northeast, and do your research.
Food, shopping & people
---
Travel like a local with our Sri Lanka travel guide
Eating & drinking in Sri Lanka
---
Hoppers (appa) – a bit like a pancake, egg hoppers for breakfast come with a fried egg in the middle. String hoppers (idiappa) are more like a patty made of noodles.
Fish markets abound along the coast and small guesthouses with be happy to cook it for you.
Rice and curry is everywhere. Expect delicious sambals to accompany them too, a bit like chutney.
'Short eats' refer to sweet and savoury pastries, or snacks made from pastry or flatbread.
Previously known as Ceylon, the island was renamed Sri Lanka, meaning

"resplendent island"

in Sanskrit, in 1972
People & language
---
Sri Lankan people value life. The majority of people are faithful Buddhists, living the principles of Kindness, Friendliness, Happiness and Equanimity in life. It is also a poor country, and so haggling is a norm that may not equate with Buddhist virtues for westerners. Head into the hills and less touristy areas, and the openness of heart is unquestionably genuine. The Hindu population of the north lived through extreme conflict but are now celebrating peace. Also, ten per cent of the population is Muslim, and after years of war and strife, Sri Lanka is becoming a beacon of integration and cooperation again.
There are two main languages: Sinhala and Tamil. The main Sinhala greeting is Ayubowan (may you have long life)
Thank you = Bohoma sthuthi
In Tamil, the main greeting is "Vanakkam" Thank you = "Nandri"
Gifts & shopping
---
Spice is nice, of course, but stay clear of the overpriced spice gardens. Shop as locals do, at the markets.
Dikwella is famous for Beeralu bobbin lace making. Badly hit by the tsunami, the village is now reviving this tradition.
Ayurvedic medicine is available in pharmacies everywhere. Get a consultation for your ailments or bring some herbal happiness in a bottle back for a friend.
To guarantee ethically and locally sourced goods, check out the state owned boutique,
Laksala
In an archaeologically sensitive country, do not risk buying antiques or anything over 50 years old. It's illegal to export them.
Stay clear of public transport during the

Buddhist full moon vacations, or poya

. Because they are also full to the brim vacations.
How much does it cost?
---
Bottle Lion Beer £1.10-£1.50
Bike rental from small hotel -
£1.50 - £2.25 per day
Curry and rice from road stall - £1 -1.50
One way train ticket Colombo to Kandy -
£2-£3
King Coconut from road stall
– £0.05 - £0.10
A brief history of Sri Lanka
---
Like so many islands, Sri Lanka has had its fair share of uninvited visitors over the centuries. The richness of its natural resources, particularly spices, must have brought dollar signs to the eyes of the Portuguese who landed here in 1505 even though it was an accidental discovery, their boat having been windswept into Galle harbour en route to the Maldives Islands. By the time the Dutch took over in 1658, the Portuguese had left a firm imprint, and you can still hear the influence in the language, names, art, music, dance and architecture here. In 1796, the British moved in, bringing in Tamil labourers from India to work on tea, coffee and coconut plantations. The British also anglicised the Portuguese name for the island, Ceilão Português, to Ceylon.
Read more ▼