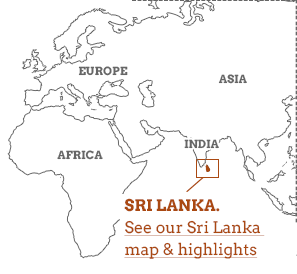 Sri Lanka came to the world's view in 1975 with Paul Theroux's hit travel journal, The Great Railway Bazaar: "Galle was a beautiful place, garlanded with red hibiscus and smelling of the palm-scented ocean, possessing cool Dutch interiors and ringed by forests of bamboo". He also commented on its poverty and, although the economy started to pick up after that, Sri Lanka was then ravaged by the 26 year civil war, ending in 2009. As well as the tragedy of the 2004 tsunami.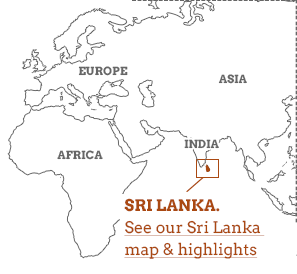 The Bo leaves on the Sri Lankan flag represent Kindness, Friendliness, Happiness and Equanimity. Says it all really

As Sri Lanka starts to blossom and boom, the world is waking up to this island idyll. Its archeological wonders of temples and ancient kingdoms are appearing on magazine front covers again. The rainforests and national parks have jumped to the top of every conservationist's Christmas list. Surfers are celebrating and honeymooners swooning. It is no longer just a place to tag onto the end of a trip to India. Theroux's train has hit the fast track, however, and only time will tell if it runs out of control, with its glistening cargo of tourist bullion. Travel responsibly and you can help drive it in the right direction.
Is it safe to travel to Sri Lanka?
On 21 April 2019, a series of coordinated terrorist attacks targeting churches and hotels left over 250 people dead in Sri Lanka, including a number of foreign nationals. The Sri Lankan government declared a State of Emergency across the island and stepped up security accordingly, while the UK Foreign and Commonwealth Office (FCO) advised against all but essential travel to all regions of the country.
As of June 2019, the FCO has relaxed its
Sri Lanka travel advice
, now advising travelers to take precautions such as: avoiding crowded places, gatherings and demonstrations; familiarising yourself with security procedures at your accommodation, and allowing extra time while traveling to allow for security screening processes.
If you are a citizen of a country which has travel warnings in place for Sri Lanka, and you would like to continue with a pre-booked vacation (or book one in future), you should be aware that your travel insurance may be invalid. You will need to purchase insurance from a specialist provider, who will be able to offer cover against illness or injury, for example, but not against incidents related to the threat – such as further terrorist attacks. Read more about this, and on
traveling against FCO advice
.
Travel warnings are in place for a reason. However, they are there to advise travelers, and you will not be breaking the law to travel somewhere you have been advised against. It can also take a while – sometimes years – for travel warnings to be lifted after an incident has occurred, particularly in countries with minimal UK presence. In these situations, the best idea is to speak with your travel company (who will either be based in the country or will be working very closely with local contacts). They will have a good, up to date idea of the situation on the ground, and help you to decide if a vacation in a particular country is the right, and safe, option for you.
Updated 06 June 2019
Sri Lanka is...
where life is so much more than a beach
Sri Lanka isn't...
just for ageing archaeologists
What we rate & what we don't

UNDERRATED

RATED

OVERRATED
Eating & drinking in Sri Lanka
Hoppers (appa) – a bit like a pancake, egg hoppers for breakfast come with a fried egg in the middle. String hoppers (idiappa) are more like a patty made of noodles.
Fish markets abound along the coast and small guesthouses with be happy to cook it for you.
Rice and curry is everywhere. Expect delicious sambals to accompany them too, a bit like chutney.
'Short eats' refer to sweet and savoury pastries, or snacks made from pastry or flatbread.
People & language
Thank you = Bohoma sthuthi
Sri Lankan people value life. The majority of people are faithful Buddhists, living the principles of Kindness, Friendliness, Happiness and Equanimity in life. It is also a poor country, and so haggling is a norm that may not equate with Buddhist virtues for westerners. Head into the hills and less touristy areas, and the openness of heart is unquestionably genuine. The Hindu population of the north lived through extreme conflict but are now celebrating peace. Also, ten per cent of the population is Muslim, and after years of war and strife, Sri Lanka is becoming a beacon of integration and cooperation again.
There are two main languages: Sinhala and Tamil. The main Sinhala greeting is Ayubowan (may you have long life)
In Tamil, the main greeting is "Vanakkam" Thank you = "Nandri"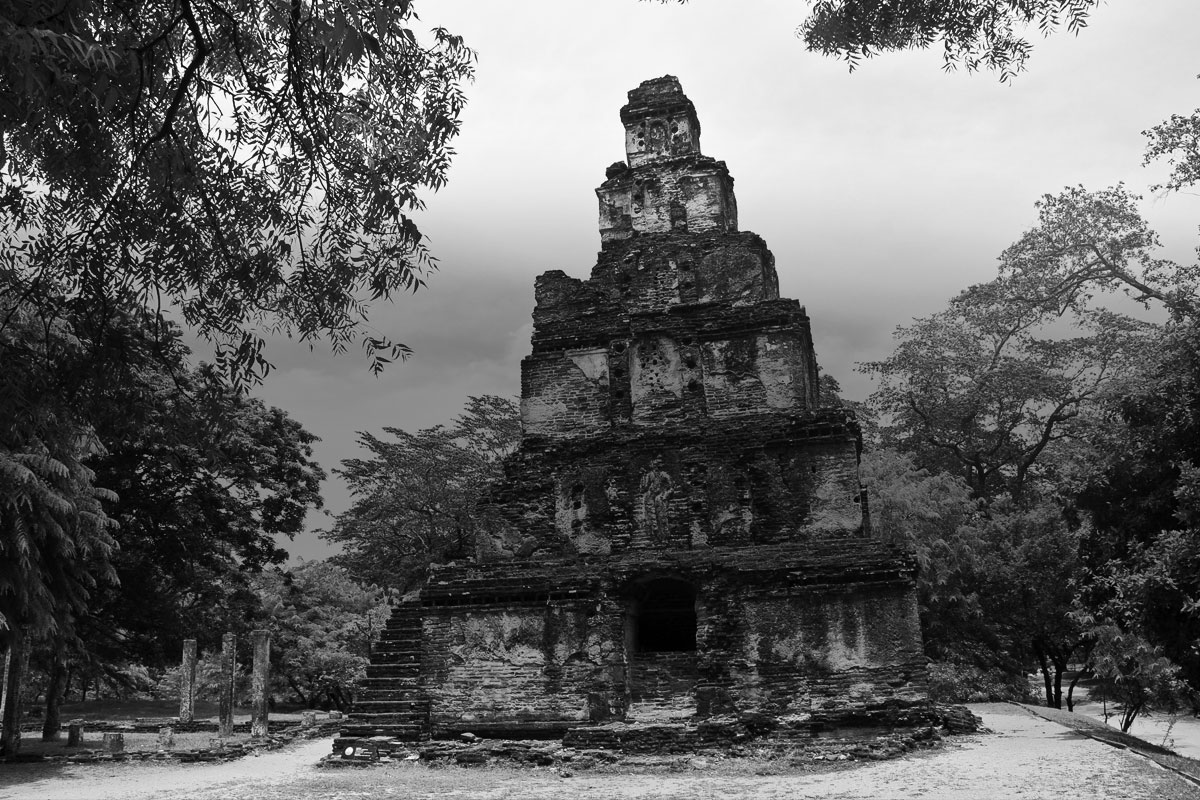 Previously known as Ceylon, the island was renamed Sri Lanka, meaning "resplendent island" in Sanskrit, in 1972

Our top Sri Lanka Vacation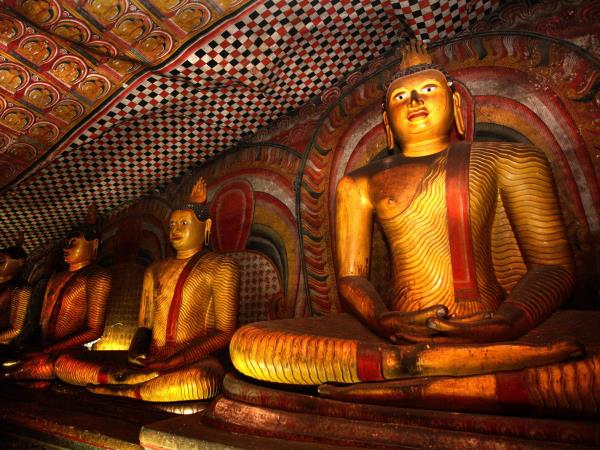 Independent tailor made vacations to Sri Lanka
From
£

2395
15 days
inc UK flights
Tailor made:
Our tailor made Sri Lanka vacations can be arranged at any time to suit you, and adapted to your requirements as necessary although we do not offer trips for under 10 days.
If you'd like to chat about Sri Lanka or need help finding a vacation to suit you we're very happy to help.

Spice is nice, of course, but stay clear of the overpriced spice gardens. Shop as locals do, at the markets.
Dikwella is famous for Beeralu bobbin lace making. Badly hit by the tsunami, the village is now reviving this tradition.
Ayurvedic medicine is available in pharmacies everywhere. Get a consultation for your ailments or bring some herbal happiness in a bottle back for a friend.
To guarantee ethically and locally sourced goods, check out the state owned boutique,
Laksala
In an archaeologically sensitive country, do not risk buying antiques or anything over 50 years old. It's illegal to export them.

Stay clear of public transport during the Buddhist full moon vacations, or poya. Because they are also full to the brim vacations.

Bottle Lion Beer £1.10-£1.50
Bike rental from small hotel -
£1.50 - £2.25 per day
Curry and rice from road stall - £1 -1.50
One way train ticket Colombo to Kandy -
£2-£3
King Coconut from road stall
– £0.05 - £0.10
A brief history of Sri Lanka
Like so many islands, Sri Lanka has had its fair share of uninvited visitors over the centuries. The richness of its natural resources, particularly spices, must have brought dollar signs to the eyes of the Portuguese who landed here in 1505 even though it was an accidental discovery, their boat having been windswept into Galle harbour en route to the Maldives Islands. By the time the Dutch took over in 1658, the Portuguese had left a firm imprint, and you can still hear the influence in the language, names, art, music, dance and architecture here. In 1796, the British moved in, bringing in Tamil labourers from India to work on tea, coffee and coconut plantations. The British also anglicised the Portuguese name for the island, Ceilão Português, to Ceylon.
Read more