Walking in Sri Lanka guide
Sri Lanka has done a lot of rushing around in the last few years, regularly hitting the top ten travel lists. And well merited too. We love Sri Lanka, but we also love slow Sri Lanka. It gets pretty crowded in its honeypots, and so this Sri Lanka walking vacations travel guide takes you to some equally sweet corners where everyone isn't as busy as a bee. If you look at the country's topographical map you will see that the rugged Central Highland range is the gem at its core. A range that peaks at 2,524m, stretches north to south for 65km and proffers rainforest, gorges, cloud forest, ridges and the prettiest of panoramic plateaus.

Always ask for a translation of the Sinhalese place names when you walk. They usually capture the place better than any Instagram shot.

Herein lie myriad walking trails, such as in the Knuckles Forest Reserve or Horton Plains National Park, where this Teardrop Island's cup overfloweth with stunning waterfalls and rivers along your way. Which, if you are a hiker, means nothing but happy tears.
Is walking in Sri Lanka for you?
Go on a Sri Lanka walking vacation if...
... you crave ancient archaeology but also want to escape the crowds. Many walking vacations meander off and back onto the beaten path.
... you love wild camping. There are some superb opportunities to camp on treks here , such as in the heart of the Knuckles Mountain Range. Plenty of smaller guesthouse accommodation too.
... real and rural Sri Lanka is the part of the country that you want to experience.
... you love wildlife, and particularly birds. Sri Lanka's forests and mountains are home to monkeys, sambar deer, wild boar and 17 endemic species of birds in the Knuckles Mountains alone.
Don't go on a Sri Lanka walking vacation if...
... you don't do tropics. In Sri Lanka, these boots are made for sweating. And there are some serious hills to conquer too. National parks yes, a walk in the park, not so much. ... you want guaranteed sunshine. Misty mountains and rainforest are the clues. But when it shines, it really shines. ... you are interested in discovering the north. The hiking vacations infrastructure hasn't hit northern shores yet. But you there's no reason not to add on a few days up there at the end of a tailor made trip, of course. ... hotels with fluffy robes are high on your list. Small rural guesthouses and tents are what it's all about on a walking vacation in Sri Lanka.
If you'd like to chat about Sri Lanka walking or need help finding a vacation to suit you we're very happy to help.

Best time to go walking in Sri Lanka

I suggested a walking and whales vacation to my boyfriend. 'Walking in Wales?' he said. 'No, whales. In Sri Lanka!' 'That's more like it!' was the response.

Dumbara Kanduvetiya, translating as 'Misty Mountains', is the Sinhalese name for hiking haven Knuckles Mountains. So yes, it rains, whenever it wants. Avoid the southwest monsoon season from May-Jul, and apart from that, daytime temperatures at elevation range between 15°C to 25°C. Nights can dip as low as 10°C, but expect hot and tropical on the plains. If you are combining walking with a wildlife safari, Feb until Jun or Jul are great as water tables are low, and animals come out to exposed lakes at Yala National Park, for example, to drink.
More Sri Lanka walking articles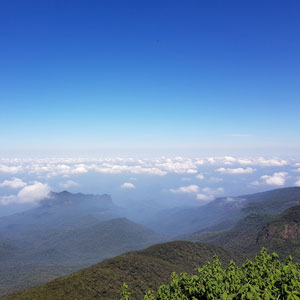 From Horton Plains to the Knuckles Mountain range and welcoming local homestays, walking here has many diverse highlights...