Vacations to Yala National Park, Sri Lanka
Lions can move aside – the leopard is the king of the jungle in Sri Lanka. For your best chance to see these slippery beasts, you need to go to Yala National Park, which has the biggest concentration of leopards per kilometre in the world. It's also a haunt for elephant herds and sloth bears, making it one of the most popular stops on a Sri Lanka vacation.

Yala National Park covers 100,000 hectares – that's over twice the size of Barbados – and comes shrouded in shrub jungle, low hills and lagoons, so it can be hard to know the best way to squeeze it into your trip to Sri Lanka. The easiest thing is to do is to put down the maps and reams of research, and leave the organisation up to a Sri Lanka travel specialist.
They'll pair you up with safari guides who know which corners of the park are quietist (read: leopard-friendly), what to do if an elephant trumpets (back away, pronto), and what that growling sound is (a red-faced malkoha, probably). They'll also fill you in on the uniquely Sri Lankan challenges that face Yala National Park, including human-elephant conflict and shifting monsoon seasons.
Seeing wildlife in Yala National Park
Most people visiting Yala National Park will hope to see leopards. But although you're more likely to see them here than anywhere else in Asia there are still less than 40 in town, so expect them to remain typically elusive. Although sightings are rare, a great wildlife guide will know the quiet corners that leopards lurk in, while also introducing you to the A to Z of animals that you're much more likely to bump into.

Traffic jams are the norm in Yala National Park. It's just that the traffic is made up of elephants too busy munching on trees to budge off the road.

Meanwhile, elephants would like you to know that they were the original stars of Yala National Park. You'll hear them before you see them, stripping leaves from trees and swishing branches across the long grass. Wild buffalo mooch around the lagoons, monkeys shake the forests, and jackals trot across the hills. Sri Lankan sloth bears are a surprise highlight. More bear than sloth, they perpetually look like they've just rolled out of bed.
And twitchers, rejoice: you've got over 150 species of birds to spot in Yala National Park, plus thousands of migratory flappers. And they're all exceedingly photogenic. Keep your binoculars poised for white-bellied fish eagles, rosy painted stork, pompadour green pigeons and beady-eyed brown fish owls. The endemics are wonderfully weird – red-faced malkoha cuckoos and rooster-like jungle fowl that take the crown as the Sri Lankan national bird.
Our top Sri Lanka Vacation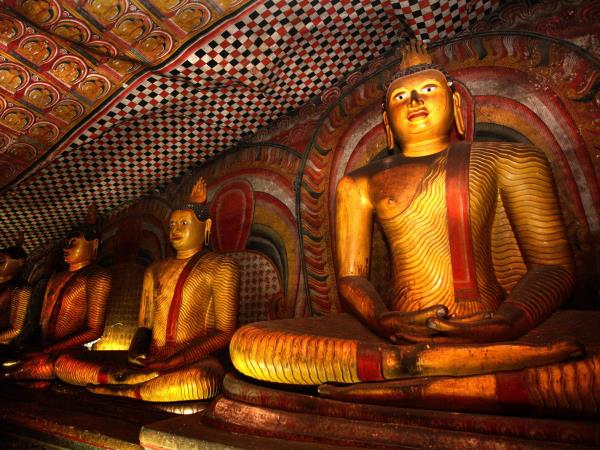 Independent tailor made vacations to Sri Lanka
From
£

1995
14 days
ex flights
Tailor made:
Our tailor made Sri Lanka vacations can be arranged at any time to suit you, and adapted to your requirements as necessary although we do not offer trips for under 10 days.
If you'd like to chat about Sri Lanka or need help finding a vacation to suit you we're very happy to help.

Yala National Park travel tips
Yala National Park safaris pop up in most vacations to Sri Lanka, often the halfway pick-me-up in a two-week trip. Some are small group tours that loop around Sri Lanka's best bits. Others are tailor made tours that will happily extend the number of days you spend at Yala National Park and source accommodation that suits you – especially handy if you've got the kids in tow.
There's just one campsite in Yala National Park. Trips usually put you up 30 minutes down the road in Tissamaharama, where three stupas mark it as the capital of the long-fallen Kingdom of Ruhuna. Other vacations bed you down a couple of hours away in Talalla, where fishing boats dawdle under the palm trees.
Avoid traveling in September and October, when Yala National Park closes for six weeks for a health check of the wild residents. It also catches the edge of the northeast monsoon season, which runs from September to December. Lakes shrink between the February to July dry season, pushing the animals out into the open to find water. Read more about the best time to visit Sri Lanka.
The wildlife is liveliest in the early hours, so most game drives start at 6am. If you're in Yala for the day, you'll probably be able to squeeze in another drive at 3pm.