Best time to visit the Amazon

There is no dry season in a rainforest, so pack your best mac and some waterproof boots.

Wet and humid throughout the year, the Amazon's climate is characterised by continuous rainfall and temperatures that hang around 30°C. Let's not beat around the bush, the rainforest is no place for people who hate the heat. Whether you go in the wet or wetter season may affect how you explore, but every month offers its own experiences. In summer, drier weather permits rainforest treks, but boats are the only answer in winter, when rivers can rise to three storeys high.
May to September is the best time to visit the Peruvian Amazon, when wildlife congregates on shrinking riverbanks and mobs of mosquitoes are in decline. The drier, clearer sky is also better for highland trekking.    Colombia trips that include an Amazon tour tend to be tailor made, so you can take them at any time of the year. However July to September is the best time to visit the Andes, when it's fairly dry and quiet, worth bearing in mind if you want to visit both.   May to October is winter in Bolivia, often considered the best time to travel but low temperatures mean to you do have to pack plenty of layers. The Amazon is almost pleasantly fresh during this period, when the dry and cold months mean a drop in humidity – but not in temperature.   Late June to October is the best time to visit Brazil for wildlife watching, with most trips heading here between July and September. Brazil's wet season lasts from December to March, when rain submerges the southern Pantanal region, so most wildlife trips stop. December to May is a particularly wet period in Ecuador, when wildlife in the rainforest might be harder to see and mosquitoes are out in force.   
Peruvian Amazon Weather Chart
When to go, wet & dry season
The Amazon doesn't really have a dry season, but for six months of the year it is a bit less wet. It's sometimes thought to be the best time for wildlife spotting, as animals are enticed out onto dry river banks to drink. It's the best time to go if you want to be on your feet, with more ground accessible to walking excursions. Less moisture in the air means lower humidity and fewer mosquitoes, but both are going to be a feature of any trip to the rainforest.

Rain doesn't stop play in the Amazon, in fact the higher the water levels the further your boat can go, as rivers burst their banks and seasonal floodplains fill up. These new channels and shortcuts are easily explored by canoe or small cruise boats – arguably the best way to experience the rainforest. Bear in mind that rain doesn't fall equally across the whole of the Amazon – Ecuador especially gets much more than Brazil.  
Guy Marks, from our Amazon travel specialists Tribes Travel, shares his thoughts on the best time to go: "If you want to go to the Amazon it doesn't really make much difference when you go; it's the rainforest so it rains all year. There is high water and low water, but there are advantages to both. In low water you get more walks through the forest, and at high water (Jan-May) as much as 10m of water rise through the forest – which means you're 10m higher into the canopy when you're in a boat. So the animals that live in the canopy are not absolutely miles away – you can see them much closer!"
Our top trip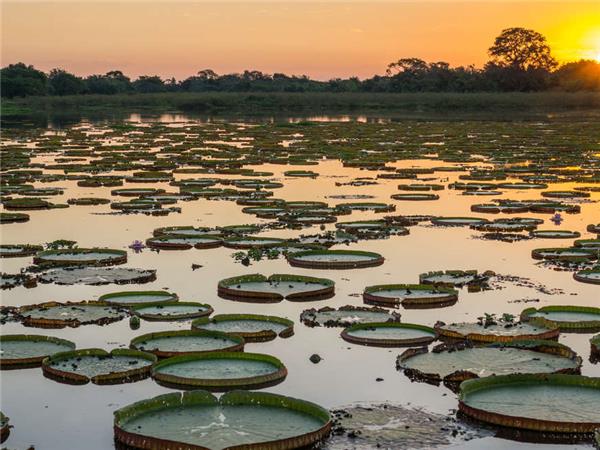 Explore the Brazilian Amazon, from Belem and Manaus
From US $4700 to US $4840 14 days ex flights
Small group travel:
2024: 18 May, 21 Sep
If you'd like to chat about Amazon Rainforest or need help finding a vacation to suit you we're very happy to help.

More Amazon Rainforest articles