Wildlife in the Amazon Rainforest
It might seem odd that the place with the most biodiversity on the planet isn't necessarily the best for wildlife watching. There are too many trees and so many places to hide. Tristan Whitworth, from our vacation specialists Natural World Safaris, points out that more than the wildlife, "you go for that sense of being in the Amazon. Just being in that massive rainforest and feeling really really small, it's quite humbling."
You're more likely to hear the Amazon's inhabitant than see them – the rainforest is surprisingly loud. Like a sudden onset of tinnitus, the constant buzz of millions of insects will be the backing track throughout your vacation here. Howler monkeys can be heard from three miles away and the bare-throated bellbird and screaming piha are two tiny birds with hundred-decibel lungs. Hordes of peccaries (small pigs) can sometimes be heard stampeding through the undergrowth in groups a hundred strong.
Our Amazon Rainforest Vacations
Where to see wildlife in the Amazon
As Francesca Lewis from Crees-Manu says, in terms of what you'll see, "it really depends on how far in you're going". Crees-Manu is a pioneering initiative located in Manú National Park, where some of our wildlife vacation specialists are based, in the Peruvian Amazon. It's been responsible for regeneration an area of completely destroyed rainforest and restoring its biodiversity back to 87 percent – just one of many organisations working in remote regional parks and reserves. Manú has been protected for quite a long time so it's a good place if you want to try and see big mammals, but at all these lodges you're going to see monkeys and birds, insects, snakes and spiders.

Francesca Lewis, from Crees-Manu, adds:
"I've been in lots of Amazon in Brazil, Ecuador, Bolivia, Peru... really Manú doesn't compare to any of those places. I would describe it completely like an African safari but in the Amazon, in terms of what you see, how remote you are. It's a bit like a Galapagos effect. They're not scared of us, they're inquisitive because they don't see humans at all. The amount of people that are visiting the Manú National Park is nothing. You need the time to go there, but I would 100 percent recommend it, in terms of wildlife it's incredible."
Jaguars
The jaguar is the chunkier cousin of the leopard. Heavier, more muscular and with jaws that can crush a turtle's shell, it's the largest cat on the continent. It's both revered and feared, the real king of the jungle, and one of the most sought-after rainforest sightings.
Jaguars are widely distributed but their declining numbers and stealthy nature make them one of the Amazon's least-spotted animals. The more time you spend here, and the deeper into the jungle you go, the better your chances will be. Choose a tour that takes you a national park or reserve, or stay at an ecolodge that uses the money earned from tourists to protect the surrounding area. If you're set on seeing spots, book an Amazon vacation in Brazil that also visits the Pantanal wetlands – the best place for seeing this otherwise elusive predator.
Harpy eagles
One of the most underrated birds of the Amazon, the harpy eagle is an enormous and quite terrifying looking raptor, with claws the size of a grizzly bear. These powerful predators can be found across the Amazon, but regularly nest along the Cristalino River in southern Brazil. They can also be found in Peru's Tambopata National Reserve where, as a direct result of the income from tourism, hunting and tree cutting has decreased – boosting the number of endangered harpy eagles and making it popular destination for
wildlife photography vacations
.
Monkeys
There are some parts of the rainforest where you'll see wildlife that simply doesn't exist anywhere else in the Amazon, or the world. One of these places is the floating Uakari Lodge in Mamirauá Reserve in northern Brazil, named after its red-faced monkey residents. Monkeys are one of the most commonly seen animals in the Amazon, often found lounging in lodge gardens like the wizard-whiskered emperor tamarins at the Manú park lodge.
Giant river otters
A lot of tours in the Brazilian Amazon are water based, led by guides on small motorised canoes, so it's very easy to run into river otters. These giant members of the weasel family can be spotted feeding on the huge fish that live in the rivers and streams – reaching almost 2m long, they're much, much bigger than the otters we know.
Our top Amazon Rainforest Vacation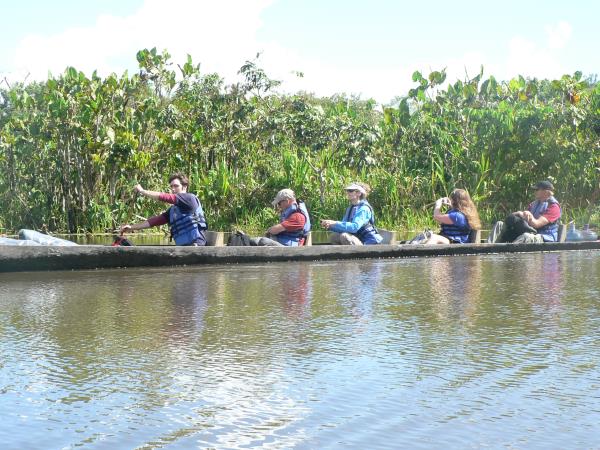 A luxurious eco-lodge in wildlife rich Ecuadorean Amazon
From
US $

1681

to

US $

2002
4 days
ex flights
Tailor made:
Daily departures throughout the year.
If you'd like to chat about Amazon Rainforest or need help finding a vacation to suit you we're very happy to help.

Birds
In this nutrient-lacking rainforest, hundreds of macaws gather on the clay banks of the Amazon, most likely looking for salt in the soil. These clay lick sites can be found in Manú National Park and the Tambopata National Reserve, where a colourful frenzy of feeding birds can be watched, undisturbed, as your boat floats downstream.
Bugs & snakes
Kathy Jarvis, from our Amazon vacations specialists Andean Trails, doesn't think people should be creeped out by the creepy crawlies: "Some people think that they're not going to like it because of the insects and mosquitoes but, actually, I've always found in the lodges you don't have much of an issue because you always have mosquito nets to sleep under and mosquitoes just generally don't come into the buildings. It's the same with spiders and other insects and snakes, you have to really go looking for those creatures, they're not going to be slithering around your feet. So it's actually not nearly as much of a problem as you think it might be."
More about Amazon Rainforest