Best time to visit the Polar Regions

The Antarctic expedition season is short but the Arctic season is even more fleeting - thanks to the extreme latitudes reached on a cruise.

The Arctic can be visited from May-Sep, when the pack ice has receded enough to allow ships to pass. The earlier you travel, the more pristine it will be – though Jul-Aug are the most popular months, with warmer temperatures, long days and better accessibility. Autumn arrives by September – as do the
Northern Lights
. In the Antarctic, cruises take place from Nov-Mar, with late Dec- Jan offering a balance of attractions: temperatures above freezing, longer days, penguin chicks and seal pups. Whales are best seen here in Feb-Mar – when you'll also catch the polar sunsets.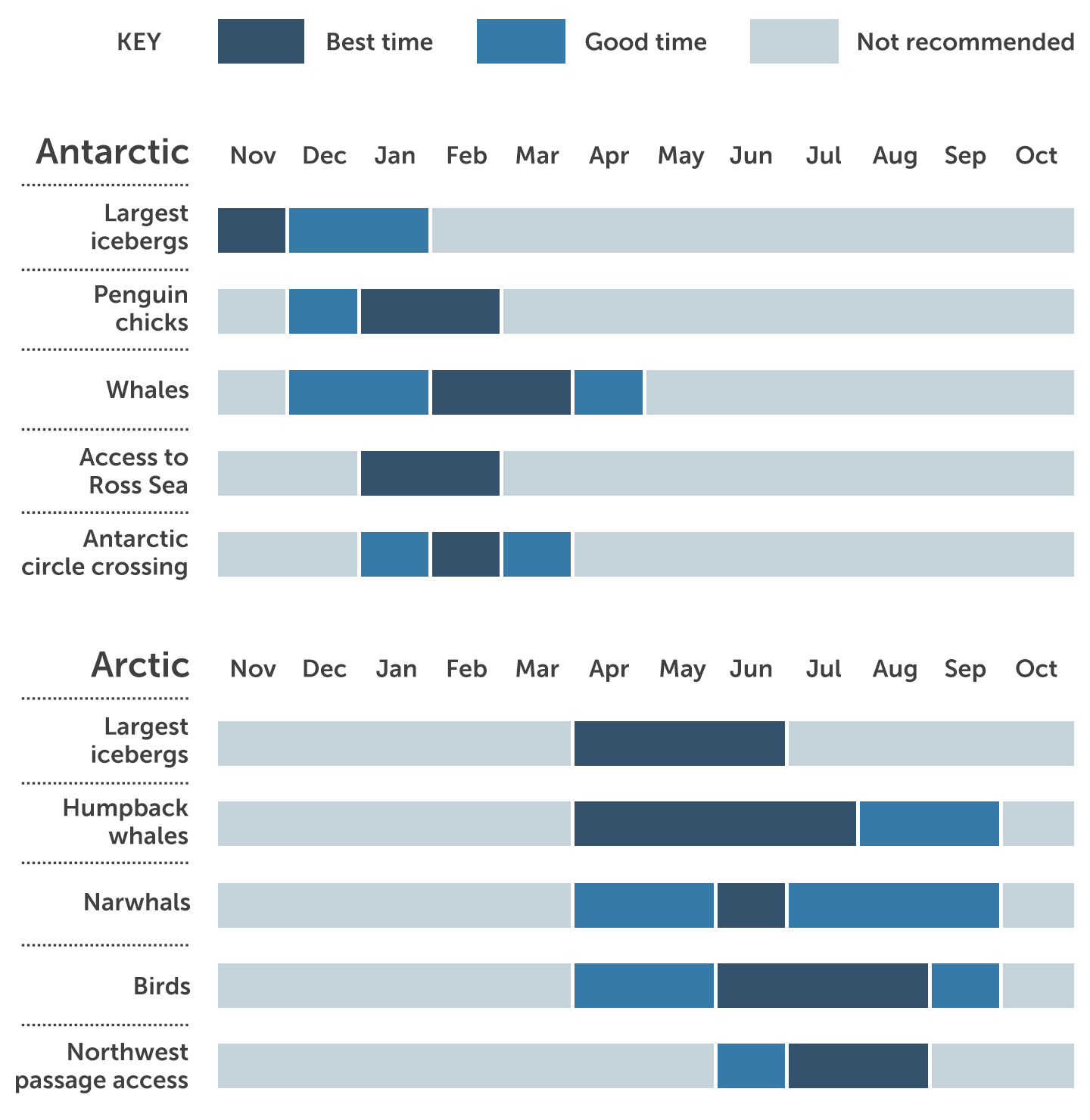 The Polar regions, month by month
Antarctica
There is no access to Antarctica outside of the austral summer (Nov-Mar) as there are temperatures well below zero, fearsome winds, months of total darkness, and pack ice which reaches up to 1,000km beyond the edge of the continent.
Frigid November is not the best time to see baby animals in Antarctica. It's too cold for seal pups, and penguins are only just starting their courtships. Dec-Jan are the peak months for little ones, particularly on South Georgia and the Falklands.
Ice and snow are replaced by mud later in the season. November has the most pristine snowscapes, the recently calved icebergs are at their most exquisite, and the continent feels truly untouched.
If you're hoping to cross the Antarctic Circle, avoid November as the pack ice still remains. Those visiting in late February and March will have the clearest passage – though it's never guaranteed.
Mid-Dec to mid-Feb are the warmest, lightest and busiest months. Book well in advance if you want to visit Antarctica during this period, and expect to see other ships competing for landings.
Arctic
From October to March, much of the Arctic becomes icebound, and ships cannot pass. Darkness descends as the Polar night begins – making sightseeing a difficult prospect.
For enormous icebergs, avoid traveling later in the season when they are melting away. The new icebergs choke the Arctic seas in spring and early summer, when the land is covered in unspoiled snow.
If you're worried about the cold, spring and autumn are not the best times to book an Arctic cruise. July and August enjoy the warmest weather and sunniest days.
Tiny, baby polar bears can be seen emerging from their dens in Canada in March. However, it's at the far end of the season when they make it close enough to the water's edge to be seen from a ship.
Narwhals are best seen in the high summer, from May-July. In late August to September, you stand a greater chance of seeing playful humpback whales.
If you want to circumnavigate Spitsbergen, the late summer is best as the ice melts. But don't leave it too late – by late September the northern shores will be iced in again. However, you might catch the first glimpses of the Northern Lights at this time.
When to go to the Polar regions
Mary Curry, from our vacation specialist Adventure Life, shares her best times to visit the Polar Regions: "In the Arctic, the narwhal move in June, but if you want to do the Northwest Passage, you have to go in August because that's when things are going to be the most free of ice. So if you want a bit of a mix – you want to see some ice and but you want to get pretty good access and good wildlife viewing – July's a good time.

"In Antarctica, if you want to see penguins busy nesting, and elephant seals breeding, you want to go in November. That's also the best time to see the ice really pristine. If your goal is to get really far south, then you need to go in the height of the season – January-February. And March is really the best time to see whales. So many people go in January and February as they're trying to balance all these factors – but if someone has one particular priority it's going to really lean towards one part of the season."
Our Antarctica & the Arctic Vacations
If you'd like to chat about Antarctica & the Arctic or need help finding a vacation to suit you we're very happy to help.

Natural events in the Polar regions
Canada's caribou migration
In one of nature's greatest yet least known migrations, Canada's caribou travel over 2,000km each year. In late May and June you'll see them traveling north; in autumn, once the snow begins to fall, they'll head back down south again.
Elephant seal breeding season
For a somewhat noisier wildlife spectacle, head to Antarctica early in the season to spot huge bull elephant seals barking, braying and battling it out on the ice during breeding season. South Georgia and the Falkland Islands are hotspots – as is Macquarie Island, south of New Zealand.
More about Antarctica & the Arctic