There are not many Australian animals as well-known as the koala bear. They're as recognisably Aussie as polar bears symbolise the Arctic, and orangutans the rainforest. And tragically, they're in nearly as much trouble as those ambassadors of habitat loss.
In some parts of Australia, koala numbers have 
dropped so severely
that they're endangered. If such a prominent animal can be at risk, then how many other less-noteworthy species are in trouble out there, but slipping under the radar? The answer is a great many.
Take bogong moths, which have seen a
99.5 percent decline
. Moths are a vital food source for many other creatures, often endangered themselves, such as possums, ants and spiders. Then there's the Great Barrier Reef, which supports countless marine species, including giant clams, turtles and sharks. Yet as well as coral bleaching, this irreplaceable habitat is under serious threat from pollution and encroaching developments.
Wildlife is intrinsically linked with Australian culture. There are emus and kangaroos on the 50-cent coins and coat of arms and kookaburras on the cricket bats. The Queensland Reds rugby team has a koala as its logo and Qantas planes sport kangaroos on their tail feathers. So it's a little ironic that a country where 80 percent of the wildlife is found nowhere else on the planet is so bad at protecting it.

That's the reason responsible wildlife vacations in Australia aren't just desirable. They're vital.

Our wildlife vacations in Australia always put the needs of the animals and the natural environment first, while ensuring that you get a thrilling, in-depth introduction to some of the planet's most iconic and fascinating creatures. Traveling responsibly with our partners, you'll be shown how to behave unobtrusively around wild animals to minimise stress on them, such as by keeping your distance and keeping noise levels low – especially during breeding seasons.
How can responsible wildlife vacations in Australia help?
Expert wildlife guides & zoologists
Martin Royle, from our partner Royle Safaris, says: "By bringing people to Australia with a professional zoologist as well as professional local guides, we aim to showcase the environment in full. That includes the problems facing ecosystems, highlighting the ways that continued development and human exploitation affect wildlife, and how cutting-edge research is countering problems, as well as showing you examples of success stories."
Data collection & conservation
In many areas, such as East Gippsland in Victoria and the Atherton Tablelands in Queensland, wildlife sightings are recorded by tour operators. The data, along with images and video, is used to inform guides on future trips and is passed to researchers working on the protection of these species.

You can visit national parks, sanctuaries and conservation reserves where native wildlife is bred for reintroduction. Entrance fees in these places provide vital funds for their upkeep and by extension the survival of these creatures. Some Australia wildlife tours stay in accommodations owned by the national parks themselves – another useful source of funds. Others use privately owned properties that rescue injured animals or help to breed back and protect species such as the endangered Tasmanian devil.

Opportunities to get hands-on with conservation are everywhere in Australia, which is a good or a bad thing depending on how you look at it. On the coast, the problems are particularly evident, and some trips factor in time helping to clean beaches of plastics or discarded fishing nets that can trap creatures they're not supposed to.
Community-led activities
In 2020 a review of the EPBC, Australia's main environmental law, found that more needed to be done to "respect and harness the knowledge of Indigenous Australians to better inform how the environment is managed".

On many of our responsible wildlife vacations in Australia you'll meet with representatives of Aboriginal communities through activities such as guided hikes. In some cases, these communities live in and sustainably steward protected areas just as their ancestors have done for centuries.
If you'd like to chat about Australia or need help finding a vacation to suit you we're very happy to help.

Best places for wildlife watching in Australia
Great Barrier Reef
The Great Barrier Reef is one of the seven natural wonders of the world, a vast ecosystem that supports myriad species. You can tour the reef, its islands and atolls, by boat, with snorkelling and scuba diving excursions that bring you into contact with sharks, stingrays, turtles, giant clams, octopi, eels and countless colourful reef fish that plunge in and out of the coral to feed, hide from predators and raise young.
Much of the coral on which many species depend for survival is under stress, and extensive
bleaching events
, where the algae living within the coral that gives it its colour and life is expelled, are growing more common and more severe. This bleaching process, which threatens the long-term future of the reef, is driven by climate change accelerated by burning fossil fuels, which the Australian government shows little inclination to move away from. At some point, hopefully politicians will join the dots.
Kangaroo Island
Kangaroo Island has been compared to an Australian Noah's Ark, such is its astonishingly diverse wildlife. It is home to more than 260 bird species, over 900 plant species, and many mammals. Some, including koalas and duck-billed platypuses, were introduced to Kangaroo Island because of concerns over their conservation status on the mainland.

There are echidnas here, goannas, glossy black cockatoos, little penguins, sea lions, wallabies and – of course – kangaroos. You could describe this as a zoo without fences, a quarter of the island given over to national parks and nature reserves.

In late 2019 and 2020, Kangaroo Island was racked by devastating bushfires. Australia's fire season is a regular tragedy, however on this occasion the flames were particularly deadly, killing or displacing dozens of people and some three billion animals across Australia, while destroying vast areas of habitat for threatened species. Thankfully, the eastern half of the island was largely spared, and responsible wildlife tourism can play a significant role when it comes to Kangaroo Island's recovery, supporting local businesses and conservation projects.
Northern Territory
Australia's Northern Territory boasts some of the driest, and wettest, places on the planet. It is a land of extremes, with some areas seemingly devoid of life and yet actually teeming with it – so long as you know where to look.

Wildlife tours in the Northern Territory led by zoologist guides zoom in on tiny creatures, from desert-dwelling lizards in the Outback to armies of termites, while keeping a safe distance from the big 'uns, like the wetland-dwelling saltwater crocodile and the olive python, which is known to have a go at crocs itself when in the mood.
Queensland
Cairns, in the far north of Queensland, is the jumping-off point for the Great Barrier Reef, but there's also plenty of wildlife to be found on the mainland. In the Atherton Tablelands you can find the amazing and endangered Lumhotlz tree kangaroo, as well as flying foxes, freshwater turtles, geckos and several types of possum. And not far from these highlands is the Daintree Rainforest, the oldest living rainforest on earth that once covered the entire Australian continent.
Daintree provides habitat for 30 percent of all Australia's frog, reptile and marsupial species, as well as 18 percent of bird species, and an incredible 65 percent of all bat and butterfly species. Hikes and river cruises reveal huge saltwater crocs, brahminy kites, kingfishers, carpet pythons and, if you look carefully at the trees, a few Boyd's forest dragons too.
In 2021, much of this precious habitat was
returned to its Indigenous custodians
, the Eastern Kuku Yulanji people. The ceremony was a milestone in the reconciliation process between Australia and its Indigenous peoples, and recognition that those whose culture and traditions have been bound up with the land for centuries are well-placed to protect it going forwards.
Tasmania
You don't need to travel far to find the 
wildlife in Tasmania
– it's everywhere. There are whales off the east coast between May and July, and September and November, fairy penguins on Bonnet Island, dolphins in Macquarie Harbour, and kangaroos, wallabies and wombats, as well as endangered Tasmanian Devils, in the grasslands of the Narawntapu National Park.
There have been years of conflict between Tasmania's national parks and the interests of mining and logging firms. But despite overwhelming support from the Australian public for keeping protected areas free of large-scale developments, wilderness areas like Tasmania's Tarkine Rainforest remain at risk from mining and logging. Wildlife tourism, while a drop in the ocean when it comes to profits, shows that there is an alternative industry that can provide an income without tearing up ancient trees.
Victoria
East Gippsland in Victoria is Australia's coastal wilderness – a biodiversity hotspot that is remarkably under-explored given its accessibility. Here, you can find koalas clinging to the trees in strands of giant eucalypt forest, sea eagles parsing beaches, and grey-headed flying foxes roosting by the Snowy River.

Wildlife tours in Victoria inevitably involve peering into rock pools, but can also include combing the beach for strands of discarded fishing nets and removing them before they disappear back into the ocean.
Western Australia
Western Australia is one of the most celebrated regions for marine wildlife – a wild west coast lined with pristine coral reefs where dugongs, tiger sharks and manta rays swim in prolific numbers. Sea lions bask on rocks, while dolphins play in the waves, competing with pelicans and ospreys for fish. Off Exmouth, you can snorkel alongside whale sharks, the largest fish on the planet.

Inland, wildlife tours headed to national parks follow long, empty highways that bake in the heat, attracting cold-blooded reptiles like bobtail skinks and goannas that sunbathe on the tarmac. Careful, critters! On reaching the parks, specialist guides dig into years of knowledge and experience to track down animals with beguiling names like numbats, woylies, bettongs, boodies and bilbies.
Eyre Peninsula
Between June and September, southern right whales migrate to the Eyre Peninsula in South Australia to give birth and rear their young, making for superb whale watching opportunities. These waters are flush with marine wildlife, from sea lions and dolphins (responsible swimming tours let them come to you, rather than the other way round) to great white sharks.

Cage-diving with sharks is possible here – our take is that it's not dissimilar to swimming with dolphins, when done right. Anything that alters the sharks' natural behaviours, however, such as chumming the water to attract them, is a big no-no. Our partners aim to ensure that all wildlife interactions have the animals' welfare first and foremost. Well, okay, if you're cage-diving with sharks then priority number one is making sure the door is shut properly… but after that it's animals all the way.
The Environment Protection and Biodiversity Conservation Act 1999 (EPBC Act) is Australia's principal environmental law. In 2020 an 
independent review
found the law unfit for purpose, ineffective and incapable of addressing current or future challenges facing the country: "Australia's natural environment and iconic places are in an overall state of decline and are under increasing threat... The environmental trajectory is currently unsustainable." There are 100 species at risk of extinction in Australia over the next 20 years, according to a
2022 report on threats to nature
, with invasive species, habitat destruction and climate change among the most prevalent dangers.
Climate change is most visible in Australia through the increasing severity of fires and flooding. Kangaroo Island, off South Australia and renowned for its unique ecology, was devastated by bushfires in 2020. And habitat destruction, much of it driven by land clearances for mining, agriculture and logging, continues to be 
blithely waved through
by successive governments more swayed by corporate interests than warnings from scientists about an escalating extinction crisis.
Alarm bells are ringing, louder than ever. Wildlife in Australia, and the wider environment, face big problems. And given their obvious importance to tourism, and the importance of tourism to the Australian economy ($60 billion in 2019), responsible wildlife tourism in Australia can play a powerful role in pushing back.
...but still time to change?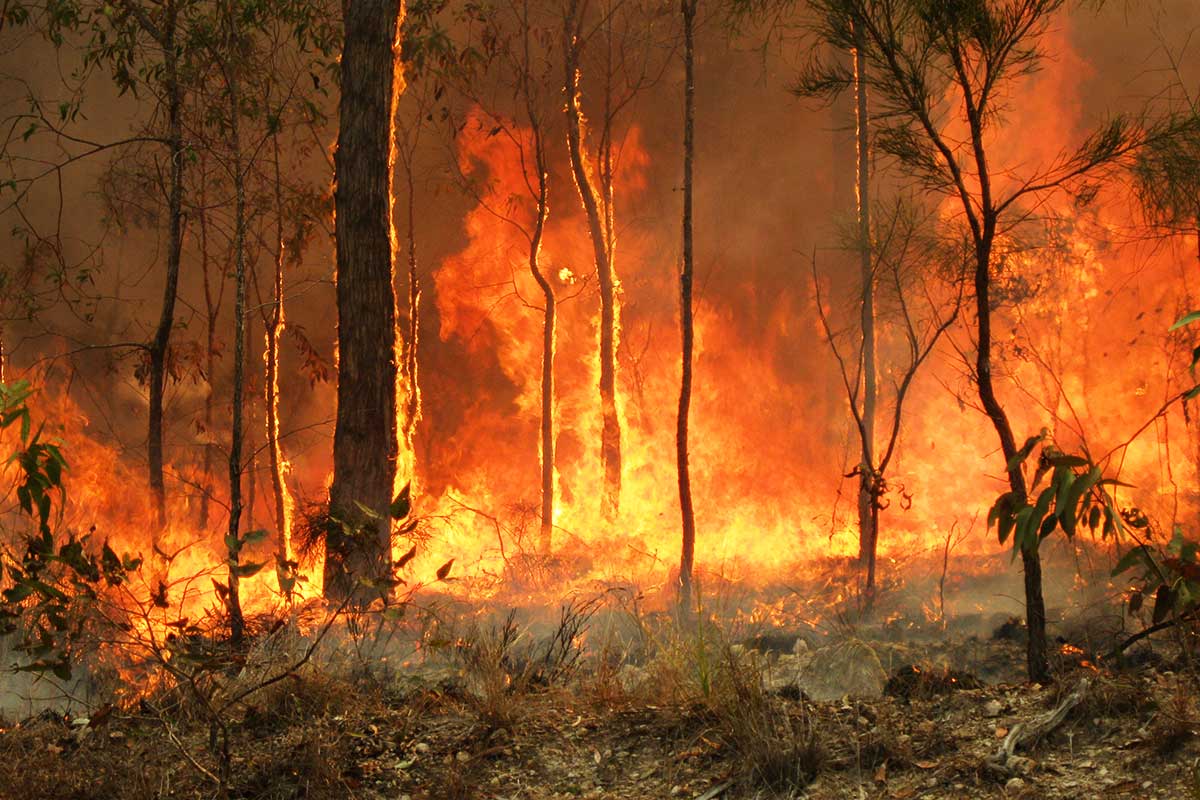 Bury your head in the sand long enough, and something will come along and give you a kick up the bum.

From the big, like great white sharks, to the tiny, like funnel-web spiders, to kangaroos that are all fun and games till they deal you a nasty kick – there are plenty of creatures wandering around Oz that you wouldn't want to run into up a dark alley.
But humans pose a far greater danger to animals than they do to us, so if we want Australia's wildlife – both the cute and the not-so-cute – to be around for future generations to enjoy, then those with the power to do something about it need to shake off their complacency.
As dreadful as Australia's record is on
curbing emissions
, the government can't do much about rising temperatures globally. But it can certainly do a lot more when it comes to protecting habitats.
Recognising the role of Indigenous communities in stewarding the land is key. Indigenous rights go hand in hand with conservation, something we're pleased is a common thread through many of our Australia wildlife vacations. These trips contribute to conservation projects, raise awareness and can help convince politicians and communities of the value in preserving vital habitats.
Massive investment is needed not only in recovery efforts but also in threat abatement: recognising that the climate crisis is not on the horizon, but here already, and it's going to get worse, and tackling the conflict between extractive industries and protecting the environment. Bury your head in the sand long enough, something will come along and give you a kick up the bum, and the bushfires and flooding that seem to be permanent fixtures of the Australian calendar now have just as powerful a kick as a radgy 'roo.