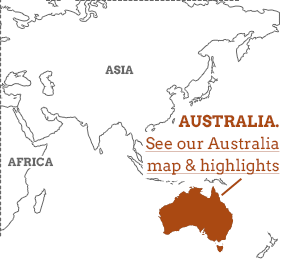 Your typical city dwelling Australian likes nothing better than an early morning run or bracing surf to kick start them into life; well that followed by a flat white, obviously. However, move clear of Sydney and Melbourne and you'll discover the antidote to the fast-paced Aussie lifestyle with national parks, such as Kakadu and Purnululu, providing an inexhaustible supply of inspirational isolation. From aboriginal art etched over ancient rocks in the Northern Territory, to the penguins, vineyards and beach reserves of the south, no trip to Australia is complete without donning your cork hat and letting yourself and your imagination run wild.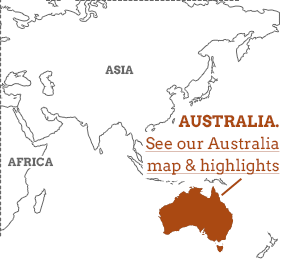 There's an Aussie expression 'Go Bush' which means get out of the city and relax. When this can't be achieved literally, it's worth applying as a state of mind.

Sometimes 'Going Bush' is the only route to take and following a guide into the Outback or exploring many miles from tourist hotspots, will help you to unearth the real Australia as well as a state of mind that many will never hope to achieve.
Find out more in our Australia travel guide.
Australia is...
an infuriatingly attractive ex-partner that you just can't forget.
Australia isn't...
cheap, but it is totally worth it.
WHAT WE RATE & WHAT WE DON'T
Great Ocean Road
Take off from Melbourne to Adelaide and you'll discover one of the best road trips in Australia as well as a memorial to the soldiers who fought in WW1. From the weathered limestone formations of the Twelve Apostles to the towering trees of Great Otway National Park, the Great Ocean Road is 250km of stunning scenery with plenty of picnic spots and tiny townships to break up the journey.
The Kimberley
The Kimberley is swept by the tides of the Indian Ocean where saltwater crocs line the rugged shoreline, protecting the river mouths that snake through this infinite, dusty, red terrain. Drive along the Gibb River Road or fly out to Gumboot Bay before spending time in the Bungle Bungles or on the Fitzroy River as you learn more about Dreamtime and the importance the Kimberley holds within Australia's Aboriginal heritage.
Kangaroo Island
Just 13km from Adelaide, Australia's third largest island boasts 450km of wild coastline with Seal Bay Conservation Park and Flinders Chase National Park, which features the Remarkable Rocks, providing protective habitat for an abundance of indigenous animals. Fur seals, koalas, sea lions, bandicoots, kangaroos (obviously) and hundreds of birds, make guided nature walks well worth a hop off the mainland.
Northern territory
From Darwin to Uluru, the Northern Territory takes you closer to the country's true ancestry where rock art, folklore and sacred sites are brought to life under the thoughtful tutelage of an Aboriginal guide. Kakadu National Park exemplifies Australia's unadulterated natural environment with waterfall-filled gorges, hidden billabongs and the Mamukala wetlands alive with thousands of birds and semi-submerged crocs.
Sydney
This southeast coast city is much more than just Bondi Beach and the Opera House, and if you're looking to climb the Harbour Bridge, shop in the Rocks or spot fruit bats in the botanical gardens, Sydney's got the lot, and then some. Discover beachside suburbs like Manly, Tamarama and Bronte as well as Kamay Botany Bay National Park and the Blue Mountains, all inviting an alternative side to Sydney.
Great Barrier Reef
Whether you choose to experience the Great Barrier Reef by glass-bottomed boat, small ship or with snorkel, mask and fins, there really is nothing like this marine phenomenon anywhere else on earth. Giant clams, sea turtles, manta rays and a profusion of tropical fish light up an incredible underwater world ripe with colourful coral gardens and ribbon reefs. Trips to Lizard Island allowing for time on golden sands from where to soak it all in.
The Outback
Entering the Outback with an Aboriginal guide opens up the relationship between indigenous Australians and the natural environment with everywhere from the Kimberley to the MacDonnell Ranges, offering unforgettable adventures. Anywhere away from urban areas and the coast constitutes "the Outback" and if you're looking for an authentic Australian experience then 'Go Bush', and never look back.
Tasmania
Separated from the mainland in every sense, this island has been left to her own devices with hundreds of working farms and family-run B&B's offering a bona fide bite of Tassie life. Self-drive vacations let you explore valleys coated in eucalyptus and myrtle trees where platypus, pademelons, quolls and Tasmanian devils lurk, while Cradle Mountain, the Western Wilderness and the Central Highlands wait around the bend.
Christmas
Mid-November through to early December is schoolie season when year 12's hit the beach and let their hair down. After that it's the six-week school vacations when families also hit the beach and enjoy popular public areas much more than throughout the rest of the year. Don't expect to find uncrowded beaches at Christmas, especially on the Gold Coast. And sand in turkey dinner – really?!
Ramsey Street
If in Melbourne you might be tempted to check in on the good folk of Ramsey Street by taking the Neighbours tour. However, it's just a lengthy round-trip with a chatty tour guide followed by selfies by the road sign. Melbourne's awash with architectural heritage and green areas like Albert Park and Carlton Gardens, and places to promenade around the Docklands. Don't waste your time in Ramsey Street; make the most of the real Melbourne.
Gold Coast
Coming to Australia in search of sun, sea and sand is one thing but if you're looking for a break from beaches, bronzed bods and similar scenery then do yourself a favour and opt out of the Gold Coast. If you're really looking to fall for Queensland's coastline then head north to the Whitsundays, to Whitehaven beach, and the Great Barrier Reef and you'll soon find a world away from gap year students, surfers and schoolies.
If you'd like to chat about Australia or need help finding a vacation to suit you we're very happy to help.

Eating & Drinking
Native restaurants, such as Charcoal Lane in Fitzroy, Brambuck National Park Café in Grampians National Park and Ochre Restaurant in Cairns, all serve bush food using traditional ingredients.

Aside from Aboriginal fare, migrants have brought the world's dishes to Australia's doorstep with Asian cuisine highly recommended alongside sustainably sourced shrimps and snags on the Barbie.

Recommended wine regions: Margaret River and Lost Lake (WA), Barossa Valley and Bay of Shoals (SA), Hunter Valley and Angullong (NSW), Yarra Valley (Vic), and Ballandean Estate (QLD).

Although Australians, as a whole, don't adhere to any one religion, Dreamtime is a spiritual Aboriginal belief featuring the stories, rituals and art connecting humans to animals and the land.

People & language
It is thought that there were over 250 languages spoken by Aboriginals when Europeans first arrived with anything up to 5,000 speakers per language. Today fewer than 50 native languages survive with just 12 having an estimated 100 speakers each. As speakers of these languages pass away so the songs, stories and oral records of the cultural history will die with them.
Although many Aboriginal people speak English, don't just expect it, especially as a first language. Also, be aware that some Aborigines prefer not to hold eye contact when speaking and softer handshakes are preferred to knuckle busters. Finally, silence is common during conversations so respect a quiet pause before blathering on regardless.
Gifts & Shopping
Aboriginal Art Galleries is a collaborative of family-run galleries in Sydney featuring Aboriginal works of art purchased directly from the artist or from government run community centers.

Spirit Gallery in Sydney is the best place to get your authentic didgeridoos as well as more examples of original Aboriginal art. If you're looking for a browse, the Rocks weekend market stalls offer everything from handmade jewellery and handicrafts to Australian bean to bar chocolate.

Across the country Aboriginal cultural centers, such as Narana in Geelong and Tjapukai in Cairns, have authentic locally-made souvenirs as well as educational tours, workshops and productions.

Your Aussie 'mate' was much more than just a friend. Mateship was a term of shared experience, to be used in times of adversity such as digging in extreme conditions or fighting in WW1.

How much does it cost?
A schooner (2/3 pint) beer in a pub: £5
Mid-range meal for two with wine: £60
Pie & peas at Harry's Cafe de Wheels (Sydney): £3.50
Adult entrance to Melbourne Museum: £8.50
A brief history of Australia
Despite European claims to the contrary, Australia wasn't first discovered by the Dutch at the beginning of the 16th century or the Portuguese, half a decade earlier, and definitely not by the Brit's Captain James Cook on the HMS Endeavour in 1770. It's highly likely that New Holland or the Great Southern Land or Australia, was inhabited some 70,000 years previous with low sea levels perhaps providing an initial crossing point from Indonesia to Northern Australia by way of the now sea-covered Timor Trough.
Read more