Walking vacations in the Tyrol
Claire Ouditt is extolling the virtues of Achensee. "It's the perfect base. It's close to Innsbruck, so it's a short transfer, and the hotel is really great, with great food, a lovely spa. People love it." Claire is the product manager at our specialist Austrian walking supplier, Exodus. She's right: this lovely lake, which sits close to the German border, is indeed beautiful. It's surprising to think that it was actually Exodus' second choice for their North Tyrol hiking and winter walking vacations.

Exodus used to run their trip in a very remote area of the Tyrol, but the village had so few visitors that the local shop closed, and the mountain huts began to shut down. "We were one of the only operators in the area and there were no more buses, the chairlifts stopped," Claire Ouditt, the product manager for Exodus's Tyrolean vacation, explains. This, and a couple of retirements, meant they decided to move the trip:"We already have a skiing trip in Achensee because the whole area is very good for cross country skiing in the winter. We knew the area already and we had a great hotel. So our leaders did a bit of recce-ing in the summer to see if there was enough to do.

Whilst it's sad to leave a fading area, it's a reminder that good tourism, done well, can be a really important support to local infrastructure. Now embedded in their new home: a waterfront hotel in Achenkirch, Exodus walking trips continue to use public transport and work closely with businesses based in the area. "We use public transport, local produce and local restaurants. For our airport transfer we use a local company. We definitely try and make sure that we make an impact locally. It's not always easy to see the benefit you, as a traveler, bring in Europe. But all of that matters."
It's strange to start an article about walking with an ode to public transport, but around Achensee it's reliable, green, and often incredibly charming – like taking one of Europe's oldest-running ferry services to cross the lake from Achenkirch, or using the Achensee Steam Cog Railway to crawl along the lake from Eben to Seespitz. Many regions in Austria offer a 'vacation card', giving you access to all the area's cable cars and local transport to get to the start of your walk.
And then there's the walking. Of course, walking in the Austrian Tyrol is nothing new – especially not for Austrians, who have vacationed in their magnificent, mountainous homeland for decades. Once you find out about how beautiful it is, you might become a repeat visitor, too. "I could not believe how successful this Achensee trip was in its first year," Claire said, "There's a steady stream of people, and people who return year on year."
The Tyrol isn't just a dramatic backdrop. The region has such a strong sense of self that most hospitality workers wear traditional dress, and their restaurants serve time-honoured recipes so delicious they haven't been improved upon in decades. "The hotel we use is family run. The daughter basically runs the place now. The mum is a character in the village. She likes to take people on evening walks in the village, she gives them schnapps, she plays the accordion. You're not in one of those places where you think 'it could be anywhere' – you're staying somewhere that is in the local tradition." Tourism is important for keeping these traditions alive – so, go forth to the Tyrol and walk, just don't feel bad for resting your legs on a local bus back.
What does this trip entail?
Centre-based walking in a small group is the way to go in the Tyrol. There are so many great hikes in each area that you don't need to move from one spot to be constantly rewarded and challenged. Pick a trip that offers a choice of walks each day and you don't all have to be the same fitness level to vacation together. "There are two grades – a moderate and hard walk for every day and there are routes to modify the walks if the weather is bad. There's lots of choice. The big advantage of our trips is that you can switch grades through the week," Claire explains.

In eight days you can spend a good five days going on walks, with a rest day in the middle of the week for sightseeing – or for actual rest (the Tyrol is famous for wellness, too, and spas abound). Expect to spend six to seven hours walking each day. You'll walk in a group of no more than 20 people – normally there are between 10 and 14 hikers on small group vacations here.

Each evening, your guide will outline the next day's walks. It helps that the summits of countless mountains peer over to you around the lake, your guide can simply point and say, 'that one next'.

You'll walk on unmade tracks that can sometimes get rocky as you go higher, but there's very little scrambling involved. Thanks to the lifts, you'll probably end up walking downhill for longer than you walk uphill. If you choose to try the more challenging walks each day you can make ascents of over 1,000m. If you opt for easier walks, you can still reach some impressive summits by 'contouring'. You'll keep to the same altitude by following the mountain's contour line – to get some lovely views without too many steep climbs.

Hiking here is a piece of cake. The walking can be steep, but once you get to a mountain hut, you can indulge in apple strudel and Viennese cakes, and special local dishes like Kaiserscharmm – a heap of shredded pancakes so large it's best shared between two.
Austria's Northern Tyrol is a spiky sandwich of Alps sitting under Germany. Its largest lake, Achensee, runs close to Munich, its glacial waters splitting the Rofan and Karwendel mountain ranges. Staying lakeside is a brilliant idea for a center-based walking vacation. It's fun to wake up in the morning look up at the amphitheatre of mountains above the water and point at where you'll be by the afternoon. Once you've climbed above the tree line and into the alpine zone, 2,000m up, the scene resolves into vivid green meadows peppered with chairlift stations and mountain huts, in the steeple-like shadows of cross-topped summits.
Achensee
Achensee, a long and fjord-like lake, stretches from Achenkirch, a little town close to the German border, down to Maurach in the south. It's a popular vacation base because it's just so pretty: light limestone rock makes the water of this lake look especially blue, and there's a panorama of mountains all around. At 900m up, staying at Achensee gives you a head start on the 3,000-m-high peaks.
Achenkirch
One of a little handful of towns that enjoy a privileged position on the lakeshore, you'll find Achenkirch at the top of Achensee. From here you can reach the surrounding region on foot, on steamer ferry, on bus or even old steam cog railway. Freshwater fish are pulled from the lake every day in summer: look out for pike, char and trout on the daily menus at the restaurants and hotels in town.
Karwendel Nature Park
To the west of Achensee is one of the largest nature parks in Austria. There's limited development, and certainly no ski runs in Karwendel Nature Park, instead old maple trees and the highest concentration of golden eagles in the Alps lend beauty and wildness. From Pertisau, a small town on Achensee, you can take the Karwendel Cable Car into the wilds and summit Barenkopf. The top of 'Bear Head' is one of the best viewpoints over the lake.
Rofan Mountains
The five high peaks that dominate the Rofan Mountains are a hiker's delight. Use the Rofanlift Cable Car from Maurach and the high reaches of Rofanspitz, which caps at 2,258m above sea level, can be reached without huge effort. Reaching Hochiss (2,298m), the highest mountain in the range, involves an ascent from Achensee that's equivalent to climbing Ben Nevis in Scotland: quite the achievement.
Alpine meadows
Above the treeline, the flowers in alpine meadows flourish, their sunlight unchecked. Edelweiss might be the most well-known Alpine flower, but bright blue gentians are perhaps even more lovely and emblematic in their own right; there's even a 'gentian trail' from the Rofanlift. Fluttering visitors, like the rare Apollo butterfly, will fill lepidopterists with joy.
Tyrolean cuisine
The hearty Tyrolean cuisine is perfect for you if you never 'say when' if someone is pouring cream over your pudding. Look out for restaurants that sport a green 'Tiroler Wirtshaus' badge on their menus, websites or doorways: indicating that they use locally-sourced ingredients and are owner-operated. Then tuck into a Tiroler Blutwurstgröstl (potato cooked with blood sausage) and Salzburger Nockerl (soufflé) for afters.
Our top Austria Vacation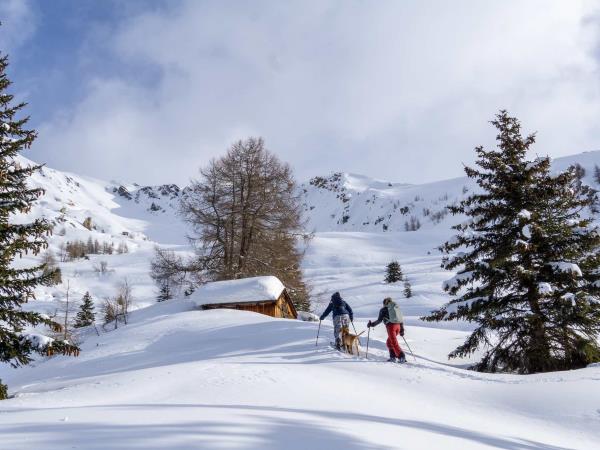 Guided snowshoe walking and winter activities in the Alps
From
€

1190

to

€

1490
7 days
ex flights
Small group travel:
2023: 9 Dec, 16 Dec, 23 Dec, 30 Dec
2024: 6 Jan, 13 Jan, 20 Jan, 27 Jan, 3 Feb, 10 Feb, 17 Feb, 24 Feb, 2 Mar, 16 Mar, 23 Mar, 30 Mar, 6 Apr
If you'd like to chat about Austria or need help finding a vacation to suit you we're very happy to help.

When is the best time to go?
Walking trips run in June, July, August and September. Some stubborn snow may still be around in June, which can sometimes mean you'll take lower altitude routes if you book a trip earlier in the season. In the early Alpine summer, flowers are blooming, and the lake – which is fed by very fresh mountain streams – might be just warm enough (it maxes out at around 22°C) for a quick dip. The weather is at its warmest in July and August and you'll need to keep yourself fully protected from the sun – but also the rain. Afternoon storms are an alpine speciality – humidity builds throughout the day and by the late afternoon there can be a big storm.
You'll get dinners and breakfasts at your hotel, and take packed lunches for your walks. Whilst there are grocery stores around, they don't tend to sell medications – even Paracetamol, so bring a small supply from home if you think you'll need one. Smoking is legal indoors in Austria, so don't let a few smoky rooms take you by surprise. There are always non-smoking sections. These small group walking vacations are for people aged 16 and over.