There's an old saying about Bandhavgarh National Park that goes: "In any other park, you are lucky if you see a tiger. In Bandhavgarh, you are unlucky if you don't see at least one." Here in the Vindhyachal Ranges of Madhya Pradesh, in one of India's smallest parks (105km² with a forested buffer zone), can be found one of the world's highest densities of Royal Bengal tigers, thought to number between 60 and 70. Rare white tigers once prowled the park's grasslands and forests, and were captured for the Maharaja of Rewa. In 1993 the park was taken into the Project Tiger scheme and since then, the Bengal population has largely flourished.
But while tigers sit on the throne in Bandhavgarh, they dominate a vast and varied food chain that includes another 20 or so mammals, and around 150 species of bird, which make wildlife viewing here an unadulterated thrill. Safaris are led by naturalist guides in open-topped 4x4 jeeps. And with visitor numbers restricted in the park's three zones, it's vital to book well in advance.
Bandhavgarh is often, and easily, combined with other premier parks like Kanha and Pench, and choosing a responsible operator means that you'll not only benefit from their expertise and experience, but you can also be confident that the wildlife comes first at all times. We suggest ideally choosing an operator that's part of TOFT (Travel Operators for Tigers).
Our Bandhavgarh Vacations
Bandhavgarh's birch and bamboo forests, grasslands, wetlands and wooded hills provide habitat for a superb variety of wildlife. Barking, spotted and swamp deer are numerous, and regularly turn up on tiger menus. The park has a healthy breeding population of leopards too, plus striped hyenas, jackals, Indian foxes, and there are even reports of wolves. Mornings and dusk are frequently punctuated by the panicked calls of deer as they see predators on the hunt.
The park has three core zones: Tala, where vultures nest in the abandoned fort on a clifftop; Magdali, on the outer fringe and a noted hotspot for tiger sightings; and Khitauli, which is fantastic for birding, with black ibis, steppe eagles and waterbirds such as herons, storks and kingfishers among the crowd. Gaur (Indian bison) were reintroduced in 2011, and are a sometime prey species for braver tigers, while the forests are home to langurs and wild pigs.
Tigers, leopards and sloth bears are known to use the caves at Three Caves Point, while Andheri Jhiria is a popular spot for the big cats to doze through the heat of the day, its lush vegetation providing plenty of cool shade. Chakradhara, a large area of marshy grassland teeming with colourful butterflies, is prime territory for both tigers and deer to feed and breed.
Ponds and wetlands are always reliable locations for wildlife encounters on safaris in India, and Bandhavgarh is not short of them. Before the July monsoon, Gopalpur is a crucial watering hole, and dramatic tableaus are common as both predators and prey congregate to drink. Similar scenes can be observed at the Mahaman Pond, situated near the fort, and the Rajbahera area.
Bandhavgarh is normally combined with at least one other national park on India wildlife vacations, such as Kanha or Pench, both of which are also in Madhya Pradesh. Spotting tigers and other wildlife is likely to form the bulk of an itinerary. These can be either small group tours or tailormade trips, the latter giving you more flexibility on your travel dates, quality of accommodation and also your actual itinerary. Hotels and safari lodges are typically located on the outskirts of the park, in the buffer zone and close to a gate for quick access.

Wildlife safaris in India's national parks are tightly regulated. You will generally take two game drives each day, one in the morning and one in the late afternoon when tigers are most likely to be seen moving around in the cooler weather. Open-topped jeeps are used to enable you to get a good view, and you'll be accompanied by guides, and usually a ranger too. A typical game drive will last two or three hours.
Responsible tourism in Indian national parks
Tiger sightings can never be certain, given how shy they are. Responsible guides and drivers will never try to influence animal behaviour, or get too close to them, and any instances where this does occur should be reported. Sadly some guides do feel obligated to produce a tiger sighting, which can lead to the animals being disturbed and even separated from their young by vehicles – a traumatic experience.
In early 2019, reports emerged of elephants used for tourist rides
being treated brutally
in Bandhavgarh National Park. We do not promote any tours that offer elephant trekking, and would encourage travelers to avoid this activity. There is no such thing as a domesticated elephant and
training them to be docile enough
for people to ride them usually involves appalling cruelty.
Our top Bandhavgarh Vacation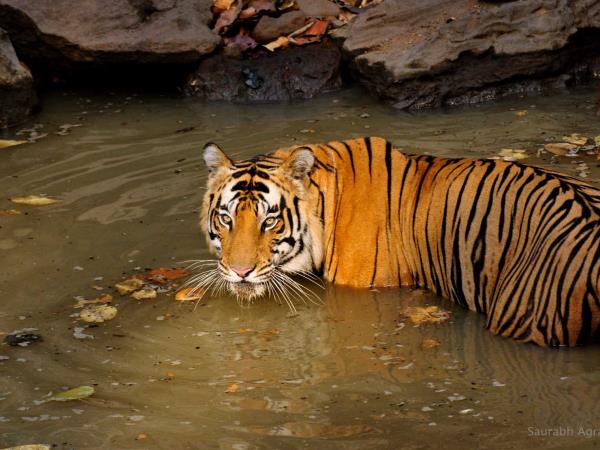 Best of Indian wildlife with tiger, leopard and sloth bear
From
Rupee

249000

to

Rupee

272000
12 days
ex flights
Small group travel:
2023: 12 Nov, 26 Nov, 10 Dec, 22 Dec, 31 Dec
2024: 7 Jan, 4 Feb, 15 Feb, 7 Mar, 7 Apr
If you'd like to chat about Bandhavgarh or need help finding a vacation to suit you we're very happy to help.

Best time to view wildlife in Bandhavgarh National Park
The park is closed during the monsoon season, which runs from mid July to mid-October. November to March is the peak visiting season, when the vegetation is lush and green, and daytime temperatures around the mid 20°Cs.
The best time to see tigers in Bandhavgarh is between April and May, however, as the vegetation dries up and prey species such as deer gather in large numbers at waterholes. You can't guarantee an action-packed spectacle, but this time of year, in Bandhavgarh, is about the best chance you're going to get.
Bandhavgarh National Park vacation tips
Go with the flow
"Every outing and experience was exciting. Make sure you have your binoculars and cameras ready at all times. Don't have any preconceived ideas, just go with the flow and enjoy whatever comes your way. Don't expect to see tigers on every outing. The vacation was extremely well planned and varied. The naturalists were very knowledgeable and easy to talk to, with endless patience. This was an amazing vacation and we would highly recommend it. Nothing can compete with local knowledge offered by local people." - Denise Brooks, on a wildlife vacation in Central India
Fantastic beasts
"Fantastic, awesome, the travel company were amazing with their organisation...Make sure you have really warm clothing for early morning safari drives. Wear a hat unless you want to end up with tangled and dusty hair. Be prepared for giving lots of smallish tips to drivers, guides and hotel staff." - Barbara Thompson, on a tiger and wildlife vacation in Central India
More about Bandhavgarh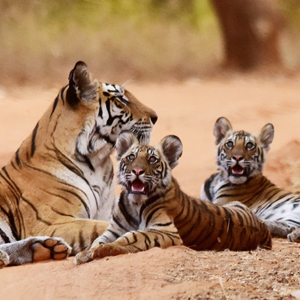 The best time to see tigers in Bandhavgarh National Park – April and May – unfortunately also coincides with scorching temperatures.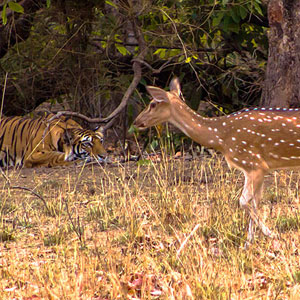 In the Vindhyachal Ranges of Madhya Pradesh in central India, Bandhavgarh National Park is famous for its tigers.