Bandhavgarh National Park travel guide
It's often said that you're lucky if you spot a tiger in India's other national parks, and really unlucky if you don't spot a tiger in Bandhavgarh. One of the country's smallest parks, it's home to the highest density of Bengal tigers in India.

The Maharajas of Rewa once hunted here, but now wildlife lovers take to jeeps to spot and celebrate Bandhavgarh's wild inhabitants.

They are undoubtedly the superstars here – park signs read 'Welcome to the Land of Tigers' – but there's a wonderful supporting cast, too. Numerous deer species, macaques and langurs live alongside rarer creatures, including sloth bears, Indian foxes, jackals and wolves. The park itself boasts gorgeous good looks, with sal forests, stretches of bamboo and grasslands punctuated by 32 wooded hills. A range of lodges lie just outside its boundaries and tightly regulated game drives are the only way to explore. Tiger sightings are always possible but never guaranteed; seeing a wealth of wildlife and savouring a slice of wild India is a given, though.

Find out more in our Bandhavgarh National Park travel guide.
Bandhavgarh National Park is...
one of the best places in India to see tigers.
Bandhavgarh National Park isn't...
only about tigers. Abundant wildlife, diverse terrain and a deserted fort bring big personality to this small park.
Our Bandhavgarh Vacations
If you'd like to chat about Bandhavgarh or need help finding a vacation to suit you we're very happy to help.

Bandhavgarh National Park map & highlights
Most trips to Bandhavgarh are part of a tailor made or small group organised tour, often beginning in Delhi, and then traveling by sleeper train to Umaria, 40km from the national park. From here,
Kanha National Park
is a six hour drive, and Pench a further four. Jeep safaris run in the morning and evening and last three and a half hours. There are three zones – Tala, Magdhi and Khitauli – with jeep numbers restricted for each. Recent updates to game drive regulations and high demand mean it's important to book wildlife safaris well in advance. Ideally, choose a responsible operator that is part of TOFT (Travel Operators For Tigers).
1. Bandhavgarh Fort
Proof that Bandhavgarh isn't just about its wildlife… Looming 300m above the park and occupying its highest point are the ruins of a fort thought to be 2,000 years old. Deserted in 1935, it still belongs to the Maharaja of Rewa. Entry isn't permitted, but vultures nest here and the views over neighbouring hills and the Chakradhara meadow are superb.
2. Caves
There are 39 manmade caves around Bandhavgarh Fort, with the oldest dating from the 1st century. Several feature inscriptions and drawings of tigers, elephants and horsemen. Dating from the 10th century, Badi Gufa – or Giant Cave – is the largest, and boasts a broad entrance and nine small rooms. The caves at Three Cave Point are now used by tigers, sloth bears and leopards.
3. Chakradhara area
This large stretch of marshy grassland in the Tala Zone has the Charanganga River flowing through it, creating excellent habitat for tigers and the deer they feed on. It's home to dominant males and females – a favoured place for breeding – plus also 75 species of butterflies. From here, there's a great view of Bandhavgarh Hill and its fort on top.
4. Gopalpur Pond
This pond in the Tala Zone is home to many wetland birds, including herons, storks and kingfishers. During the hot summer, before the monsoon arrives in mid July, it becomes crucial to the life of the reserve. Predators, including tigers, and prey flock here to drink, thrown together by extreme thirst. If you can stand the heat, this is a great place to observe jungle drama.
5. Wildlife
Bandhavgarh's 60 or so resident tigers undoubtedly pull in the crowds, but once here, there are another 21 species of mammal to spot, including sloth bears, jackals, striped hyenas and leopards. Various deer are on the menu for the big predators, from chital to the rare barasingha (swamp deer). Over 200 types of bird flock here, too, including vultures, black ibis and the Malabar pied hornbill.
More about Bandhavgarh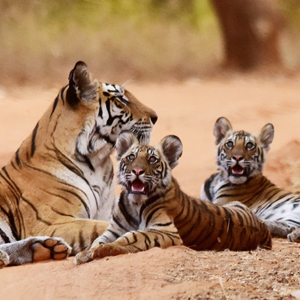 The best time to see tigers in Bandhavgarh National Park – April and May – unfortunately also coincides with scorching temperatures.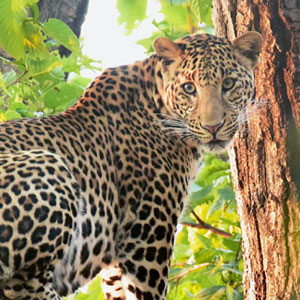 The wildlife in Bandhavgarh National Park is dominated by one of the highest densities in the world of Royal Bengal tigers.