Myanmar (Burma) travel guide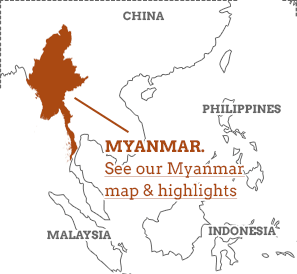 Myanmar's decades of isolation have meant that its unique ways of life have remained largely intact. Visitors are astounded by what the Myanmars can create by hand: enormous, carved wooden boats, fine gold leaf, lotus silk, and jewel-encrusted pagodas. Its largely Buddhist people are peaceful and welcoming, and its landscapes and cities – Mandalay, Inle Lake, Bagan, Yangon – are still wrapped in mystery, without western influence.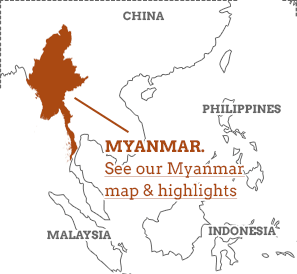 As Southeast Asia is overrun with resorts, backpackers, bars and bawdiness, Burma is often touted as "Thailand 30 years ago", "Vietnam before the crowds" – but it is neither.

This is a land where traditional clothing is still worn, where people travel by horse and cart and where Buddhism influences architecture and actions. It is also a country that has had little say in its own destiny for decades, where political leaders can be placed under house arrest for 15 years and where even tourists can only visit approved sites. And it is currently bearing witness to one of the fastest growing refugee crises in the world. Tread carefully on your Myanmar vacation: the Myanmars are as new to tourism as we are to their culture, and respect is essential to gain the most from your trip – for both parties.
Burma is...
"Quite unlike any place you know about", according to Rudyard Kipling
Burma isn't...
a free country, just yet
Our Myanmar (Burma) Vacations
What we rate & what we don't
The elephant camp
A group of kindhearted Burmese friends set up the Green Hill Valley Elephant Camp in 2011 to look after orphaned, injured and retired elephants. The camp, near Kalaw, receives little promotion and only accepts a small number of visitors a day – but it's well worth visiting on your Burma vacation as it conserves forest, cares for the elephants and supports community projects – as well as being incredibly good fun.
Burmese food
Cuisine on offer in Yangon's restaurants can be underwhelming – a version of Burmese food that the chefs have attempted to mass-produce to suit tourist tastes. But don't let this put you off; the fare on offer in the villages, markets and roadside stalls is deliciously spiced and fabulously fresh. Most items are grown locally and the ubiquitous seafood is fantastic.
Pindaya
A cave full of Buddhas may not seem worth traveling halfway round the world for, but Pindaya's natural temple is a breathtaking sight. Discovered by an ancient king after he was led there in a dream, the cave now attracts pilgrims who each donate their own Buddhas of all sizes. Trekking here is also superb – it's far less visited than nearby Kalaw, so you'll have the hill villages and scenery all to yourself.
Small ship cruises
The Mergui Archipelago is remote and unspoiled even by Myanmar standards. It can only be explored on a small ship cruise, which will take you out to paradisical islets, rainforest-backed beaches, and to villages where you can meet the Moken 'sea gypsies'. Sail out here on a little yacht to minimise your footprint, and explore a part of the world that few others will ever get to visit.
Inle Lake
This may be the only place in Burma where things have been set up explicitly to attract tourists – but when done well, the cultural displays are wonderful. There are weaving workshops, gold and silver craft, long-tailed boats, one-legged fishermen, and tribes from across the region who come to trade at the markets. Spend a day simply wandering around, putting money into local lands and soaking up Burma.
Pagodas
Pagoda fatigue is a real risk during a Burma vacation – Bagan alone has several thousand of them scattered through its plains. But pick your pagoda carefully, and you will be rewarded. The Golden Rock is rarely visited, but a dramatic sight. And few attractions match up to Yangon's magnificent Shwedagon Pagoda – whose gold, diamonds and rubies sparkle beneath the setting sun.
U Bein bridge
The longest teak bridge in the world was constructed near Amarapura over a century and a half ago, and stretches 1.2km across a lake, perched on over 1,000 pillars. Head to U Bein at sunset, and ask a boatman to row you out for wonderful photographs of the sketch-like bridge silhouetted against a saffron sky.
Ngapali beach
Yes, it's a Southeast Asian beach resort – but it's largely undeveloped in comparison to its Thai counterparts, and so fabulously remote. There are comfortable little bungalows rather than huge hotels, and horse carts trundle along the sand. Eat at the shacks rather than at the hotels – the seafood is fresh, delicious and it's a great way to support local businesses.
Photos of "the natives"
Many Burmese still wear traditional dress, including longi-clad men, long-necked Kayan women and unusual jewellery and wonderful headdresses – a Burma vacation may seem like a photographer's paradise. But taking pictures without first striking up a conversation with your subject and asking permission is rude and intrusive; most Burmese are just going about their daily lives. Put yourself in their position, and be respectful.
Crowds of tourists
Rumour has it that since Burma started welcoming foreigners, the tourism floodgates have opened, and a new Thailand has been created. There may be ten times more tourists than there were a decade ago – however, this is still a very tiny number for such a large country. You will run into other travelers in popular spots – but this still has the air of destination very much untouched by westerners.
Staying connected
Internet access may be limited to larger hotels and foreign SIM cards may not work – but you're on vacation in Burma. Live in the moment, don't waste half a day in town tracking down a speedy wifi connection and speak to the people around you, not those back home. Burma is a country to be immersed in – the lack of technological encroachment is an absolute blessing.
Mythical Mandalay
Named in Kipling's famous "Road to Mandalay" poem, the city stirs up evocative images. But beyond the myth, Mandalay is just another big city; built up and busy. There are plenty of pagodas and temples – but in Burma, this is not enough to make it remarkable. If you do go – take the back streets, visit the markets, avoid traveling by car or coach and see how people really live.
Our top Myanmar (Burma) Vacation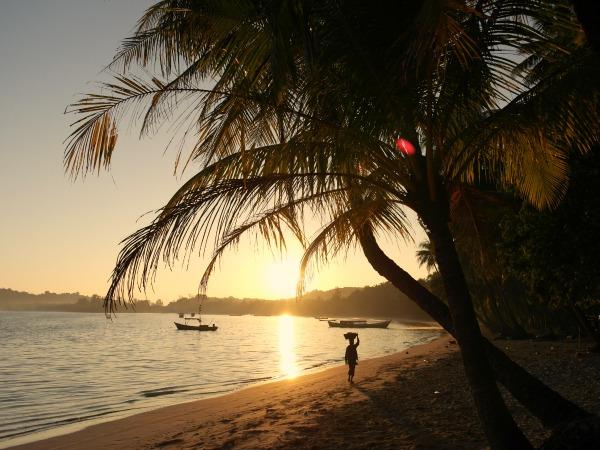 Venture deeper and further into an undiscovered Myanmar.
From
£

2088
16 days
ex flights
Tailor made:
Everything is tweak-able, giving you the freedom to build a unique and personal trip for your chosen date. Upgrade your accommodation for all - or just part - of your trip, slow down the pace with few extra nights here and there or add a few more active adventures along the way.
If you'd like to chat about Myanmar (Burma) or need help finding a vacation to suit you we're very happy to help.

Eating & drinking in Burma
Burma's coast and rivers produce superb seafood – and ingredients such as fish sauce, shrimp, dried fish and ngapi (fermented seafood) are common.

Mohinga could be considered the national dish – it's a spiced noodle soup with catfish. Usually eaten for breakfast, it's a popular street food.

Eat your meals the Burmese way – from bowls on a low table, while sitting on a bamboo mat. Or go the whole way and eat using only your right hand!

More than 80 percent of Burmese are Buddhist, and for its population, Burma has the highest percentage of monks in the world.

People & language
Two-thirds of Burmese are Bamar, but 135 ethnic groups are recognised here, speaking over 100 languages. These include the rice-growing Shan, the Kayan – some of whose women wear neck rings – and the Kachin, with colourful skirts, turbans and oval-shaped houses. Most Burmese are Buddhist; a few are Christian. English is fairly widely spoken.
Say "hello" in Burmese: "Minglalaba"
Yangon was formerly known as Rangoon – meaning "end of strife"
Gifts & shopping
High-quality fabrics can be found across Burma, they're used to make the traditional longis – tubular "skirts" worn by men and women.

Lake Inle is a hub for Burmese crafts. Silversmithing and cheroot cigar-rolling workshops line the lake. More unusually, women create silk from the sap of the lotus stem, which is stretched, twisted and woven.

Marionettes are a Burmese tradition; subversive puppeteers once used them to spread anti-government messages. Mandalay is the best place to buy handcrafted marionettes, from the small and simple to large and elaborate.

The pale yellow face paint worn by many Burmese is called thanaka – it's made from tree bark and is used to cool, beautify and protect the skin from the sun.

How much does it cost?
Train from Yangon to Mandalay (upper class): £21

City bus ride: 12p

Lunch from a street food vendor: 30p - £1

Litre of water: 30p

Entrance to Shwedagon Pagoda: £3

Money tip: If exchanging US dollars, carry higher denominations for more favourable exchange rates.
A brief history of Myanmar (Burma)
Myanmar's history is complex, brutal and – above all – dark. Many forces have fought over control of this troubled nation: colonial foreign armies, its own military, socialists and democrats. While it is easy to picture a fight between good and evil, the truth is far more nuanced, and visitors to Myanmar would do well to learn a little about its past and to travel with an open mind.
Read more
More about Myanmar (Burma)