A long and rich cultural life runs through Myanmar's long and rich history, with Buddhist architecture the most dazzling example of this nation's creativity. You'll find more modest cultural expressions in the beautiful gold and silver work, the lotus silk scarves and pretty lacquerware bowls and cups still widely used and made typically by hand, as part of an artisan tradition. It is Myanmar's relative isolation that has helped preserve its culture; the country remains more untouched by modernity or the West than neighbouring Thailand, for instance. It also means it's still finding its feet as a new destination for tourists, and has more recently hogged the headlines for ethnic cleansing rather than cultural achievements. That said, Myanmar is a huge country, largely untainted by political strife, with a wealth of culture to come and enjoy.
Our Myanmar (Burma) Vacations
If Buddhist temples and gilded pagodas haven't crossed your radar before – perhaps you're more of a Saxon church or gothic castle type – prepare to have your mind blown by Myanmar. More than 80 percent of Burmese are Buddhist, and the dominance of this religion is reflected in the many, many religious buildings dotted throughout the country. Some dazzle with their lavishness. Yangon's magnificent Shwedagon Pagoda is outrageously opulent, and features a 99 metre high gilded stupa that dominates the skyline. Others are simply so numerous that it's hard to take them all in. At the ancient city of Bagan there are over 2,000 temples and pagodas, all that remains from over 4,000 Buddhist temples originally commissioned between the 11th and 13th centuries. Walking around this site doesn't really do it justice. You're better off jumping on a bike and using two wheels to take in more. While here, you can delve back even deeper into Myanmar's life, exploring Shwezigon Paya, a Buddhist site that also incorporates a compound dedicated to the pre-Buddhism deities, the 37 Nats.
This abundance of Buddhist temples means lots of Buddhist monks, too. For its population, Burma has the highest percentage of monks in the world. Seeing monks going about their daily lives and discovering more about their practices and beliefs is a real treat on any Myanmar vacation. You might visit the famous Mahagandayon Monastery complex, a 100-year-old Buddhist center, to see 1,000 monks enjoying their lunch; head to Sagaing, home to more than 6,000 monks and nuns; or join pilgrims on a stroll up Mandalay Hill, a major pilgrimage site for nearly two centuries, known for its abundance of pagodas and monasteries.
It's incredibly important to respect these holy sites while in Myanmar. Buddhism informs the culture and demeanour of the people here. They are quiet, polite and extremely modest. They don't complain when tourists snap photos without permission or wander into temples in shorts and vest tops, but that doesn't mean it doesn't cause offence. Dress modestly, ask before you take a photo of someone and check in with your tour guide about correct behavior in religious sites.
Our top Myanmar (Burma) Vacation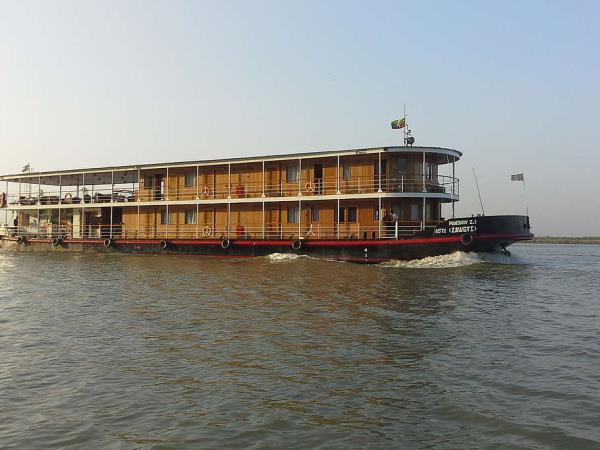 Sail the mighty Ayarwaddy in a unique experience of Myanmar!
From
£

3500
11 days
ex flights
Tailor made:
This trip can be tailor made throughout the year to suit your requirements
If you'd like to chat about Myanmar (Burma) or need help finding a vacation to suit you we're very happy to help.

Myanmar has a long and very clearly defined tradition of arts and crafts and, thanks to the relative isolation of the country, many traditional techniques are still in use today. Local craftspeople create incredible works entirely by hand – no glue guns or power tools required.
Traditionally, Myanmar's arts and crafts are based on 10 highly prized skills, called pan se myo, which translates as the '10 Flowers': sculpture in wood, ivory, bone and shell; sculpting with stone; blacksmithing; bronze casting; gold and silver smithing; lacquerware; bricklaying and masonry; painting; stucco work and turning. You can see evidence of these 10 skills everywhere; from lacquerware drinking cups used by monks to ornate masonry and tinkling brass bells found in pagodas and temples.
You can see much of this at Inle Lake, an artisan hub where workshops welcome visitors to see them silversmithing and gold leaf pressing, or to watch women spinning yarn on makeshift but effective machines (bicycle wheels often feature). Little village markets dotted around the lake are great places to shop for crafts, too, rather than the floating market itself, and is a good way to put your tourist buck directly into the hand of local artisans and keep these traditional crafts alive. In Mandalay, you can have a go at gold leaf making in the Gold Pounders District. Look out for the craft of lotus weaving, too, which uses fibres from the lotus stem which are woven on handmade looms and coloured with natural dyes.
There's a culture of smoking cigars and cheroots in Myanmar, and you can visit workshops where they are made. Cheroots are milder than cigars and vary in size from long and fat, to more like a cigarette. These contain some tobacco but also natural flavourings and barks. You'll see local people puffing on them and they're very much part of cultural life here. Traditionally, women rolled their own cheroots to personal recipes. They'd gather various ingredients, including crushed tobacco leaves, tamarind pulp, dry corn husks that were used to make filters, and remnants of silk or cotton thread from the family loom, and keep them in a basket fitted with compartments. This tobacco basket was important in family life and according to custom, if a woman rolled a cheroot for a man who was courting her, he was in with a shout.
Another key element of Myanmar culture is the use of thanaka. Pronounced tawn'-uh-kuh, it's a tree that grows in dry, central Myanmar. Its bark is ground against a flat stone using elbow grease and lots of water to create a cream-coloured paste that's applied to the skin to protect it from the sun, lighten it and cool it down, too. It's thought that thanaka has been used for some 2,000 years, and all over Myanmar you'll see women – and some boys and young men – wearing it on their faces, sometimes applied in leaf shapes or swirling patterns.
Two thirds of Burmese are Bamar, but 135 additional ethnic groups are also recognised here, speaking over 100 languages and maintaining their own cultural traditions.

The Kayan people of southeastern Burma are often nicknamed the Long Neck People or Giraffe Women, because the women have traditionally worn brass neck rings to give the appearance of a lengthened neck. The Kayan belong to a much larger, ethnically Mongolian group of hill tribespeople who populated this area of Myanmar around 700AD, including the largest Kayah group, and 10 other sub groups. Collectively, these people are known as the Karenni.
Organised Myanmar vacations don't tend to include visits to see the Kayan. Kayah State itself was closed to outsiders until 2014 but tourist visits to see the Kayan who live on the Thai border or within Thailand are common. First, let's deal with how these people ended up in Thailand, before tackling the ethics of going to visit them.
The Karenni ethnic group originally lived in their own independent state, recognised by the British when they ruled here, but once Burma declared independence in 1948, it lumped together several states to make a new Karenni State (renamed Kayah State in 1952), promising the Karenni ethnic minorities independence later down the line. It never happened, and uprisings have continued to this day, making this the longest continuous civil war in history.
In 1996, the Myanmar government ramped up its plan to crush Karenni independence and gain control of this resource rich state by forcibly moving villagers out to the Thai-Burma border, to undermine support for pro-independence forces. Some Kayan people fled Myanmar, too, and were granted refugee status by Thailand. So, while some Kayan people still live in Myanmar, many now live in neighbouring Thailand, as displaced citizens with no rights.
There's no doubt that seeing these beautiful women with their extraordinary gleaming neck rings, thick bangles and leg bracelets is fascinating, but it's important to be aware that interest from tourists has inspired the creation of tourism villages within Thailand, with some ethnic people even moving to these 'fake' hill tribe villages to earn money from tourism. Unfortunately, as they don't have citizenship, Kayans have very limited access to utilities, education and health care once here, and Thai authorities may even prevent Kayans from resettling outside tourist villages, claiming they are economic migrants and not real refugees.
So, seeing the ethnic Kayan people is complex, whether in Burma or Thailand, and as a responsible traveler, you should ask questions if you do decide to visit a Kayan village. Are the women genuinely happy to wear the neck rings? Is this still done for traditional reasons, or is it purely for show? Where is the money for photographs or entry fees going – directly to the women, or to a shadowy manager figure, who benefits most while the women themselves make just a few pounds selling trinkets and souvenirs? Check the
FCO
advice, too, since there's ongoing military activity in border areas.
The seafaring nomadic Moken people are another of Myanmar's small ethnic groups. Their home is the Mergui (or Myeik) Peninsula, near the southern border with Thailand. If you go on a catamaran cruise here you may be lucky enough to see them. Be aware, though, that the Moken are extremely shy and wary of interaction with tourists, but your captain may have built a relationship with them, and they may approach your boat to trade supplies.
Like the Kayan, the Moken's story involves displacement. Although these so-called sea gypsies traditionally spent almost all year at sea, only coming on shore during the monsoon, the Myanmar government has encouraged them to settle in villages, such as Ma Kyone Galet on Bo Cho Island. This attempt to assimilate the Moken into the wider regional culture hasn't been a big hit with the Moken, but it puts them in something of a no-man's-land, with a declining population, a nomadic lifestyle and unsettled legal status combining to leave them seriously marginalised.
More about Myanmar (Burma)