Walking in the Canary Islands guide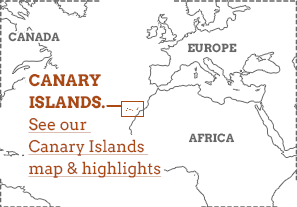 Abrocharse…absceso…abuelo…acá… Nope, boring isn't a word in the Canarian hiker's dictionary. These southerly Spanish islands are virtuosos of volcanic landscapes, and Canary Islands walking vacations are the best way to explore them. En route, you'll dip into unhurried island life in a way that 90 percent of beach-bound visitors don't.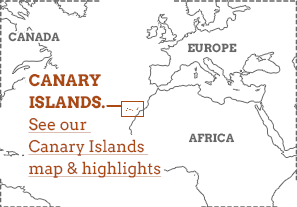 In some places – Tenerife's Mount Teide National Park or Guayadeque Canyon on Gran Canaria – you might as well don your astronaut suit for the lunar canyons and craters.

La Gomera is all weaving stone paths and knotted tunnels of pines and palms. And on lonely El Hierro villagers just tootle on with life, polishing rural shrines to a shine and cooking up fish feasts in blindingly white port towns. The big-hitting islands hide away plenty of secrets, too. Stone-framed caminos reales donkey trails meander from terracotta village to terracotta village on Gran Canaria.
Raring to go? Read our guide to Canary Islands walking vacations to find out more.
Our Canary Islands walking Vacations
Is a Canary Islands walking vacation for you?
Do go walking in the Canary Islands if…
…you want to be surprised. They're home to some of Spain's least-visited national parks and villages.
…you want to top up your vitamin D. The Canary Islands are nearer Western Sahara than mainland Spain, so expect lashings of warm sunshine year-round – plus an ocean breeze.
…you've always wanted to do a moonwalk but don't fancy the flight. Thanks to the archipelago's volcanic origins, it's another world out there – one of lunar lava fields and dusty craters.
Don't go walking in the Canary Islands if…
…you don't like hills. A good level of fitness is needed to enjoy the craggy coastline and volcanic peaks. …you want a week on the beach. While most people travel to the Canaries to flop and drop, walking vacations are all-go. …you want to party. Sleepy villages and silent trails are more these walking vacations' style.
What does a walking vacation in the Canary Islands entail?
Guided or self guided?
It depends which suits you. You could go for a small group vacation that mixes you into a group of eight to 12 people. They tend to move in a loop, exploring a different patch of the Canaries each day – either, say, sticking to Gran Canaria or hopping between two islands like Tenerife and La Gomera. It's worth keeping note of which meals are included in the trip; it might be three squares a day or just bed and breakfast. Some vacations include luggage transfers, while on others you'll be hiking with your belongings on your back.

Crucially, a small group walking vacation will match you with an expert guide. Their enthusiasm and encouragement will pull you through any trickier trails. They'll sort any chauffeuring duties – pick-ups and transfers between hikes, for instance – and tweak walks in the case of little surprises like delayed ferries or poor visibility.

Hiking guides are Canary connoisseurs. They'll show you where the prettiest aloe vera blooms, teach you the handiest words of Canarian dialect (it's
guagua
, not
autobús
;
papas
, not
patatas
), and explain exactly why
bienmesabe
beats Italian tiramisu down to the ground.

Self guided walking vacations are different beasts. On these, you'll be your own guide. The tour operators we work with will give you detailed trip notes with restaurant and swimming spot recommendations, and Spanish language cheat sheets. They'll also give you contoured maps and a choice of routes to tackle, depending on whether you prefer volcanic views or salty strolls. You can take your sweet time lingering at viewpoints or pack in as many kilometres in a day as possible. All you have to do is get to your next hotel in time for sunset. Luggage transfers are almost always included, too.

Self guided walking vacations tend to be tailor made, so the itinerary is totally flexible to your needs. You could even include a couple of days of guided walks; your tour operator will match you up with a local guide so you can get some context to the banana plantations, prehistoric caves or shipwreck coves you're passing.
How tough are the walks?
The Canary Islands are hilly by nature, so expect undulating trails and some short, sharp climbs and descents. Easy walking vacations aim for the coast and village-laden valleys; the more challenging trips aim 1,000m up the dormant volcanoes of Mount Teide National Park on Tenerife. Wherever you go, the rocky terrain and warm temperatures require a good level of fitness.

You'll always have a free day or two for resting weary muscles – and the beach is rarely more than a half-hour bus ride away on these islands.

You'll usually spend a week walking anywhere from 7km to 17km daily – that's up to six hours a day. You'll stick to a schedule on a small group vacation, whereas self guided trips allow you the freedom to choose where and how long you walk for. Paths are generally good quality, including country tracks, but could include unmade paths through misty cloud forests.
Accommodation
The best walking vacations in the Canaries avoid big beach resorts like the plague, instead swapping them for locally run hotels in small villages. It might be a posada inn run by a crack mother-and-daughter team, a self-catering apartment on a flower-lined village backstreet, or a plush eco cabin with a bottle of Cava cooling in the fridge. If you like more control over where you lay your head, consider traveling on a tailor made walking vacation – you'll get the chance to pick accommodation that suits you.
Our top Canary Islands walking Vacation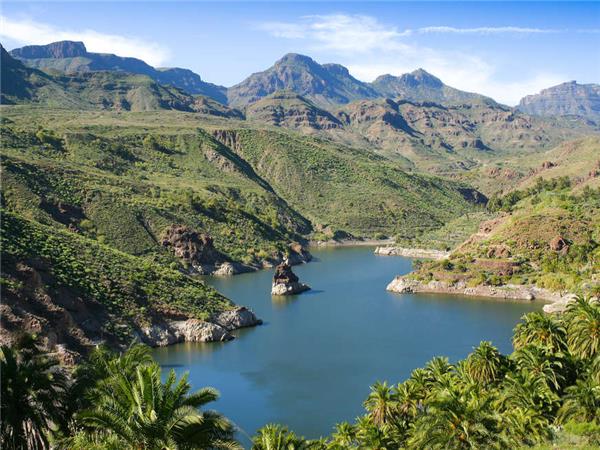 This unique volcanic island reveals unexpected variety
From
US $

1340

to

US $

1530
8 days
ex flights
Small group travel:
2023: 21 Oct, 4 Nov, 11 Nov, 18 Nov, 25 Nov, 20 Dec, 27 Dec
2024: 13 Jan, 27 Jan, 10 Feb, 24 Feb, 2 Mar, 16 Mar, 6 Apr, 19 Oct, 2 Nov, 9 Nov, 23 Nov, 21 Dec, 28 Dec
If you'd like to chat about Canary Islands walking or need help finding a vacation to suit you we're very happy to help.

When's the best time to go walking in the Canary Islands?
Small group vacations run almost exclusively from October to March, when the temperatures cool and the beach tourists make their exodus. Saying that, generous trade winds cool down potentially scorching summers, so if you're clever about timings – and obsessively apply sun cream and keep hydrated – you can go walking in the Canaries all year round. Plus, there are seven islands in the Canaries with a variety of terrain – from beach to desert to mountain – so the climate isn't a case of one size fits all.
Canary Islands Weather Chart
December and January are the coolest months, but they're certainly not cold. Southerly Tenerife sticks to a sunny 21°C, while Gran Canaria is a very bearable 17°C. If you're there for Christmas, you'll swap turkey and log fires for barbecued langoustines and sunshine. Almond blossom also starts to unfurl in La Palma and Tenerife. February is the rainiest month for northerly islands like Gran Canaria. And when Canarians say rainy, they mean 46mm in a whole month – that's August in London. Canarian Catholics enjoy as big a knees-up as any Spanish Catholic, so watch out for Lenten carnivals that range from avoidable raves in the beach resorts to family fiestas in the villages. Santa Semana (Holy Week) usually arrives in April. The processions are spectacular and solemn, especially in La Orotava in Tenerife; a short pilgrimage well worth walking if you're in town then. Temperatures right now are ideal for hikers who like it hot, but not too hot. June, July and August are hot and dry – about 29°C max, although the Atlantic wind can cool things down by a few degrees. It's still worth keeping your walks to the early mornings or evenings. The Canary Islands are the first place to harvest grapes in Europe, so you're in for an early treat on the grape isles of Lanzarote, Tenerife and Las Palmas. Winter arrives in October and November. That's good news for walkers, though: it's pleasantly warm, sunny and the start of the season for small group tours. Rainfall varies from island to island. Just expect the occasional Atlantic rainstorm that greens up the valleys and cools down the nights. You can still get some sudden, sizzling highs, too, with Lanzarote maxing out at 27°C in October.
More about Canary Islands walking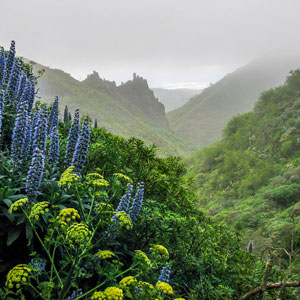 Canary Islands walking vacations tend to focus on the main islands, where mule tracks and petrified lava rivers take you from whitewashed village to dormant volcano to sandy coast.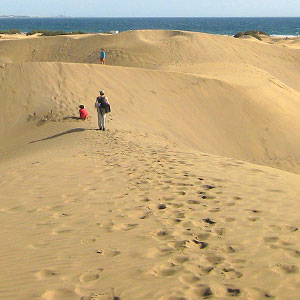 Walking vacations to Gran Canaria swap party-hard playas and high-rise hotels for volcanic canyons and wave-sculpted coastlines.