CARIBBEAN BIRD WATCHING HOLIDAYS
In a word association game, if you say 'Caribbean' most people come back with 'beaches'. The sandy bays and turquoise waters of the Caribbean are rightfully famous, but these islands are also blessed with fantastic birdlife, with many endangered and endemic species living here. In fact, an impressive 31 percent of the 565 species within the region are found nowhere else in the world. Sitting between the cooler climes of North and South America, the Caribbean Islands attract birds from both continents, too, with South American migrants visiting from May to September, and North American species here from October to March.
Our Caribbean Vacations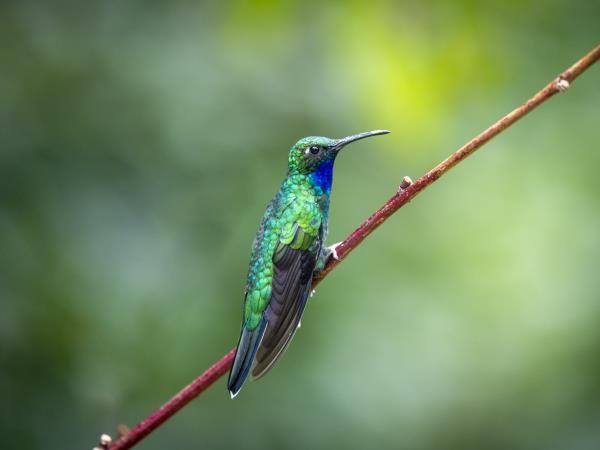 Spectacular bird watching in the Caribbean
From
£

1435

to

£

2443
7 days
ex flights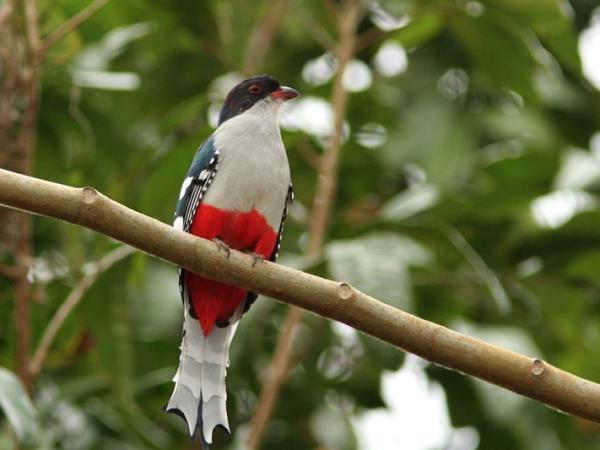 Birding in Western Cuba's pristine natural parks
From
US $

1680
9 days
ex flights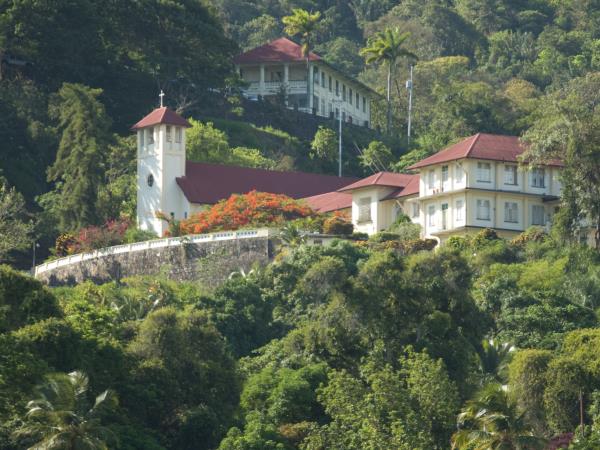 The best of Trinidad & Tobago's widlife and natural scenery
From
£

3345

to

£

3860
15 days
ex flights
What does a Caribbean bird watching vacation entail?
We offer both tailor made and small group bird watching vacations in the Caribbean. On a small group vacation, you'll be traveling with a handful of fellow birding enthusiasts (usually no more than 10 people), and the tours run on set dates. This is a cost effective way to travel and groups usually quickly build a sense of camaraderie.
A tailor made birding vacation will be just you and your traveling companions. There will be a suggested and carefully designed itinerary which you are free to model to your interests, schedule and budget. You can visit additional islands, choose accommodation and mix in other activities, too.
However you travel, you will be accompanied by experienced local guides, who know the islands intimately, and are experts in the birdlife here. They can also fill you in on the wildlife, flora and landscapes of each island, so you absorb so much more on a birding tour than just birds.
Transport to birding sights is included, but spotting the birds may involve walking or hiking into the forests and mountains they call home, so walking shoes and a decent level of fitness are required. Depending on the trip there may be other activities included, from whale watching to visiting historic sights. There's usually some downtime scheduled in as well, so you can swim and relax on the beach. Birding vacations typically last from eight to 16 days, but a tailor made vacation can be extended or trimmed to suit you.
Our top Caribbean Vacation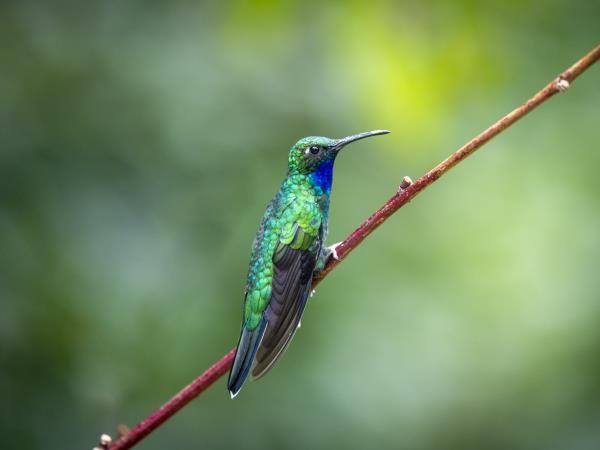 Spectacular bird watching in the Caribbean
From
£

1435

to

£

2443
7 days
ex flights
Tailor made:
This trip can be tailor made throughout the year to suit your requirements
If you'd like to chat about Caribbean or need help finding a vacation to suit you we're very happy to help.

Where to go bird watching in the Caribbean
Dominica
Dominica's diverse natural habitats shelter 176 bird species, including four types of native humming bird. Happily, the landscape is already recovering following 2017's Hurricane Maria, and bird watching is still a joy. The endangered imperial and red-necked parrots, known locally as Sisserou and Jaco, are only found here – a good place to spot them is in the Syndicate Forest on the western slopes of the Morne Diablotin National Park. Bird watching vacations here can be combined with other islands, such as Saint Lucia, and also with volunteering, as part of the island's ongoing restoration.
Montserrat
Montserrat is usually included in an island hopping birding tour that takes in other islands of the Lesser Antilles, with a few days here to seek out its 119 bird species, of which 63 are rare or accidental – ie. visiting well outside their normal range. Montserrat also has one endemic species, the Montserrat oriole, which is critically endangered. Much of Montserrat was buried by volcanic eruptions in 1995 and 1997, and you can visit the Montserrat Volcanic Observatory to learn more and see the capital, Plymouth, now smothered by ash.
Saint Lucia
Although Saint Lucia has exceptional beaches, classic beach tourism is confined to the north, with the rest of this 43km long island covered in jungle. It's home to 167 species of birds and six endemics, including the Saint Lucia parrot, brought back from the brink of extinction in the 1980s following island wide campaigns and a breeding programme. Today, this beautiful bird is the vibrant emblem of Saint Lucia, and draws walkers and nature lovers to the island's inland forest reserves.
Millet Bird Sanctuary has 30 species including all five endemics. In the east, the Quilesse Reserve includes the Descartiers Trail, where almost all the St Lucia endemics can also be found, and the Vieux Fort wetlands, home to numerous ducks, herons and waterfowl. Exploring the northeast of the island reveals more small wetlands and pristine beaches. In fact, with a range of routes and expert local guides, plus the chance to go whale watching and explore Soufriere and its volcano, there's enough to keep bird and nature fans happy for a full week here. Some birding vacations combine three days on Saint Lucia with time on other islands in the Lesser Antilles such as Antigua and Barbuda, Montserrat and Dominica.
There are a staggering 482 species of birds found on Trinidad and Tobago, thanks to the islands' close proximity to South America (just 11km away) and varied habitat, making this twin island nation one of the richest birding countries per square kilometre in the world. Even on tiny Tobago, an island just 42km long, over 200 bird species feed and flutter, making it hard to miss them. The Main Ridge Forest Reserve is a popular place for birding. Established in 1776, it's also the oldest protected forest reserve in the Western Hemisphere. Birding vacations often take in Buccoo Marsh and Grafton Bird Sanctuary, too, among other places.
Larger Trinidad has numerous different habitats, including rainforest, wetlands and savannahs. At Caroni Swamp you can watch thousands of Trinidad's national bird, the insanely vibrant scarlet ibis, flocking home to roost each evening. Discover seabirds on the northern shores, including frigate birds, pelicans and kingfishers, while Dunston Cave has the most accessible colony of oilbirds in the world.
Trinidad is also home to the Asa Wright Nature Centre, a not-for-profit trust established in 1967 which has become a model for sustainable development and ecotourism projects in the Caribbean. At the last count, there were 166 species in the grounds of the Centre, including a colony of crested oropendola, hawk eagles and toucans. Many birding vacations spend a few nights here, so you will not only see the diverse birdlife, but be woken up by its dawn chorus.
Best time to go bird watching in the Caribbean

Though colourful species can be seen year round, South American migrants visit from May to September, while North American species are more likely to be seen from October to March.

In Saint Lucia, you can see colourful birds year round, including the island's brilliant endemics, but they'll be easier to see – and noisier – outside of the rainy season, with walking trails more accessible, too. The main breeding season is from January to April.
Trinidad and Tobago is another great year round birding destination; there's always something to see, although November to April is probably the busiest time for birds. Nesting begins in January, but birds begin to couple up from November, and some species, including hummingbirds and the red-billed tropicbird on Little Tobago, nest earlier than January. Scarlet ibis numbers are at their greatest from January to March, although they are here all year round. November to March is the time to see winter migrants such as yellowlegs, willet and egrets. Southern migrants such as the black-throated mango fly in from May to September, and North American waders arrive in their thousands from August to September.
Remember to factor in
hurricane season
, alongside the possibility of bird sightings, when choosing where and when to go.
Celebrating birds
The annual Caribbean Endemic Bird Festival (
CEBF
) takes place across April and May throughout the Caribbean, and has done since 2002. Its aim is to celebrate the 176 bird species that are found only in the Caribbean. Presentations, bird walks, art competitions, tree planting, clean ups, and other events take place throughout the region.