Haiti tips
Aled Evans, from our leading Haiti supplier Undiscovered Destinations, shares his advice on traveling to Haiti: "Haiti is not like any other place in the Caribbean. If you want a 'Caribbean' vacation, then Haiti is not for you! The best description I have heard of Haiti is that it is a small part of West Africa that just happens to be in the Caribbean. History, culture, beautiful scenery and beaches combine to create a unique vacation destination. If you go with an open mind and a friendly smile you will have one of the best experiences that travel can offer."
Cuba tips
Adam Roberts, from our supplier Exodus, on speaking Spanish in Cuba:
"Learning some Spanish goes a long way – especially if you are staying in
casas particulares
. Your hosts may not speak a word of English, so if you can tell them what time you'd like breakfast and how you'd like your eggs, not only does it make your life easier but it puts your hosts at ease. People are so friendly in Cuba, so if you do go that extra mile you'll find it really rewarding."
Ceri Jones from our supplier Rickshaw Travel has packing advice:
"I advise to always pack long trousers and a warm jacket for the evenings as it can get cooler up in the hills. A thin rain jacket is essential for those unpredictable and sporadic downpours which can happen at any moment in the tropics but keep it lusciously green. Another must is flip flops which make it easy to wade through the streets after said heavy yet refreshing rain and save your shoes getting wet. Usual beach gear of course, but probably the most useful item to pack is your dancing shoes as whether you are male or female, there will always be a local desperate to teach you salsa."
Our top Caribbean Vacation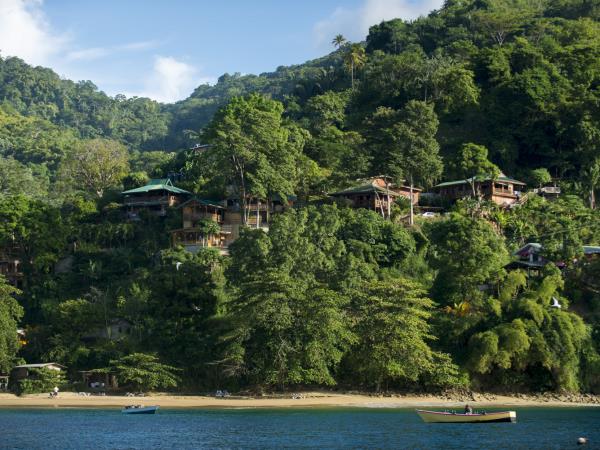 17 beautiful accommodations in unique eco resort
From
£

117

to

£

390
per accommodation per night
Accommodation
If you'd like to chat about Caribbean or need help finding a vacation to suit you we're very happy to help.

Dominica tips
Michael Eugene from our supplier Jungle Trekking & Adventure Safaris, on trekking in Dominica:
"Where possible, use the services of a guide – they add to the level of enjoyment and share interesting local stories. We are very friendly in Dominica and are eager to share in a conversation."
Vivianne McGrath from our top supplier of bird watching vacations in the Caribbean, MotMot Travel, on Dominica's recovery after Hurricane Maria:
"Although it will be a long slow process until the island fully recovers, I was happy to recently learn from our Dominica birding guide that nature is recovering quickly, with most bird species thriving. While many of Dominica's hotels remain out of commission, there is still a reasonable choice of accommodation on the island with many more reopening this winter, as well as some good new options. Many popular tourist destinations, such as Boiling Lake, the Emerald Pool and the trails one takes to reach them, are open and accessible. The Division of Forestry, with the help of volunteers, is hard at work restoring the
Waitukubuli National Trail
. The island is ready to welcome visitors and the economy of the country relies on tourism. I would definitely recommend traveling to Dominica. You will have a wonderful experience and your visit is the best way to help the island's recovery."
Trinidad & Tobago tips
Vivianne McGrath from our top supplier of bird watching vacations in the Caribbean, MotMot Travel, on music: "There is music everywhere in Trinidad and Tobago. Calypso really is the sound of Tobago. But of course if you really want to chill, steel band is just great and going to pan yards before Carnival to hear them practising is one of my favourite things to do."
Birdwatching tips
Vivianne McGrath from our top supplier of bird watching vacations in the Caribbean, MotMot Travel: "My favourite place for bird watching would have to be Trinidad and Tobago, which offer the perfect introduction to birding in the New World tropics. Between the two islands there is a diversity of easily-accessible habitats that allow unparalleled access to some of the world's most beautiful birds. The birding is also very rewarding on St Lucia with six island endemics and a range of Antillean specialities to be found there."
CARIBBEAN TIPS FROM OUR TRAVELLERS
At Responsible Travel, we think the best people to advise our travelers are often... other travelers. They always return from our tours with packing tips, weather reports, ideas about what to do – and opinions about what not to

We have selected some of the most useful Caribbean travel tips that our guests have provided over the years to help you make the very most of your vacation – and the space inside your suitcase.

Research what is going on when you have free time – in Tobago we went to a combined beauty pageant and calypso competition

"Take a range of hot climate clothes including long sleeves to keep off any biting inspects, and boots with longer socks to tuck trousers into, plus hat and scarves to protect from the sun and insects at certain times / locations (but all worth it!). Tourism in Trinidad and Tobago is not at an advanced level in all places and you need to be aware that not everyone is up to speed with the level of customer service skills you may find in more developed part of the world - but that is part of the attraction of visiting this wonderful country." – Margaret Playa

"Well worth going in the rainy season - rain storms are usually short lived and the number of visitors are much lower than they would be in high season." – Chris Goddard in Trinidad and Tobago

"Research what is going on when you have free time – in Tobago we went to a combined beauty pageant and calypso competition (part of the run-up to carnival) which was a great experience with local people (definitely not put on for tourists!)" – Chris Fleckney

"If you are planning to do any reasonable hikes, make sure you have the right footwear. Heavy duty boots, such as you would wear in the UK, will protect your ankles and keep your feet dry, but do not have sufficient grip for these hikes. Far better to use lighter weight boots/shoes with sticky soles!" – Jenny Cobon in Dominica



Try to get to know the people who live near your accommodation. Dominicans are very friendly and love to share their lives with you

"Don't hire a car. You see less, learn less, and are exposed to both stress and some danger." - Charles Moberly in Dominica

"Try to get to know the people who live near your accommodation. Dominicans are very friendly and love to share their lives with you. Monitor the paths you are going to walk on. Frequent rain makes some of the steeper paths very slippery and it is best not to attempt them unless you are very sure-footed. Don't expect that every trip you make will work out as expected. Whales do not show up to order." – Joan Rule

"Expect to wind down and take things slowly. Be prepared to pay more for food in restaurants, than you might in the UK." – Alec Connah in Tobago

"Just take note of what the vacation provider recommends what to take. I would have been lost without a torch." – Grace McGill in Haiti