Responsible cooking & food vacations
---
Travel right ON COOKING AND FOOD HOLIDAYS
Food is universal – no matter where you are, someone needs to rear or catch it, sell it for a living, and cook it in ways that often draw deeply on tradition. As a shared human global arena, food reflects on wider social issues – environmental, cultural and economic. Where does the price of a thing clash with the need for producers to earn a living? How do you balance wider market demands for a product with limited supplies, with regard to things like fishing? What if creating a particular food harms the environment, as with soya/beef and deforestation? How about the quantity of factory-farming v quality of free range? Organic v non-organic? And while some see GM crops as global salvation, others see them as Frankenstein foods to be opposed. Wherever you are in the world, whatever you eat provides food for thought.
People & Culture
---
FAIR TRADE AND SUSTAINABLE COMMUNITIES
Eating to live
---
Global capitalism's foregrounding of maximum profits over pretty much anything else can cause real hardship for many small producers, as larger international companies attempt to drive down the price they pay for a crop or product, while middle-men seek to take their cut too. And this happens in developed countries as well as the archetypical small farmer in a tropical country – witness the huge problems faced by many dairy farmers in the UK being offered less for their milk by supermarkets than it costs to produce. Being an ethical consumer demands being willing to pay a fair price guaranteeing a sustainable living for those who grow or catch something – which includes workers on a farm or boat, not just the owner. The
Fair Trade
organisation plays a high-profile in tackling global economic exploitation of producers in developing countries by offering certification of foods that tick the right boxes, but they are not the be-all and end-all of the matter. It is down to individuals to be prepared to stump up a fair price for something – especially when in many countries the amounts involved are not much by Western standards. For you to eat, farmers and fishing folk need to have enough too.
What you can do:
Buy direct from producers if you can, meaning more money goes direct to them. Don't be mean when it comes to buying produce or paying for a meal. And look for certification from organisations like Fair Trade where relevant.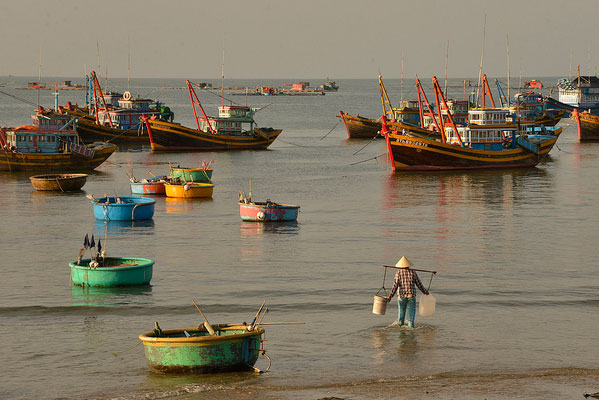 A big appetite for small economies
---
Food production plays a vital role in sustaining local economies in many parts of the world, from small rural farms to fishing villages. Money earned from food sales to visitors can be crucial in allowing a farmer to continue growing their crops or a fishermen to pay for their boat. This in turn, helps maintains the very communities and their associated traditions and lifestyle whose distinctive appeal has tempted you to travel long distances to immerse yourself in a vibrant local culture. Wherever you are, eat like the locals do and show how interested you are in what they produce and how they use it. That way you sustain them as much as you sustain yourself.

What you can do
Live and eat as close to the local way as you can, and demonstrate your interest in and commitment to the way of life wherever you are. Which just happens to be the epitome of Responsible Travel's cooking and food vacations.
Animals & environment
---
FISH STOCKS & FACTORY FARMS
Net gains
---
Over a billion people, many in developing countries, rely on fish as their main source of protein, while millions in developed nations adore fish as one of the most enjoyable – and healthiest – things to eat on the planet. But across the globe, we need to balance demand for fish with maintaining stocks. Too often in the past, greed has triumphed over ecological logic, with disastrous results as fish stocks of key species have collapsed suddenly in various parts of the globe. Battles over fish stocks have also caused heated disputes between nations, such as the 'Cod War' that erupted between the UK and Iceland in the 1970s. Where Europe is concerned, changes to the EU's Common Fisheries Policy that will end the insane practice of discarding vast amounts of fish are small but welcome steps towards cutting pitiful waste. Growing global condemnation of the few nations still carrying out significant amounts of whaling also offer hope for the future, even if every effort is still needed on the parts of tourists in refusing to eat whale meat where it is sold, in countries like Norway, Japan and Iceland.
Fish farms are another matter where vigilance is needed. While at first glance appearing to provide a means to boost supplies of fish while maintaining wild stocks, they have become a bete noire for the fishing industry – mired in controversies about the resources they use and the amount of diseased fish they produce. Bear in mind, for example, the crazy fact that farmed fish are often fed wild fish, and that it can require up to three times as much wild fish to produce one farmed fish! And a focus on fish stocks should not detract from the broader need to protect the oceans themselves from global threats such as pollution (acidification, plastics, toxic algae, dumping of deadly chemicals, dangerous organisms in bilge) plus the destruction of delicate but vital marine environments such as reefs.
What you can do
Buy fish from sustainable species – where relevant, look for certification marks from organisations such as the
Marine Stewardship Council
. Buying from local fishermen on a quayside market is often a way to guarantee sustainability due to their size of catch and choice of nets which catch certain species rather than everything in the sea as massive trawlers do.
Factoring out factory farms
---
Over 60 billion animals are slaughtered each year for meat, and an estimated 70 percent of these are kept in cramped, confined and caged factory farm environments. You don't need to be vegetarian to want to change this. Organisations like
Compassion in World Farming
campaign to end cruel factory farming practices via positive engagement with the food industry as well as consumers. Experts point out that factory farming is not only bad for the animals; it's bad for consumers too, producing meat with significantly higher levels of disease-causing organisms than free range. Many people also believe the latter tastes better too. Factory farming is also bad for the planet, consuming more resources than free range while not putting anything positive back into the environment as free-range animals do with things like keeping plants in check and also providing vital nutrients for plants and insects from dung.
Source:
Sustainable Food Trust
What you can do
Look into the origins of the meat you are buying, whether eating out or cooking yourself. Free range and/or organic meat results in better conditions from the animals, and if you can shop at farmers' markets or farm shops, you can ask questions about the origins of the meat – as well as keeping it local.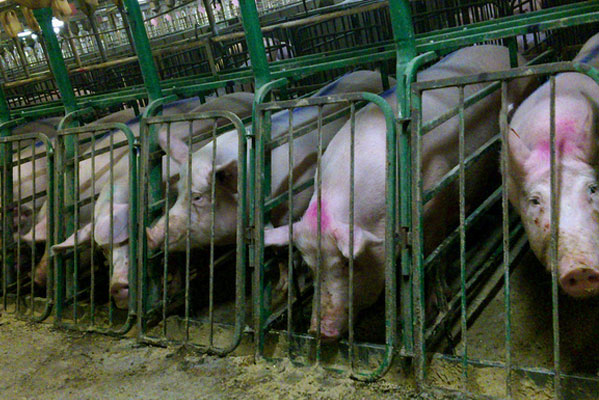 Responsible tourism tips
---
Travel better ON COOKING & FOOD HOLIDAYS
Behave with an awareness of the locals around you – they are getting on with their lives not on vacation. If you visit a restaurant or market as part of a group, for example, don't act in any way that might cause offence or upset others. You are there for a few hours but for the restaurant or market it is their daily break. Don't expect special treatment by asking for things not on the menu or complaining about a local dish just because it isn't to your taste. Responsible tourism acknowledges the character of a place – that's why you've come!
Don't buy foodstuffs you know are unethical, such as whale meat in Iceland, Norway and Japan, or unsustainable seafood.
Try to buy from small local producers/sellers at every opportunity – you'll get the freshest and best produce and also be putting valuable money direct into the hands of people who need it most.